Many are unsure about what color shoes go with a champagne dress. The shoes and other accessories to match will differ greatly depending on the look you're going for. Champagne is such a specific hue, and shoe color choices, as well as other optional accessories, aren't always straightforward. Deciding what color champagne constitutes is a good place to begin when matching shoes to a dress in champagne.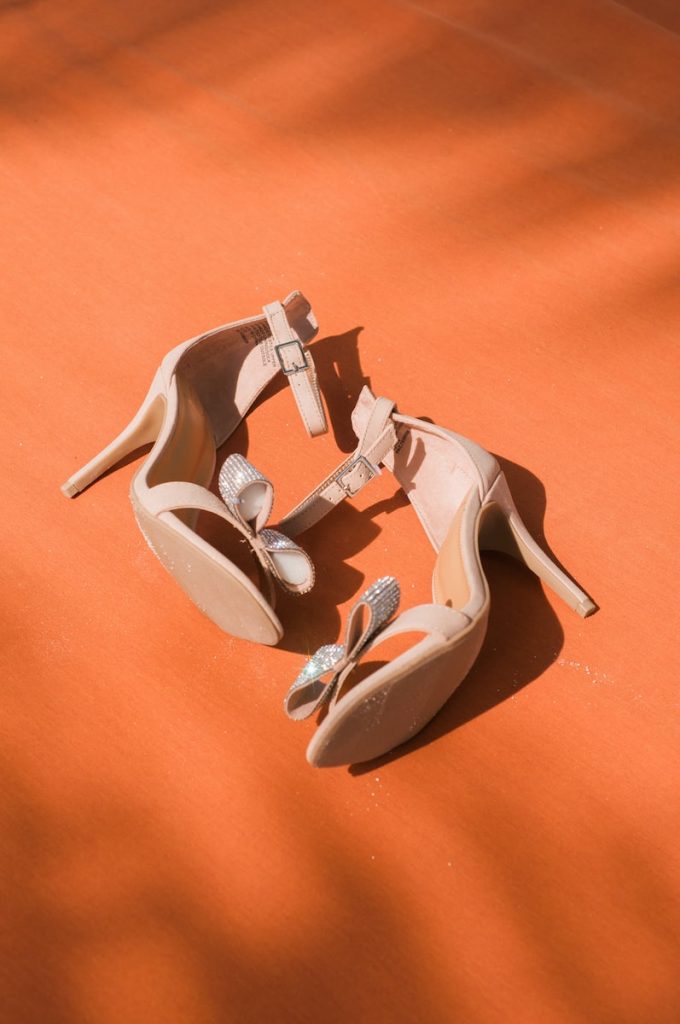 What Color Shoes Go With a Champagne Dress
The best color shoes to wear with a champagne dress are black, nude, or silver. You want to avoid colors that are too bright or too bold, as they will take away from the elegance of your dress. Pairing your dress with simple, classic shoes will ensure that you look chic and stylish.
The majority of champagne color clothing and fabrics are metallic and gleaming, which is why "champagne" is commonly known as sparkling. These might range from high-shine sequin champagne gowns to dresses with a subtle sheen.
Threads woven with metallic threads can add a touch of shine to your dress. A semi-matte satin dress can also be a good option. If you're going for more of a blush or beige color, try avoiding champagne dresses that are too shiny.
Champagne is often equated with rose gold because of its similar coloring. However, this variance can make it tough to pick out the right shoe color to match. Have no fear though! If your champagne dress is on the beige spectrum, I have a comprehensive guide detailing what shoes to wear with beige dresses.
What Color Shoes Go With a Champagne Dress: In More Detail
Clear/Transparent Heels
In terms of color, your cornflower dress is best complemented by a pair of purple or white heels. From completely transparent shoes to partially translucent with a hint of white or beige shoes, there are lots of options. Want to add some flair to your appearance? Choose iridescent stilettos! Mules, sandals, and pumps are all great choices.
White Shoes
A staple shoe that can be worn with anything, white shoes are a great way to add some pizazz to your outfit. Whether in the form of stiletto pumps or strappy sandals, these shoes are perfect for summertime.
Silver Shoes + Pewter Shoes
A metallic favorite to add extra glam by pairing with a champagne dress – especially if its more silver than gold – aresilver shoes. You can choose either silver, the light metallic, or the pewtre which is dark silver .
Silver compliments a dress more modestly, while pewter makes a statement with any outfit. Pewter can sometimes be seen as a fun and unique choice in footwear!
Gold Shoes
Gold is a great hue for women's shoes since it is a soft, gleaming golden color. Gold shoes go well with the color champagne. Strappy numbers in this hue are ideal for weddings and proms! Choose such as these lovely things.
Grey Shoes
You can also pick grey shoes to complement your silver/pewter dress. Because grey is matte, it won't have the metallic shoes shine of silver or pewter. This means it's a good choice if you want your dress to be the star!
Black Shoes
The black shoes against the champagne dress is a look that I myself find controversial. Wearing light and flirty colors like champagne usually means adding complementary shades to avoid too much contrast.
What Color Shoes Go With a Champagne Dress-Bottom Line
What color shoes go with a champagne dress? When in doubt, shoe colors like black, nude shoes, skin tone or silver shoes are always a good shoe styles. If you want to add a pop of color, go for white or grey. And if you're feeling extra festive, pick out a pair of gold or pewter heels! No matter what you choose, make sure your shoes are comfortable so you can dance the night away.
What Color Shirt Goes With Dark Grey Pants?
Does Cologne Go Bad?