If you're on Instagram looking for fashion and OOTDs, you've undoubtedly noticed a trend toward neutral, colorless clothing for all seasons. Even though colors may be in vogue on the runway, bloggers and fashionistas alike prefer their black, white, and grey tones more each season. I'm here to discuss what color shoes to wear with gray dress or ensemble whether they're light or dark!
Elevate Your Style: What Color Shoes to Wear with Grey Dress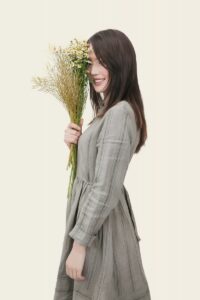 There are so many things to love about grey outfits and dresses! They look great with most colors, can be dressed up or down, and always look chic. Personally, I favor grey because it looks great and never seems to get dirty.
Chic Combinations: Styling Tips for Your Grey Ensemble
The type of shoe you pair with your grey outfit depends on the style and occasion. If you're wanting a polished look that lasts all day or if you're dealing with kids, this is a great option.
If you're interested in the type of shoe to wear with grey, have a look at my post on how to match shoes with black dresses. Yes, it's all about the LBD, but the looks are also appropriate for your LGD (Little Grey Dress)!
A Splash of Elegance: Grey Dress Outfit Inspiration and Pairings
I've curated a list of my favorite blue-hued shoes for wearing with a grey dress outfit and purse hints. Because the way to properly wear a grey dress or ensemble is more complicated than simply selecting the right footwear.
Although there are a plethora of beautiful colored shoes you may wear with this neutral hue, the following are my current favorites. As usual, fashion is entirely subjective. If you don't think anything on this list looks great but you'd love to try it out for sure, go right ahead. Nothing adds more appeal to an outfit than self-assurance!
Black Shoes With Grey Dresses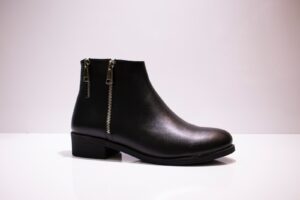 Your black shoes will go great with a grey outfit! I love the contrast of edgy, black leather against softer, grey tones. And when it comes to purses, you can't go wrong–keep it simple with a black purse or have some fun with a brightly colored bag. Personally, I think a bright red bag would look great with this pairing.
Black and White Shoes
With so many black and white shoes on the market, it's easy to find a pair that will complement your grey outfit. Whether you're looking for animal print, patterned or plain color-blocked shoes, there are plenty of options to choose from. If you want to add a pop of color to your look, consider carrying a neon purse or brightly colored clutch. Or if you prefer a more monochromatic aesthetic, grab your best black purse and get going!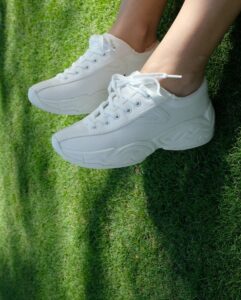 Grey Dress Red Shoes/Burgundy Shoes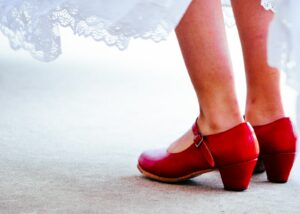 Is it a dress or pants? I declare yes! Burgundy or red shoes look elegant and sophisticated with grey dresses, not just a heated hue for the fall. For casual and formal ensembles, go with bright cherry red heels. A lovely wine-hued tone is ideal for keeping your grey apparel modest while still using colors.
These shoes are perfect for a more conservative office look. I love darker red shoes with lighter grey dresses, as it really pops.
Purse styling tip: I love black or white purses as accessory colors for red/grey combos, but an army green with burgundy shoes would look amazing too. If you have a brown purse, make sure it contrasts enough with your shoes, such as the image above, where burgundy booties are styled with a bright orange/brown purse.
White Shoes with Grey Outfits
With grey, you can add a more elegant touch to your look. Wear a pair of white pointed pumps or loafers with your grey business suit. Are you searching for a more relaxed atmosphere? Nothing beats fashionista-friendly white sneakers with your grey shift dress for a casual vibe! White shoes will appear stylish and polished in any grey ensemble.
If you're undecided on what color purse to bring with your outfit, try styling it with a black purse for a trendy and monochromatic look. Or, have some fun with color by accessorizing with a bright pink, red or powder blue purse!
Beige Shoes with Grey Dresses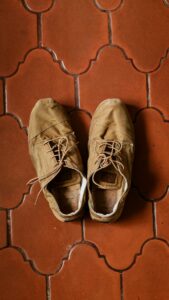 I've really grown to love the combination of beige and grey. Although the contrast is subtle, it can create a really pretty and neutral pairing for anyone looking to inject a bit of warm color into their outfit. I especially love peachy-beige shoes in suede for winter grey outfits! And as far styling tips go: this one's easy. I'd opt for either a black, white or contrasting grey purse. You could even play around with a pastel in contrast, such as powder blue or lavender. But I would stay away from pink handbags with this combo.
Metallic Sophistication: Glam Up with Chrome Shoes
When wearing greys, look for a contrast metallic to compliment the color. For example, you could wear bright silver shoes with a darker hued grey dress or light grey dress with metallic chrome shoes. I think that a mirror metallic silver and charcoal grey dress looks great together! When choosing a purse to go with your outfit, pick black or white, or go for a dark color such as wine or magenta.
Pop of Color & Contrast Prints
If you're wearing a grey dress, a pair of bright shoes or heels is required! Neon colors look fantastic with light greys. Shoe colors such as magentas and cobalts that are deeper in hue look particularly stunning with medium to dark grays. Of course, leopard print shoes themselves, which are said to be "neutral," go well with greys as well. Neutral or very vibrant snake and reptile patterns also look great!
Handbag tip: Choose a purse that has a similar color to one of the hues in your animal print shoes (like the caramel-colored purse with leopard print brogues, shown above). If your shoes are a solid contrast color, go for either white or black.
Colorblocking is all the rage, so why not try it with your accessories? Have fun by pairing a brightly colored purse with shoes in a contrasting hue. Some of our favorite combinations include: pink & green, green & cobalt, red & cobalt, yellow & pink.
Contrast Grey Shoes
Not only can grey-on-grey look fabulous, but it can also be a great way to inject some contrast into your outfit. For example, you could pair a dark grey dress with light grey shoes or vice versa.
Final Thoughts On What Color Shoes to Wear With Gray Dress
No matter what color shoes you choose to wear with your gray dress, remember to have fun and experiment with different hues, prints, and textures. Remember to also consider the occasion and mood of your outfit, as well as what colors or patterns are already present in your accessories and clothing.
What Color Shirt Goes With Dark Grey Pants?
Army Green Goes With What Color?