When you're traveling somewhere where you'll need to bring some folded clothes and neckwear, it's critical to know how to pack ties for moving properly to keep them looking fresh, clean, and wrinkle-free. Here's a quick tutorial on how to pack your neckties for travel.
Tie cases are an excellent way to keep your ties organized and protected. A tie case, which I recommend for maximum protection and organization, has straps or you can use packing tape on both sides to hold two neckties in place. With the aid of a tie case, it's possible to cram in more than two neckties.
A great tip for businessmen on the go: find a tie case with an integrated small pocket to store your accessories like tie clips and cuff links.
How to Pack Ties for Moving: Other Packing Options
If you can't afford a tie case right now, here are some alternatives for storing your ties safely. Be sure to include packing supplies on your next birthday/Christmas wish list!
Roll them up. Start by folding your tie in half vertically, then roll it up tightly from the narrow end. This will work better if you're packing a duffle bag or garment bags instead of a suitcase because it'll be harder to find space for it and keep it from getting wrinkled. Also, If you don't mind putting your neckwear in with your shoes, put the rolled tie in the shoe opening after you finish making your DIY shoe trees.
Fold and pack neatly. This was my preferred method before I bought a tie case. Fold the tie in thirds, as shown in the second photo, and place them on the flattest part of your luggage or backpack. My ties would slot easily into four zip compartments in my luggage.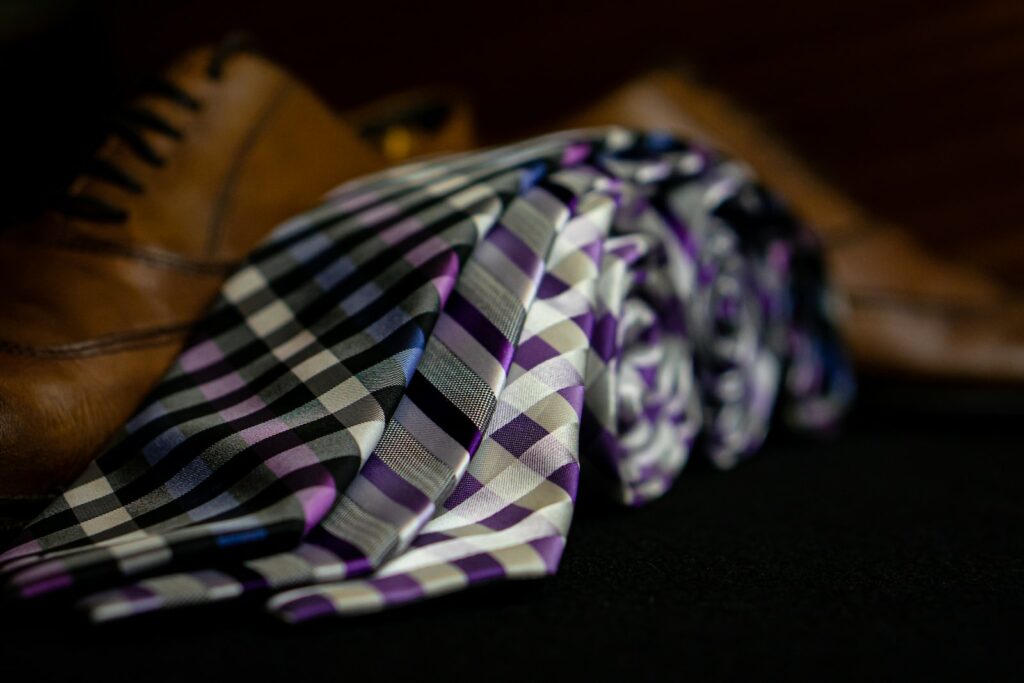 How to Pack Ties for Moving: Steps
Ties can be packed in a tie rack in two ways: on or off. Ties must be rolled rather than folded if you want to pack them off the rack.
Here are some pointers on how to pack your ties off the rack. Follow these steps to wrap your ties off the rack:
Bend one end of the tie until it resembles a hook, then wrap the rest around your hand. Wrap the tie firmly but not too tightly around your hand. Then, place the rolled-up tie in a small box on its side (a shoe box would be ideal).
You may also wrap your tie rack with your ties still on them. However, make sure to take out the batteries from the rack if it is automated before you begin. Otherwise, it might spin while in transit, possibly destroying it and the batteries.
In many cases, a tie rack may be hung from the bar of a wardrobe box. Then, all you have to do is fill up the empty space in the box with folded clothing, seal it shut, and label it before sending it off. Tie racks that won't fit on to the bar of the wardrobe box are one example.
First, spread the large sheets of brown packing paper on a bed or other surface. You'll need enough paper to wrap the tie rack and ties completely without folding them.
Set the rack and ties in the center of the paper. Make sure they are arranged nicely.
Gently wrap the ties around something soft, such as a shirt, and secure with packing tape. You don't want any fold or wrinkles in the tie fabric.
Take everything out of the box, but leave the rack and ties on their hooks. Cut a small or medium box to the size you require.
Fold the ends of the box over and lay them on one side of the untied ties. Then fold the other side of the box over them.
To seal the box, wrap packing tape all around its top and bottom. You'll wind up with a sturdy container that will keep your ties from kinking.
If you have a lot of ties that need to be stored, consider packing them in another box with other items or plastic bag or drawstring trash bags.
Gently place your ties on the rack, being sure to leave enough space between each one so that they don't wrinkle. Use a marker to label the box with its contents and destination. Be careful while handling it so that nothing gets ruined including your pack clothes in transit. Now, you know how to pack ties for moving, you can pack clothing and your ties nicely.