When you want to look your best, it all starts with a great pair of pants. With so many choices on the market, it can be tough to decide which style is right for you. We're here to help break down the differences between pleats vs flat front, so you can make the best decision for your wardrobe.
Pleats vs Flat Front Pants
Although some men prefer dress pants flat for their style, it is a proven fact that pleated trousers are more comfortable.
Pleated pants have folds of fabric sewn into them just below the waistband. These pleats add extra room and allow your legs to move more freely, especially if you are a larger man. Pleated dress pants possess some functional utility.
Flat-front pants have a clean look because there are no creases. This style of pant is more fitted, which can be difficult for taller and well-built men to wear.
Pleated pants have been around for a while, but the modern fashion trends are leaning towards tapered pleated pants. These garments feature a baggy waist and fitted bottom, with the portions designed to accommodate the legs tapering down. This gives the wearer a slimmer look and makes them feel comfortable and stylish at the same time.
Flat-front pants are ideal for those who want to look slimmer, as they don't have any additional pleats or creases.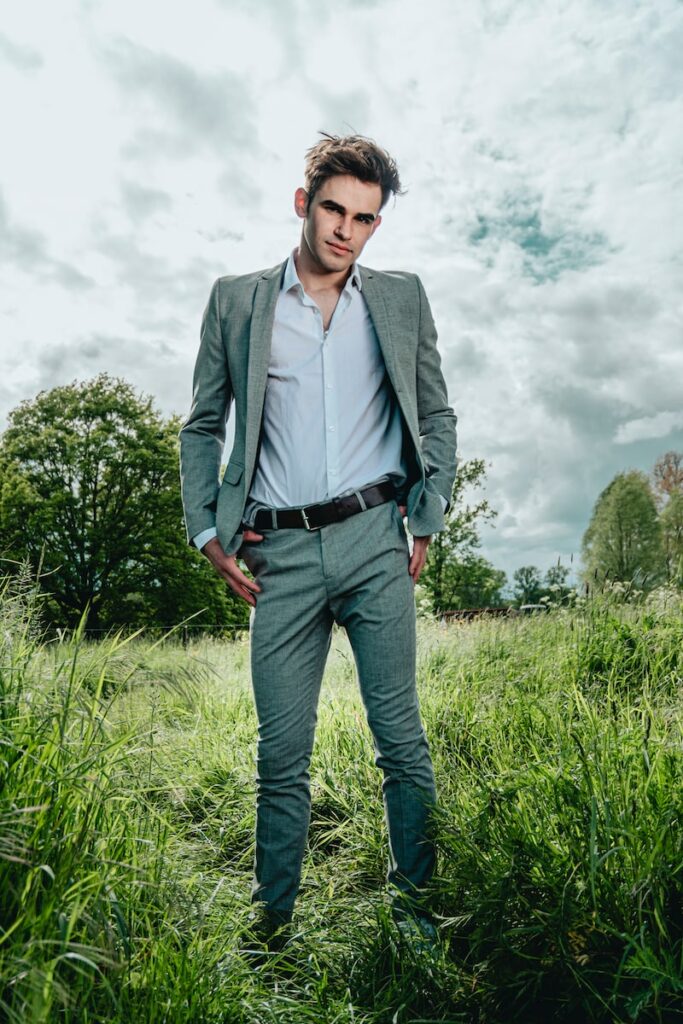 Types of Pleated Pants
Pleated pants come in two varieties: forward and reverse pleating. Forward pleats face inward, while reverse pleats point outward, toward the pockets.
The number of pleats on a pair of pants can vary, with single, double, triple, and even quad options available. Formal looks are best achieved with either single or double pleated styles. As the number of pleats increases though, so does the bagginess and rise of the pants. The most flattering and comfortable choice should be based on the physique of the wearer.
Pleats vs Flat Front Pants: Purposes
 Purpose Of Pleats
Additionally, apart from looking different, single or double pleated pants have some utility that puts them ahead of flat-fronted options. When you sit down, your thighs and seat naturally widen. Pleated pants can adapt better to this change as the folds open up and ease pressure on seams for a more comfortable experience overall. Not only do pleats look good, they also provide extra space and allow for greater mobility when you're doing anything from walking to dancing. Plus, with pleats you don't have to worry about your seams bursting.
Purpose of Flat Front Pants
Dress pants prioritize style. Flat front dress pants lack the extra pleated folds along the front of the pants, giving them a modern and streamlined look that many men love. However, this simplification comes at a cost.
Pleats vs Flat Front Pants: How To Wear It
Flat-front pants are worn lower on the hip to create a slimmer look; pleated pants, however, are designed to be worn high up on the waist. If you have a small or skinny build, flat-front pants will suit you best. But if you have a large or athletic physique, go for pleated pants instead.
Pleated pants go great with suits or blazers because they help hide the pleats. They can also be worn with a nice shirt that can be tucked in if necessary. Flat-fronts look best with casual shirts and t-shirts. Venfield has a wide selection of both casual and formal wear.
Cuffs are a prominent feature on pleated pants that many people like. They add to the overall look of the outfit. However, depending on the fabric, some wearers may feel uncomfortable and want to remove them.
Pleats vs Flat Front Pants – Bottom Line
In the end, it's all about personal preference. Experiment with both pleated and flat-front pants to see which one you feel most comfortable in. Remember, comfort and confidence are key when it comes to fashion. Happy shopping!