What to wear with green pants? If you believe green bottoms are "weird" or "unfashionable," this article is for you. I've gathered the finest green pants outfit ideas to demonstrate that greenery can be as stylish as black and as bright and dramatic as red.
Exploring the Versatility of Green Pants
Green is one of the most common colors in fashion, and it comes in a variety of hues. Olive, sage, mint, and emerald are some of the most popular greens. They're all distinct from each other, and they may be used to make a variety of clothing styles.
What to Wear With Green Pants?
1. Green Pants for Casual Outfits
Everyone wears skinny pants, so if you want to up your fashion game with green, it's probably best to go with green slim jeans. Olive green is one of the most popular hues in fashion. It's adaptable, can be worn by people of almost every skin tone, and appears very elegant. There are many colors that go well with olive-green trousers because there are a variety of options to choose from.
However, if you want to go for a more laid-back style, neutral hues such as white, black, and denim are an excellent combination. Even Emily Ratajkowsi knows that the optimum combination for olive pants is white and black. A timeless black leather jacket for an extra dose of edge will elevate your casual style.
Consider wearing your green pants with a denim jacket and a neutral color t-shirt for an easygoing but attractive Sunday outfit. Black is an excellent hue to match olive pants with:
For an easy date night look, choose black and olive green. A basic black and olive outfit will work well for supper with friends or a movie at their house.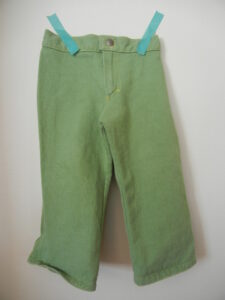 Joggers are a classic choice for men interested in keeping things subtle. They have a military feel to them that will give your ensemble a laid-back but fashionable vibe. With your favorite white trainers and an uninteresting top, you'll get a cool casual look.
Green pants look fantastic in a variety of colors, as you can see. Other neutrals, such as beige, camel, and nude colors, complement almost every shade of green.
When you're unsure which shoes to wear, go with white sneakers and green pants as a general rule. Sneakers and green pants are an excellent casual combination.
You may also brighten up your footwear. Make a colorful statement with your green pants and top by wearing bright color flat shoes, such as red or royal blue, to finish the look.
Red loafers are the secret weapon for making this ensemble seem both fresh and easy to wear. For a simple white jeans outfit, team your favorite white T-shirt with an eye-catching piece, such as a hat or a denim jacket. For a more fashionable appearance, roll up the hem.
These are some of the most popular and sought-after jeans on the market. They're perfect for fall and come in a variety of colors, patterns, and washes. Wearing olive green pants during this period is required because it's one of the typical hues in a fall palette. A simple yet cool autumn look can be created by combining your olive green pants with a dark blue denim shirt and some brown loafers.
This color is one of the most difficult to pair because it's not easy to find clothing that fits well with it. If you have mint green pants, you may feel like you're limited to wearing them with only pastel colors.
If you want to up the ante on your olive pants ensemble, consider adding wedges and a stylish handbag. It's really all it takes to turn a so-and-so outfit into a sophisticated one.
Green high-waisted pants are one fantastic way to make the most of this hue. For a stylish lunch outfit, combine cool sunglasses with an adorable top.
Remember that olive pants aren't the only type of green clothing available. In no time, you'll be the most stylish woman around town with an emerald green bottom.
Emerald can be combined with neutral colors as well, but consider adding a burgundy accent to your outfit and you'll see how elegant you may look.
When in doubt, choose black or white accents above all else. Even a simple black and white plaid blouse may suffice.
Wear wide-leg green pants, one-of-a-kind mules, and a huge cardigan for a hipster look.
A high-waisted waist tie band pant emphasizes your waist. Prepare to look incredibly cool when you tuck a fitted tee inside. Pair your green pants with a bold t-shirt in a bright or distinctive color, such as this magenta top, for a striking appearance.
You can wear a high-waisted straight-leg pant for absolutely anything if it is perfectly fitted. You may style it with a black button-down shirt and heels for a stylish elevated casual look, or dress it down with a grey top and sandals for a more relaxed appearance.
Green, grey, and crimson are fashionable combinations that I wouldn't have considered until now. When paired with green pants, red shoes definitely provide a strong burst of color.
Let's take a look at the red and green colors again: They are complementary hues, which is why combining them in an ensemble makes for a stylish statement.
There are several different colors of green that you can utilize in a lovely outfit. Mint is a color that many people believe is difficult to wear, which is why I've compiled this list of amazing mint pant ensembles.
Try complementing your mint pants with black combat boots and a white t-shirt for an audacious and edgy style.
Try creating an all-mint look for a distinctive head-turner outfit. I adore how this wide-leg cropped makes the whole ensemble appear more laid-back since it goes with a green mint style.
If you want to look stylish, consider wearing your mint trousers with a white fitted top and neutral accessories like beige or camel. To make your mint green pants more unique, wear them with block heels and a short top.
2. Green Pants for Work
You may wear your green pants to work, no matter how strict the dress code is. Victoria Beckham is our most fashionable icon, and she understands that a green suit looks fantastic.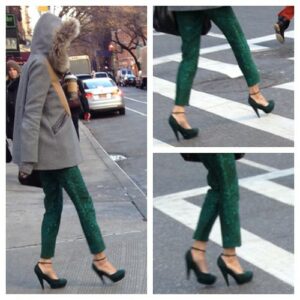 Choose brown shoes and a white cable-knit top for the most professional look. For a low-key workplace wardrobe, go with fitted cigarette pants and a jacket in the same olive or emerald green color, as well as black accessories. A pair of white sneakers is added to this business casual version.
If you want to up the ante on your eco-friendly pants outfit, try emulating Cara Delevigne's edgy and cool style. If you don't feel comfortable showing your chest, wear a lace tank top or bodysuit instead.
For a laid-back, yet professional green pants ensemble, try complementing it with a basic neutral color top and heels. A white t-shirt and sandals is the business casual version, while a navy blue jacket adds flair if desired.
If you want to wear a sexy yet professional outfit to work, consider wearing green leather pants. Leather pants are one of the sexiest things there is, and green is among the most audacious colors, so wearing green leather pants for an elevated yet edgy workplace look is ideal.
Every outfit may be complemented by a pair of green pants, whatever the hue. Because you can mix and match them freely, they are an excellent option for every wardrobe.
If you're unsure what to pair with your green pants, remember that neutral colors are often the simplest option, but if you're feeling a bit more courageous, add one basic item in a bright and distinctive hue to see how easy it is to create a cool green pants outfit.