Ah, the denim jacket – a true classic in the realm of versatile fashion. With its roots sunk deep in Americana style, it's a staple that can bridge the gap between decades. While once a symbol of counter-culture rebellion on movie screens, it's now made its way into daily wear and high fashion alike. No wonder you're wondering about what goes well with a denim jacket.
No matter the shade, be it a light wash or darker blue denim, the possibilities are endless. Layer up your blue denim jacket with flannel shirt for an easy-going style or pair it with black jeans for the ever-so-trendy 'double denim' look. White jeans give a fresh pop to the dark wash denim jacket whereas a blue jean jacket can effortlessly elevate the ubiquitous white tee. Even an oversized denim jacket looks brilliantly paired with your favorite summer dress or mini dress.
Unexpectedly, pairing a black denim jacket has its charm too. Just switch up the statement piece to a bold color t-shirt, or an intricately patterned maxi dress. Sneakers or boots, casual vibe or dressed up, the denim jacket proves to be a constant companion able to blend with your personal style. It's no overstatement to say that when it comes to deciding what wear with a denim jacket, your possibilities are limited only by your imagination.
Exploring the Classic Combo: Denim Jackets and White Tees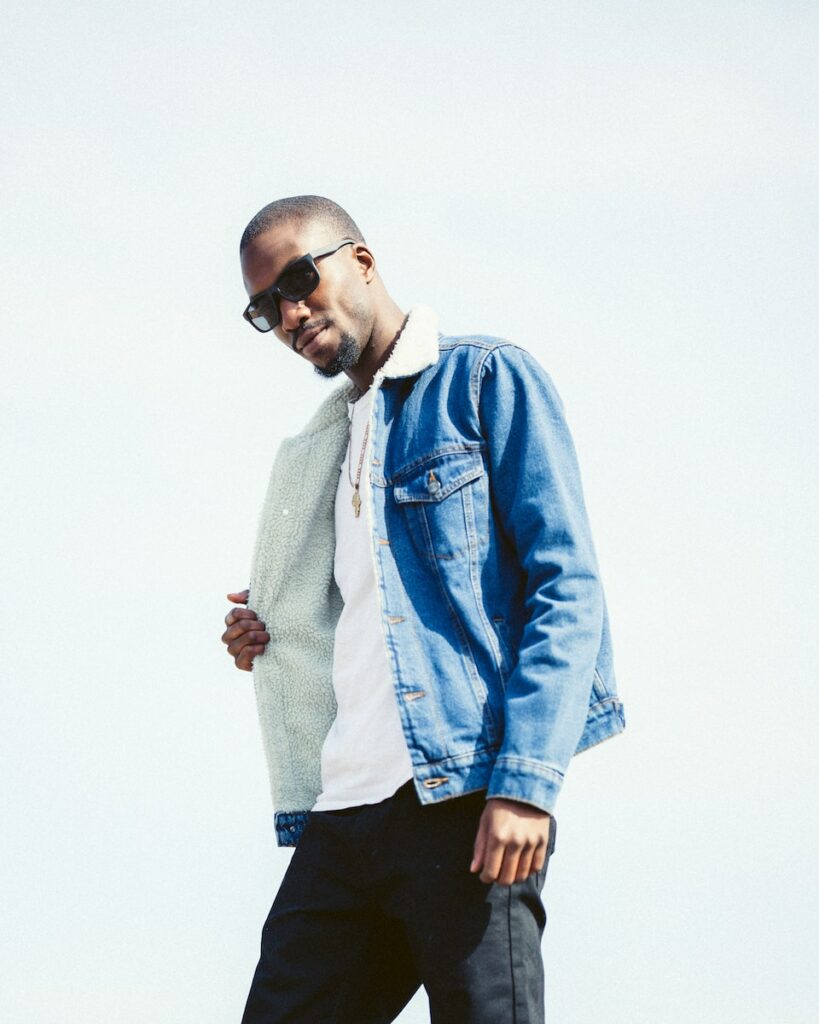 You've got to hand it to the classic denim jacket. It's a staple that's never out of style and pairs well with almost everything in your wardrobe. But, there's something about the tried-and-tested combo of denim jackets and white tees that hits the fashion bullseye.
We could argue that it's the simplicity that makes it appealing. Your white tee serves as a blank canvas, allowing your denim jacket to take center stage. The versatility of this ensemble is something to admire. Regardless of whether you opt for a fitted denim jacket, an oversized denim jacket, or a cropped denim jacket, the white tee flawlessly complements it all.
A classic style tip is to lean into the monochromatic look by wearing black jeans with a black denim jacket, or white jeans with a white denim jacket. This concept of double denim (also endearingly called the Canadian Tuxedo) creates a unified, streamlined outfit. Justin Timberlake made this look popular, and it's super flattering if you pull it off correctly. Remember though, you should aim for contrasting shades or textures when using the double-denim trick.
On chillier days, you'll find an oversized denim jacket thrown over your white t-shirt adds warmth and amps up the style quotient. Suitable for both men and women, this outfit guarantees a casual vibe without compromising on style.
The beauty of the denim and white tee connection is that it works well with any jeans. Pair your classic style combo with blue jeans, black jeans, white denim, or even joggers for a more laid-back look. If you're feeling adventurous, wear a denim jacket with a summer dress or maxi dress to achieve that edgy, high-fashion outfit.
The footwear choice here is quite flexible. The classic outfit works well with white sneakers, boots, heels, or sandals, depending on the occasion and your personal style.
Remember, the trick with the denim and white tee combination isn't necessarily to reinvent the wheel, but rather to work it into new, fresh contexts. So work it, and feel free to experiment. After all, fashion should be a reflection of who you are.
Pairing Denim Jackets with Black Jeans: A Fashion-Forward Approach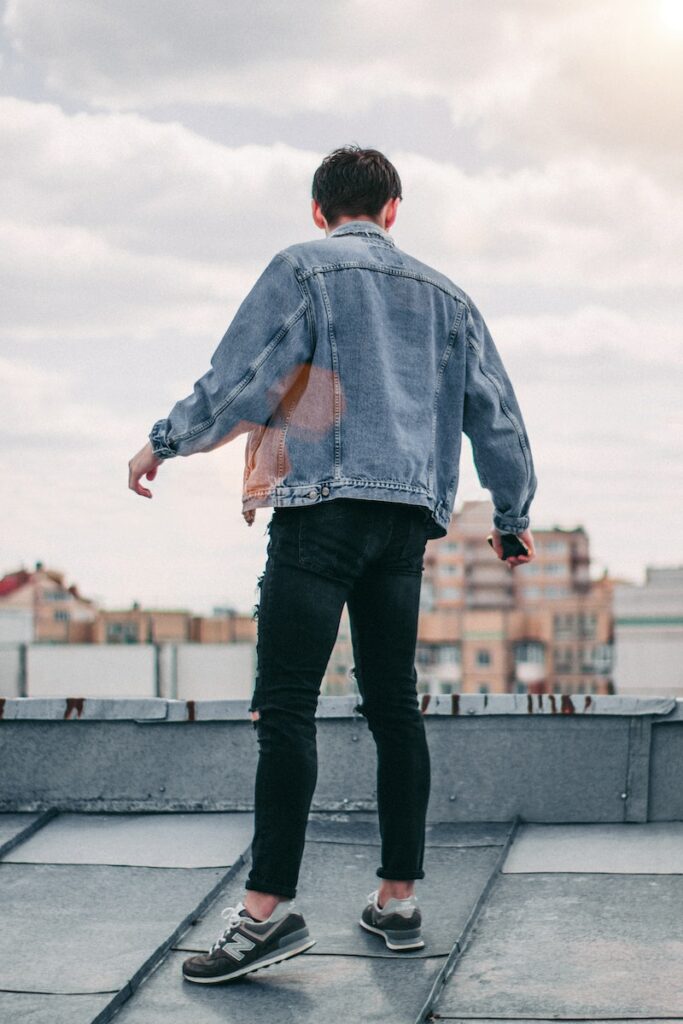 When deciding what goes well with a denim jacket, it can seem like you've got an endless sea of options. But among the quintessential choices for a sartorially savvy individual like you is the pairing of blue denim jackets with black jeans. Yes, the combo might seem a bit daring for some, but let's assure you, it's a fashion-forward approach that takes your personal style a notch higher.
The first most recognizable aspect of this classic style is the contrast. A blue denim jacket, in particular, pops strikingly against the straightforward simplicity of black jeans. This creates an attention-grabbing cozy upper half that can make you feel and look super flattering. So on days when you're feeling trendy, grab your favorite denim jacket and partner it with some fitted black jeans.
Now, you're probably wondering what type of denim jacket makes the cut. Thankfully, everything from a classic denim jacket to an oversized denim jacket, or even the white denim jacket for an off-beat twist does the trick. Dark-wash denim jackets can be solid choices too. Moreover, if you're the adventurous type, why not dabble with the "Canadian tuxedo" or double denim style with a black denim jacket?
The beauty of pairing your denim jackets with black jeans lies in its versatility. Go casual with a plain white tee worn underneath, or give it a smart-casual spin with a neat button-down shirt. Denim jackets can even provide an edgy contrast to feminine pieces like a mini dress or a maxi dress. When it comes to footwear, stick to the classics. White sneakers bring in a cool, casual vibe, while boots add an edge to your outfit.
Pairing your denim jacket with black jeans may seem like uncharted territory, even if you're a wardrobe maverick. However, it's not just about the bold statement this pair makes; it's also about how you own it. With the right attitude, you'll find that this is one style move that makes all the difference. Bold or understated, denim jackets with black jeans are anything but commonplace, and they're ready to take your style game to new heights.
Going Bold: Denim Jackets Layered Over Bright Colors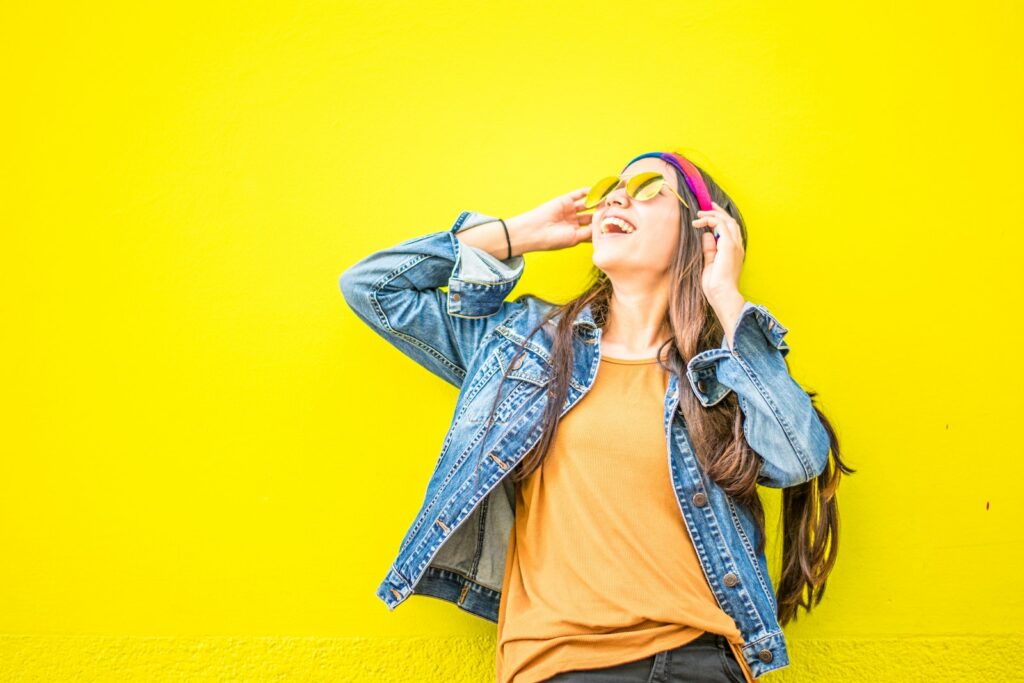 Venturing into the vibrant world of color may seem daunting, but it's an excellent way to make your denim jacket stand out. Whether it's your classic denim jacket, oversized denim jacket, or jean jacket, pairing with bright colors can make a style statement that is both bold and unique.
Start by considering the color of your denim jacket. A blue denim jacket is versatile and can easily be paired with any bright color. Black denim jackets and white denim jackets offer even more flexibility. A cropped denim jacket or an oversized denim jacket in darker shades can be exceptionally stylish when paired with bright, bold colors.
Bright colors aren't just for your shirt layer. You can experiment with colorful pants too. Black jeans, blue jeans, or even white jeans can quickly become the statement piece in your outfit when combined with a denim jacket. Just make sure the colors don't clash and complement each other.
Clothes aren't your only option for adding a pop of color. Accessories can also help in this regard. Minimize the casual vibe of the jean jacket by pairing it with a bright, complexly patterned scarf. Your shoes can be a subtle way to add color to your outfit. Pair your denim jeans and jacket with yellow or red sneakers, and you'll see them instantly pop!
Another easy way to incorporate bright colors into your jean jacket styles is through your shirts. You can wear a denim jacket with a red, orange, or even a bright pink shirt. Be it a flannel shirt, a plain t-shirt, or a maxi dress; the options are endless. A light wash or medium wash denim jacket would go particularly well with bright colors.
This idea applies to both men's and women's styles. Women can pair their denim jackets with a bright summer dress or mini dress for a casual, yet classic style. Men can pull off the double denim look with different shades of jeans and a statement shirt.
By experimenting with bold colors, you have a canvas to express your personal style. Remember, fashion is all about self-expression. Your denim jacket is a versatile piece in your wardrobe, and it's up to you to decide how it serves you best. Go bold, try different combinations, and most importantly, enjoy the process!
Elevating Your Look: Accessorizing Your Denim Jacket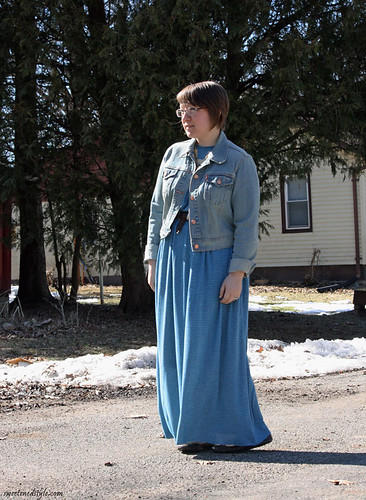 There's no denying that your denim jacket is a wardrobe staple. When it comes to what goes well with a denim jacket, the possibilities are numerous. Whether they are the classic blue denim jacket, a black denim jacket, or the cool white denim jacket, making them a part of your outfit is a fun way to express your personal style.
A classic style strategy is the over-sized denim jacket with a fitted bottom. Pairing them with black jeans delivers a classic yet nonchalant look. For a bit of a twist, wear a denim jacket with a maxi dress, creating an entertaining play of textures and replacing the usual light cardigan for the breezy yet chic look.
The Canadian tuxedo—the term for a double denim look—may bring back images of the infamous Britney Spears and Justin Timberlake matching them with light-colored jeans and a dark wash denim jacket. Denim jackets go well with blue or black jeans but you could also amp up the casual vibe with white or sand jeans and even joggers.
But hold on, what if your denim jacket is black? Not to worry. Black denim jackets are just as versatile. Wear a denim jacket of this shade with your black jeans for a chic, monochrome look. White jeans can also surprise you with a fresh vibe. You could opt for a bold shirt, it can be anything from bright patterns to flannel.
For the ladies, an oversized denim jacket worn over a fitted top brings together an exciting contrast in proportions. Try pairing them with a mini dress or a summer dress for that slightly bohemian, free-spirited look.
Let's not forget about the upper half. The classic tee and denim jacket duo, or going with a button-down shirt, could drastically alter your look.
If you're into accessories, adding a bit of bling, such as statement earrings or a stylish scarf, could add a personal touch to any denim jacket outfit.
Final Thoughts: Mastering the Art of Styling Denim Jackets
Versatility is the foundation of the denim jacket's fashion appeal. Regardless of its color, be it classic blue, black, or white, the denim jacket transcends seasons and trends, making a timeless statement with its ability to pair well with a variety of styles and pieces. From a casual ensemble featuring a white tee and jeans to bold pairings with bright-colored clothing and patterned accessories, the denim jacket shines in its adaptability.
Whether you prefer a simple or daring approach towards styling or even the monochromatic 'double denim' look, you can find your denim perfection in numerous combinations. The fashion possibilities are endless, and the denim jacket is a classic on standby, ready to sharpen your fashion game and enhance your personal style statement.
Other suggested articles: