Corduroy pants have been a staple in many wardrobes for decades, and for good reason. This versatile and comfortable fabric can be dressed up or down, making it perfect for a variety of occasions. But, what to wear with corduroy pants? In this blog post, we will explore the different ways you can style corduroy pants to create chic and fashionable outfits that will have heads turning wherever you go. So, get ready to revive your corduroy pants and make them a favorite in your wardrobe once again!
I. Types of Corduroy Pants
Before diving into the styling tips, it's essential to understand the different types of corduroy pants available. Corduroy fabric is characterized by its distinctive ridges, which are referred to as "wales." The wale count refers to the number of ridges per inch, with a lower wale count producing a thicker and more textured fabric, while a higher wale count results in a thinner and more delicate texture.
A. Different corduroy widths and textures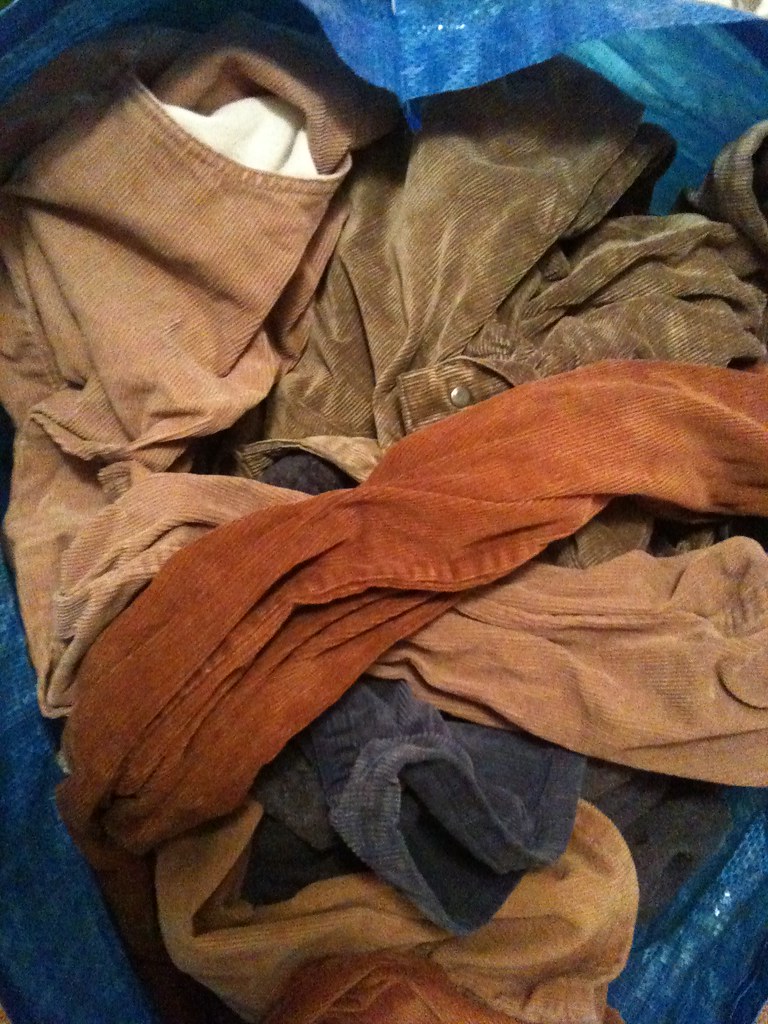 Corduroy pants come in various widths and textures, depending on the wale count. When choosing the right corduroy pants for you, consider the look you want to achieve. Lower wale count pants are more casual and have a retro look, while higher wale count pants tend to look more refined and sophisticated.
B. Various cuts and styles of corduroy pants
Corduroy pants come in a range of cuts and styles, including:
1. Straight leg: This classic cut is versatile and flattering for most body types.
2. Bootcut: Slightly flared at the bottom, this cut works well with boots and heels.
3. Flared: With a more dramatic flare, this style adds a touch of retro flair to your outfit.
4. Wide leg: A popular fashion trend, wide leg cords create a chic and elegant look.
5. Cropped: Perfect for showing off your ankle boots or sandals, cropped pants are a stylish option.
6. High-waisted: A flattering cut that cinches at the waist, these pants work well with tucked-in tops or crop tops.
C. Popular colors for corduroy pants
Corduroy pants come in various colors, but some popular options include brown corduroy pants, pink corduroy pants, and classic shades like black, navy, and beige. Don't be afraid to experiment with bolder colors like mustard yellow, burgundy, or emerald green to make a statement.
II. W

hat to Wear with Corduroy Pants:

Choosing the Right Top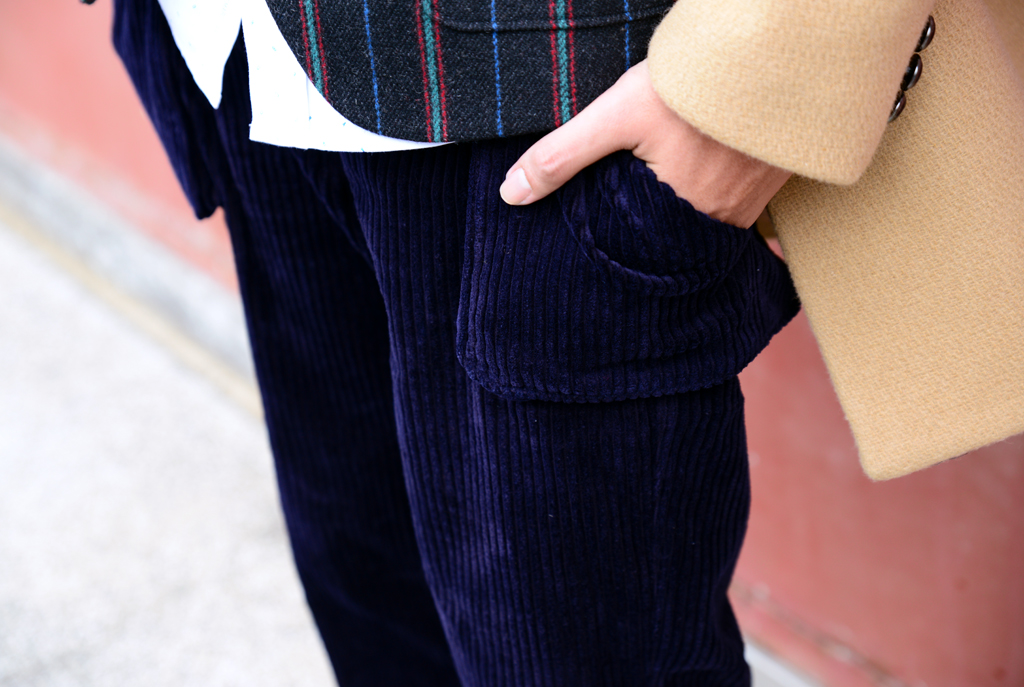 A. Pairing corduroy pants with different types of tops
To create a balanced and stylish outfit, it's essential to choose the right top to wear with your pair of corduroy pants. Here are some options to consider:
1. T-shirts: A simple white tee or graphic tees work well with corduroy pants for a casual and laid-back look.
2. Button-down shirts: Pair your corduroy pants with a crisp button-down shirt for a smart-casual outfit suitable for work or other semi-formal occasions.
3. Sweaters and cardigans: Cozy up in the fall and winter months by pairing your corduroy pants with a chunky knit sweater or cardigan.
4. Blouses: A feminine blouse can elevate your corduroy pants, creating a chic and sophisticated outfit.
5. Turtlenecks: For a fashion-forward look, style your corduroy pants with a sleek turtleneck.
B. How to mix and match colors, patterns, and textures
When styling your corduroy pants, consider mixing and matching different colors, patterns, and textured fabrics. For example, you can pair brown corduroy pants with a patterned blouse or a denim shirt. Alternatively, wear pink corduroy pants with a white button-down and a matching corduroy blazer for a monochromatic look.
C. Layering tips for corduroy pants outfits
Layering is key to creating a polished and put-together outfit with corduroy pants. Start with a basic top like a t-shirt or turtleneck, and add layers such as a denim jacket, corduroy blazer, or faux fur coat for added warmth and style.
III. Selecting the Right Footwear
A. Casual footwear options
1. Sneakers: For a casual and comfortable outfit, pair your corduroy pants with sneakers. White sneakers are a classic option, but don't be afraid to play with colors and patterns.
2. Loafers: A chic and timeless choice, loafers can be worn with both straight leg and wide leg cords.
3. Ankle boots: Perfect for fall and winter, ankle boots can be worn with cropped pants to showcase your footwear or tucked under longer pants for a sleek look.
B. Dressier footwear options
1. Pumps: For a more sophisticated outfit, wear your corduroy pants with classic pumps. Choose a color that complements your pants or opt for a neutral shade like black or nude.
2. Heeled sandals: In the warmer months, heeled sandals can add a touch of elegance to your corduroy pants outfit.
3. Knee-high boots: Pair these with a mini corduroy skirt for a chic and stylish fall or winter look.
IV. Accessorizing Corduroy Pants Outfits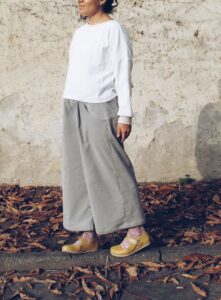 A. Choosing the right belts
A belt can add a finishing touch to your corduroy pants outfit. Choose a belt that complements the color and texture of your pants, or opt for a statement belt to add a pop of contrast.
B. Selecting appropriate jewelry
When choosing jewelry, consider the neckline of your top and the overall vibe of your outfit. Delicate necklaces and earrings work well for more polished looks, while chunky statement pieces can add an edgy touch to casual outfits.
C. Adding scarves and hats for a complete look
Scarves and hats can elevate your corduroy pants outfit while providing added warmth in the colder months. Choose a scarf that complements the color and texture of your pants and top, and opt for a hat that suits your personal style, whether it's a cozy beanie or a wide-brimmed fedora.
V. Occasion-Specific Outfit Ideas for Corduroy Pants
A. Casual outfits for everyday wear
For a casual day out, pair your corduroy pants with a simple t-shirt or a cozy sweater, and finish the look with sneakers or ankle boots. Add a denim jacket or a faux fur coat for added warmth and style.
B. Office-appropriate attire
Style your corduroy pants with a button-down shirt, a blazer, and loafers or pumps for a smart casual office outfit. Opt for a higher wale count and a more refined cut for a polished and professional look.
C. Dressier options for special events and parties
Elevate your corduroy pants by pairing them with a silky blouse or a sequined top, and complete the look with heeled sandals or pumps. Accessorize with statement jewelry and a clutch bag for a touch of glamour.
VI. Styling Tips for Different Body Types and Personal Styles
A. How to choose the right cut of corduroy pants for your body type
When selecting corduroy pants, consider your body shape and choose a cut that flatters your figure. Straight leg and wide leg pants are versatile and work well for most body types, while bootcut and flared styles can help balance out wider hips or create curves for those with a more rectangular figure. High-waisted pants are great for accentuating the waist and creating an hourglass shape.
B. Adapting corduroy pants outfits to suit your personal style
Whether you prefer a preppy look or a more bohemian vibe, you can adapt corduroy pants to suit your personal style. For a preppy look, pair your corduroy pants with a button-down shirt, a blazer, and loafers. For a more bohemian vibe, opt for wide leg cords and pair them with a flowy blouse, a statement belt, and heeled sandals. Wear corduroy pants with a cropped t-shirt and sneakers for an edgier look or opt for a knit top and ankle boots for a more classic style.
VII. Caring for Corduroy Pants
A. Washing and drying tips
To keep your corduroy pants looking their best, follow the care instructions on the garment label. Generally, corduroy pants can be machine washed in cold water on a gentle cycle and hung to dry. Avoid using high heat when drying, as this can cause the fabric to shrink and lose its shape.
B. Preventing and fixing common corduroy issues, such as pilling and fading
Pilling and fading can be common issues with corduroy pants, but there are ways to prevent and fix these problems. To prevent pilling, avoid rubbing the fabric against rough surfaces and wash your pants inside out. If pilling does occur, you can carefully remove the pills using a fabric shaver or a pair of small scissors. To prevent fading, wash your pants in cold water and avoid exposing them to direct sunlight for extended periods.
VIII. Conclusion
Corduroy pants are a versatile and stylish wardrobe staple that can be worn in various ways to create chic and fashionable outfits. Wearing corduroy pants is easy and fun, especially when you consider body type, personal style, and occasion. With the right tips and tricks, you can make your corduroy pants last for many seasons to come. So go ahead and experiment with this classic piece of clothing and create stylish looks that will help you stand out from the crowd!
Happy styling!