In men's fashion, matching colors can be a daunting task. However, with a bit of knowledge and creativity, you can confidently put together a colorful and stylish outfit that showcases your unique personality. Understanding color theory and considering your skin tone are essential steps in achieving harmonious and eye-catching looks. Let's delve into the world of men's color-matching style and explore the different ways to pair colors to create outstanding outfits. How to Match Colors in Men's Fashion?
The Basics of Color Theory
Before diving into color combinations, it's essential to grasp the basics of color theory. Colors interact in three fundamental ways: hue, value, and chroma. Hue refers to the name of a color, such as red, blue, or yellow. Value denotes the lightness or darkness of a color, while chroma describes its saturation or intensity. Consider these factors when matching colors in men's fashion to achieve a cohesive and visually appealing look.
The Color Wheel: Your Fashion Companion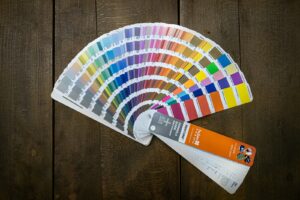 The color wheel is a valuable tool that simplifies the process of understanding how colors work together. Comprised of 12 different hues, including red, orange, yellow, green, blue, and purple, it provides valuable insights into color coordination.
Analogous Colors: Harmonious Combinations
Analogous colors are those that are adjacent to each other on the color wheel. These combinations usually match well together, making them a safe option for those unsure about color matching. Some common analogous color combinations include green and blue, red and orange, and yellow and green.
Complementary Colors: Bold and Striking
Complementary colors are those positioned directly across from each other on the color wheel. Pairing these hues creates a bolder and more striking look, albeit a bit challenging to execute. However, when done well, they can make an outfit pop. Some common complementary color combinations are blue and orange, purple and yellow, and red and green.
Styling Outfits with Color Matching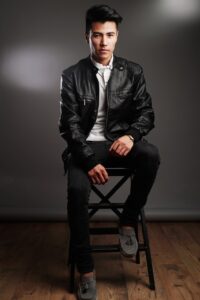 Now that you understand the basics of color theory and how to pair colors, let's explore various ways to incorporate color matching in your outfits.
Monochromatic: Elegance in Simplicity
The monochromatic color combination involves using different shades of the same color. This approach creates an elegant and cohesive look. For instance, pairing a light blue shirt with a navy blazer or a royal blue sweater with dark denim jeans.
Analogous: Smooth Transitions
Creating an analogous color scheme involves pairing two or three colors that are adjacent to each other on the color wheel. For example, you could pair a yellow tee with purple shorts for a smooth and coordinated transition of colors.
Complementary: Making a Statement
If you're looking to make a statement, opt for a complementary color scheme. Pairing a bold hue with its direct opposite on the color wheel can create a striking and eye-catching outfit. Try a green button-down shirt with pink chinos for a daring yet fashionable look.
Contrasting Colors: Popping with Style
Contrasting colors, those opposite each other on the color wheel, add interest and flair to an outfit. While they may be more challenging to match, the result can be truly captivating. Experiment with combinations like blue and orange, purple and yellow, or red and green to make your outfit pop.
Seasonal Color Combinations
Consider incorporating season-appropriate color combinations to reflect the spirit of the time of year.
Spring: Embrace Pastels
During spring, pastel colors like pink, yellow, and light blue are excellent choices for outfits. Pair them with whites or denim for a fresh and clean look that embodies the season's energy.
Summer: Go Bold with Brights
Summer is the perfect time to embrace bright and vibrant colors like orange, red, and purple. Pair these hues with shorts or skirts for a playful and fun look that matches the season's vibe.
Fall: Earthy and Rich Tones
Fall calls for rich and earthy tones like brown, burgundy, and olive green. Combine them with darker wash jeans or corduroy pants for a comfortable and stylish autumn appearance.
Winter: Frosty and Chic
In winter, frosty colors like white, silver, and blue create a chic and elegant look. Pair these colors with dark wash jeans or black pants for a sophisticated winter outfit.
Understanding Your Skin Tone for Perfect Matches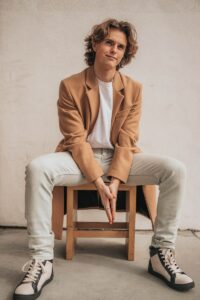 Finding colors that complement your skin tone is crucial in pulling off a stylish and flattering look.
Cool Skin Tone
If you have a cool skin tone, opt for colors with blue or purple undertones. Consider shades of white, gray, navy, and black, or experiment with jewel tones like emerald green or royal blue. Steer clear of warm colors like orange, yellow, or red, as they can wash you out.
Warm Skin Tone
For those with a warm skin tone, go for colors with yellow or golden undertones. Embrace shades of cream, beige, brown, and olive green. Experiment with warm colors like orange, coral, and red, and avoid cool colors like blue, purple, or green, which can make you appear sallow.
Neutral Skin Tone
Lucky with a neutral skin tone, you can pull off almost any color! Look for shades with both warm and cool undertones, and experiment with various hues to find your perfect matches.
Brown Skin Tone
If you have a brown skin tone, stick to warm undertones. Embrace shades of beige, brown, olive green, and orange, and experiment with yellow, gold, and red. Avoid cool undertones such as blue, purple, or gray, which may not complement your complexion.
The Importance of Color Matching: Enhancing Your Wardrobe with Coordinated Hues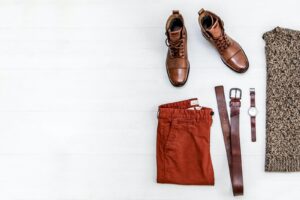 Matching colors in men's fashion is a crucial aspect of creating stylish and cohesive outfits. The right color combinations can elevate your overall look, making you appear polished and fashion-forward. Whether you're dressing up for a formal event or putting together a casual ensemble, color coordination plays a significant role in your overall appearance.
Men's Clothing: The Canvas for Styling
Your choice of clothing sets the foundation for color coordination. Understanding how to match colors effectively allows you to curate a wardrobe that effortlessly complements your style. From suits to casual wear, each piece in your wardrobe presents an opportunity to create fashionable and eye-catching looks.
Embracing Patterns and Designs
Incorporating patterns and designs into your outfits is a fantastic way to add visual interest and depth to your style. However, mixing patterns and colors requires finesse to avoid a chaotic appearance. When experimenting with patterns, consider the colors within them and how they complement or contrast with other pieces in your outfit. A well-coordinated mix of patterns can make a bold statement and showcase your fashion-forward sensibilities.
Men's Color Matching: A Skill Worth Cultivating
Color matching is a skill worth cultivating for men who seek to refine their style. By understanding the principles of color theory and how colors interact, you can confidently experiment with various combinations. Matching clothing colors in a harmonious way enables you to create outfits that suit your personality and occasion perfectly.
Stylishly Coordinating Ties and Shirts
When matching ties and shirts, consider the color wheel and your skin tone for the most harmonious combinations.
Classic Black and White: Timeless Elegance
A white shirt paired with black pants is a timeless and foolproof combination that always looks stylish. It can be dressed up or down depending on the occasion.
Playing with Blue
Blue is a versatile and stylish color that can be paired with various shades. A light blue shirt with navy pants exudes sophistication, while a royal blue tie can add a bold touch to a navy suit.
Burgundy Elegance
Burgundy is a rich and refined color that pairs beautifully with white, light blue, or black shirts. For a chic and elegant look, opt for a burgundy tie with a white shirt.
Shoes: Completing the Look
Your choice of shoes can elevate your outfit or bring it down. Follow these basic guidelines to match shoes with your ensemble.
Classic Black: Always Reliable
Black shoes are incredibly versatile and work with almost any outfit. They are suitable for both formal and casual occasions, making them a staple in any wardrobe.
Brown: Earthy and Warm
Brown shoes pair well with earthy colors like green, brown, and burgundy. They also complement denim for a more casual look.
White: Summertime Freshness
White shoes are best reserved for summertime or warm weather outfits. Pair them with light colors like pastels or white jeans for a fresh and clean look.
Adding a Pop of Color
For those daring to make a statement, brightly colored shoes can add a pop of color to any outfit. Ensure that the shoe color coordinates with the rest of your ensemble for a cohesive look.
Stylishly Accessorizing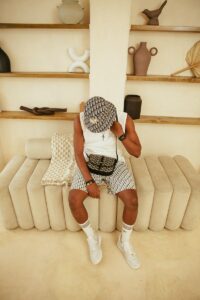 Accessories play a vital role in enhancing your outfit's style and color coordination.
A Belt: Cinch with Color
A belt is an excellent way to add a pop of color to your outfit. Choose a color that complements the rest of your ensemble and use it to cinch your waist or accessorize your look.
A Statement Piece: Make a Mark
A bold necklace or stylish watch can also add color and flair to your outfit. Ensure that your chosen piece coordinates well with the rest of your attire.
A Stylish Bag: Function and Fashion
A colorful bag can inject vibrancy into your look. Choose a color that complements your outfit and use the bag to carry your essentials in style.
How to Match Colors in Men's Fashion: Embrace Your Unique Style with Colors
Mastering color matching in men's fashion is an art that allows you to express your personality and unique style. Armed with an understanding of color theory, skin tone, and the different ways to pair colors, you can confidently create striking and stylish outfits. Experiment with different combinations, embrace the power of color, and wear your vibrant outfits with confidence, always embodying your personal flair. Whether you prefer monochromatic elegance or bold complementary statements, let colors be your fashion allies to stand out with grace and poise.