Knowing all of this history about baseball may be challenging when choosing what to wear to baseball game. That being said, sports game attire should be casual, so you probably already have many amazing wardrobe staples in your collection that you can wear in the stands.
What to Wear to Baseball Game
A sporty and simple outfit is always best when you're going to be spending time outdoors at a sporting event. A neutral top, your favorite bottom, comfy shoes, and cool accessories are key. Remember: a casual outfit featuring comfortable pieces, a great hat or visor, and a bag with your home team's logo is the perfect baseball game uniform (for those of us who aren't playing).
In addition to more athletic styles like leggings and sweatshirts, layers are also a fantastic idea because stadiums can typically be quite chilly or warm—it all depends on the day. By this point, you might have started thinking about appropriate clothing for a baseball game. If you feel confident and prepared to buy tickets for a game online, great! But before doing so, double-check that you have everything you need.
So, we'll go through some of our favorite baseball game outfit ideas below in order to get you started planning your next outfit.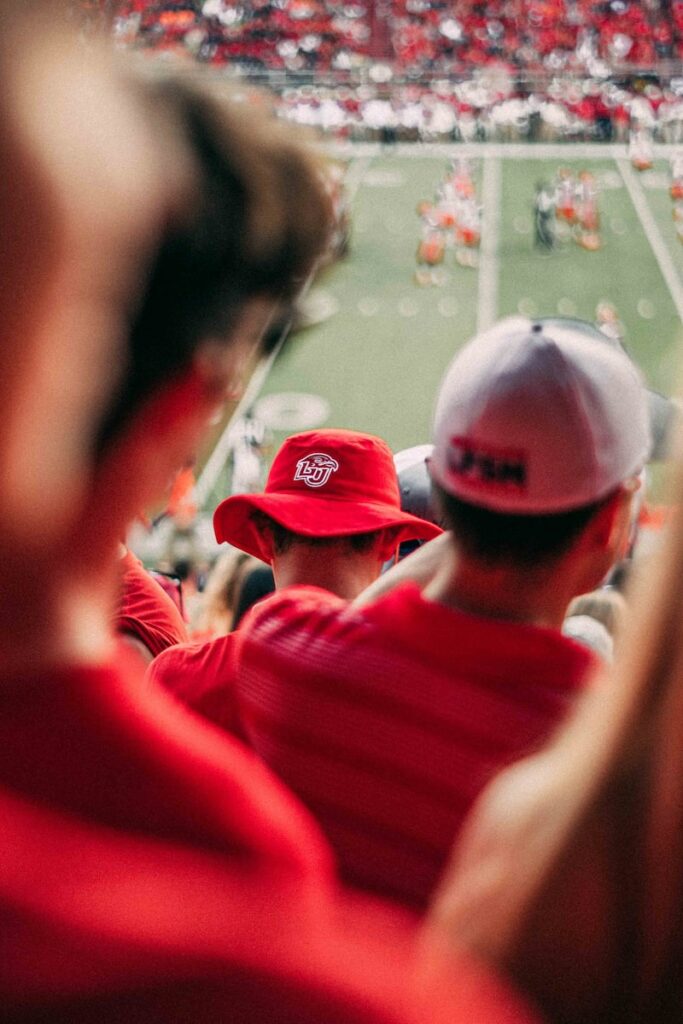 What to Wear to Baseball Game:Outfit Ideas for Baseball Games
Baseball Hat
A baseball cap is something you can never go wrong wearing to a baseball game. Plain ones are available, or you could choose one with a design or saying inspired by the team you're supporting.
You can wear this piece casually with many different outfits. For example, you could pair it with distressed denim shorts and a black tank top. You could also accessorize with a Blue Jays baseball cap. To complete the look, we recommend pairing it with white, blue, or black sneakers.
Face Paint
Show your team spirit by painting stripes on your cheeks in their colors! You can also wear a striped button-down jersey with the team logo, a black tube top, and daisy dukes to complete the look.
This is a fantastic method to display your team spirit and get your mind back in the game for both boys and girls.
Baseball Jersey 
A baseball jersey atop a hoodie is perfect for when you want to feel relaxed and comfortable. You'll also fit in with everyone else wearing jerseys at the game.
The acid wash denim and classic layering creates a vintage outfit, perfect for any event. Throw on a baseball hat and white sneakers to complete the look.
Polo Shirt
A polo shirt is the ideal gift for a sports fan, whether you're supporting your team or looking to impress your date. You'll get some bonus points if the shirt has the team's mascot or name on it. A pair of khaki-colored shorts will dress up the appearance while also giving it a more stylish feel. In place of sneakers, consider wearing a pair of leather loafers or black shoes instead. They'll give your outfit depth while also complementing your opaque sunglasses.
Stripes
Stripes are a throwback to traditional baseball apparel and are frequently seen today. As a result, the name of your favorite team written in big letters on the chest firmly establishes that reality. For a more casual look, dress this outfit up with a fitted pair of jeans. White running shoes are an obvious, simple choice for footwear if you want to brighten this ensemble up a little bit. Consider wearing shoes that match your favorite sports team's colors if you want to make this outfit brighter.
Monochrome Look
A monochrome outfit is a fashionable, simple option that only requires you to select similar colors and hues from your clothing collection and piece them together. Hailey Bieber slays this look with a black graphic tee paired with some black skinny jeans. To make the outfit more interesting, she adds black laced booties and a New York Yankees ball cap. If high heels aren't your thing, go for a pair ofblack sneakers!
Converse Shoes
Flannel, skinny jeans, and Converse shoes are a trend you'll see in almost any picture taken at a baseball game. This outfit consists of the classic white low-top Chuck Taylor All Stars paired with some ripped blue jeans, a black shirt, and a pinstripe baseball jersey. Topped off with a fitted baseball cap, this look is perfect for anyone who wants to show their team spirit while maintaining comfort throughout the game. If you want more color in your outfit, go for shoes that match your favorite team's colors!
Street Style 
If you want an outfit to wear out after the game that still looks good, go for a street style. Try pairing a leather jacket or denim jacket with some distressed denim jeans- it'll look dark and moody. The whole outfit is mostly one color, but the gray hoodie breaks it up nicely. Black sneakers and a baseball cap finish off the sporty yet stylish look.
Biker Shorts
If comfort is key for you, go with a pair of biker shorts. The darkness of the bottoms provides good contrast with an oversized gray sweater, and the blue in the logo Brennan tint hat creates a cohesive look.
Adding a vintage Christian Dior mini purse to an otherwise sporty and simple outfit lifts the look to luxurious heights. You could achieve this everyday style complete with coffee in hand by wearing Converse shoes or any black or blue sneakers, accessorizing with some chunky designer sunnies,  and finishing with your drink of choice.
Comfy Outfit
A comfortable pair of sweatpants will allow you to do anything from watching a baseball game to cheering on your favorite team. Kourtney Kardashian goes for a more feminine style with fitted gray joggers and a drawstring waist, complemented by a fitted cropped long-sleeve top. The high-ankle socks and low-top Vans (in the classic black and white design) provide some contrast to this outfit, while the baseball cap adds an athletic edge. Of course, this ensemble is rather basic, but you may add a cushion finger and some face paint to spice things up.
What Type of Baseball Outfit Can You Get?
Baseball costumes are usually simple and casual, and they frequently include a few accessories that add a bit of athletic flair. Casual ensembles, on the other hand, may range from street style to athleisure. So there are several styles of baseball game attire to select from.
Choosing a dark tie, jeans and a crisp white shirt is something every prepper should have in their wardrobe. Preppier outfits often include polo shirts, button-down shirts, stripes, and nicer denim pants. Some people, on the other hand, choose to be as comfortable as possible for the occasion and arrive dressed in sweatpants and a themed headpiece. Baseball fans can wear either feminine or masculine styles of clothing. They may also dress up or down according to their mood.
Anyone who wishes to really immerse himself in the baseball culture will be dressed in team apparel. They could even paint their face and body with the colors and logo of this team.
How to Choose The Best Baseball Outfit
Sporting events are a great way to bond with family and friends over your shared love of sports and entertainment. These memories will last a lifetime, so it's important to choose the right baseball game outfit.
So that's why we're here to assist you. There are a number of factors to consider while selecting what to wear to a baseball game:
Price
Quality
Material
Comfort
Style
If you're searching for baseball game apparel that'll also work in your normal wardrobe, you'll want to invest in higher-quality, long-lasting products. It's a good idea to spend money on things that you can wear many times rather than just at sports events in this situation. However, if you'd prefer to wear something with your favorite team's logo or colors, don't go crazy! Merch may be costly, therefore it's ideal to invest in items that will last for years and years beyond the nearest sports event.
Comfort, style, and material usually go together, and when it comes to baseball game attire, athleisure and sporty clothing are both popular choices. These are simple and obvious solutions why they are so popular. Plus, you don't want to be concerned about what you're wearing while cheering your team on! So, choose clothes that are comprised of soft moisture-wicking textiles with a comfortable fit.
How to Style Baseball Outfits
After you figure out the perfect ensemble to wear to a baseball game, it's time to add some pizazz. The best wayto do that is with fun, sporty accessories. Below, we share some of our optimal choices with you. Show off your fandom by donning team-themed foam fingers, baseball hats and patches for clothing and bags—it's a great conversation starter and gets you pumped for the game! If you're looking for something more budget-friendly, faceand body paint does wonder in displaying your dedication to your squad!
There's nothing worse than being cold at a baseball game, but you also don't want to wear a bulky jacket over your cute outfit. A great solution for this dilemma is to layer a jersey over a long-sleeved tee or sweatshirt. This way, you'll be comfortable and stylish without having to worry about being too cold or too hot. When thinking about what to wear to a baseball game (or any sporting event), functionality, comfort, and style are key. So sporty shoes and sneakers are the ideal choices!
Fashion Tips to Avoid With Baseball Outfits
If you're stuck on what to wear to your next baseball game, look no further! We've assembled some of the best (and worst) looks for a fun day out at the ballpark.
Because this is a casual event, please refrain from wearing dressy clothing such as fancy dresses, suits, business attire, or anything of the sort. Another thing to avoid is heavy clothing and jackets. Instead, wearing layers and lightweight pieces that you'll be able to take on and off is best.
You should also avoid wearing gear from teams that aren't playing since it doesn't make sense! Instead, sports gear from the two teams into bat, or perhaps a baseball cap and stripes.
Attending a baseball game means having fun under the sun, so make sure you wear a hat, sunglasses, and sunscreen to protect yourself from overheating or getting a nasty sunburn. Nobody wants that! Plus, being able to see clearly is always an advantage.
How To Take Care Of Baseball Outfits
Although you may be sticky and uncomfortable, baseball games are a classic American experience that everyone should have. From the sound of cracking bats to the roar of the crowd, there's something magical about being in a stadium filled with people who share your love for the game.
However, once you get home from the game, your clothing will need a lot of attention. As a result, you must learn how to properly care for them. We'll share some ideas below for keeping your goods appearing brand new:
1. Immediately remove all your clothing and any gear, including hats and sunglasses.
2. Soak all your clothing in cold water for about 30 minutes to an hour.
3. Wash your clothing on a delicate cycle with cold water and mild detergent.
4. Hang or lay your clothing out to air dry.
5. If you have any stubborn stains, pretreat them with a stain remover before washing.
With these simple tips, you'll be able to keep your clothing looking great after every game! So get out there and root for your team—we know they'll appreciate it.