Chelsea boots make for excellent formal shoes – regardless of the hue of your suit. For a sleek look, go with slim pants that complement the streamlined cut of Chelsea boots. Today, we will go over chelsea boots with a suit to make your style edgier.
Chelsea Boots With a Suit
Chelsea boots are the fanciest boot style and can thus be worn with any suit. They're not quite dressy enough to match a tuxedo, though. It's important that your slim-cut pants fit well if you want to wear chelsea boots.
Not only should your pants be slim, but the length matters as well. Opt for pants with no break or a slight break to display the chelsea boot side panel and top.
There are some things to remember when wearing chelsea boots. For instance, do not tuck your pants into your boots as it creates a less than flattering look.
Up your outfit game by donning a pair of Chelsea boots the next time you head out, date or business meeting included. No matter what time of year it is, these versatile shoes are perfect for any situation.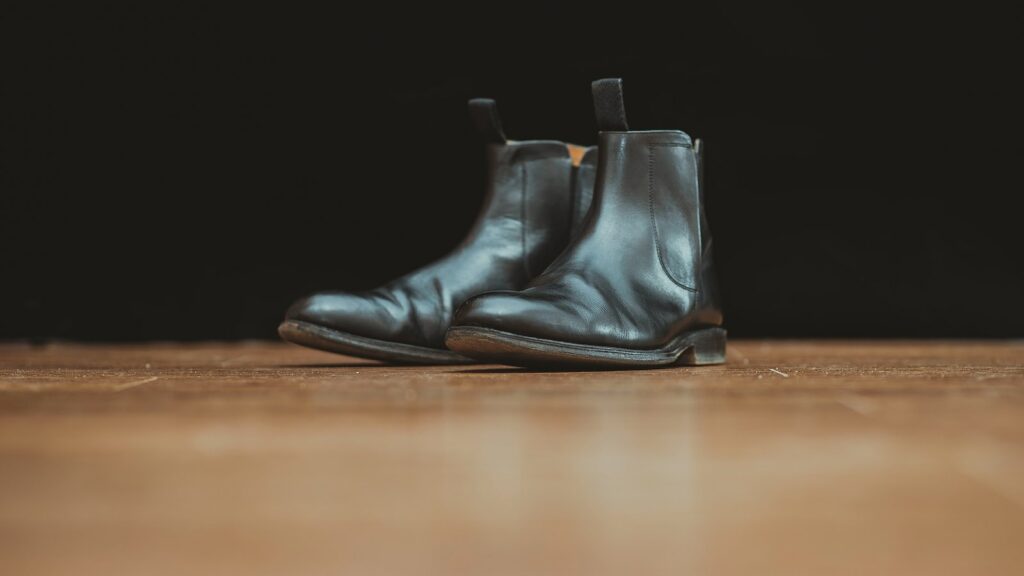 Can you wear suede?
Dapper but dressed-down? Suede Chelsea boots are the perfect footwear to complement your suit for a comfortable, casual look. Fashion-forward and textured, suede is best saved for informal outings like nights with friends – not the office. You can also wear a pair of socks under dress boots for a more comfy feeling.
Blue or navy suit
Is it possible to match chelsea boots with a suit that is blue? A blue or navy suit gives off an air of classic sophistication. It's not as formal as a black suit, but it still conveys a look of relaxed authority. Much like grey suits, the level of formality is dictated by the shade of blue–lighter colors are less formal while darker ones erring on the more formal side.
There are several colors that look excellent with blue suits, such as white, pink, or light blue. These create contrast and make the suit pop. When it comes to shoes, brown is generally the best color to complement a blue suit. However, black Chelsea boots can also be worn if you don't have any brown footwear.
Dark green suit
A deep green suit is a classy way to dress down your look. its dark color is elegant and speaks of confidence. Black or brown leather Chelsea boots go great with a green suit, but for a more casual feel, try wearing suede boots instead.
This shade is perfect for anyone who wants to be noticed but not over-the-top. It will leave a great impression and have people remember you as being well-dressed.
Grey or charcoal suit
When choosing a grey or charcoal suit, take the shade of grey into account. A light grey is more casual while a dark grey looks more formal.
The shade you wear also depends on your skin tone. If you have a lighter skin tone, consider wearing a light grey suit. If you have a darker skin tone, charcoal suits will look great.
Black suit
A black suit is perfect for any event, whether it's a work function or a night out. To make the outfit more versatile, switch out your dress shoes for some black leather Chelsea boots. These types of boots are typically slim and tall with a pointed toe area. You can also find them in different materials like suede or with laces instead of elastic.
Final Thoughts On Chelsea Boots With a Suit
No matter the color or material of your suit, wearing boots or Chelsea boots can elevate your style and give you a polished, sophisticated look. Remember to choose slim-fitting pants that hit at the right length and to avoid tucking them into the boots. And don't be afraid to play around with different materials and colors for a unique twist on traditional formal attire. With the right Chelsea boot and style, you are all good to go. Happy styling!
Is Guess a Designer Brand?
Is Coach a Luxury Brand?
What Color Shirt Goes With Dark Grey Pants?