Watches are not only costly, but they're also functionally superfluous since you may always tell the time by looking at your phone. The desire to collect watches, own numerous vintage watches might seem rather senseless in this light. Especially if you keep most of them locked away in a safe.
People collect watches might be for a variety of reasons, and like with most collections, each person's watch collection is unique. However, there are certain themes that tend to run through watch collecting, which are more about the pieces' emotions rather than reason.
Why do people get into collecting watches? Here, we look at why some watch collector are enthralled by horology.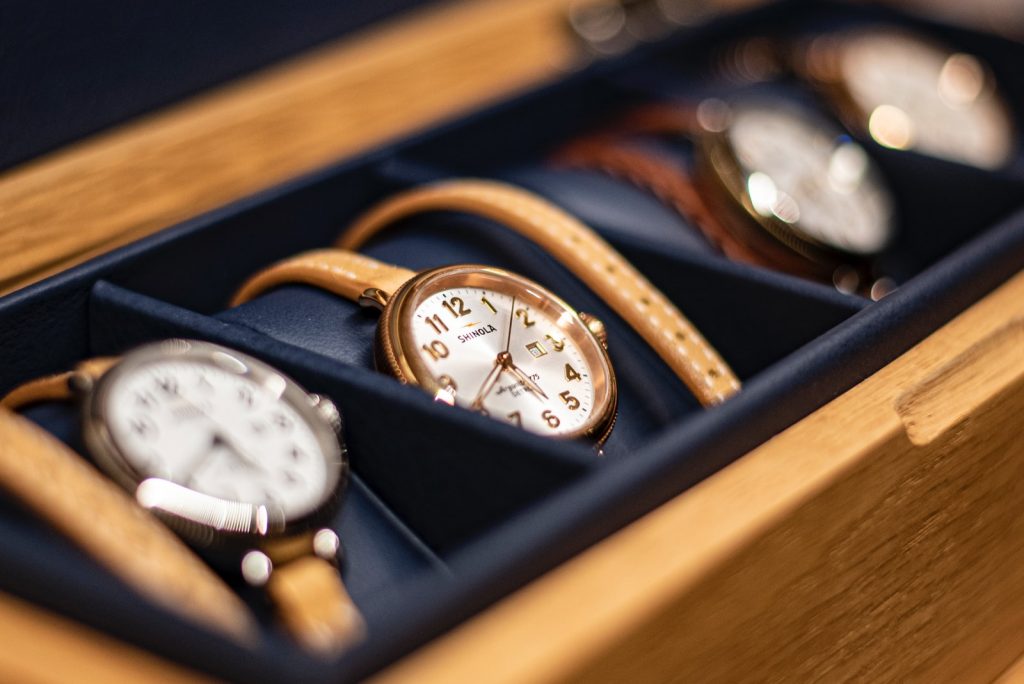 Why Do We Collect Watches?
A watch collection may reveal a very personal narrative. Some collectors may have received their first luxury timepieces on a significant birthday, achievement, or milestone as a gift. The collection of watches might be the start of your personal timepiece collection, and each own grail watch will chronicle an important event in your life. As a result, over time, your fine timepieces collection will tell the tale of your life as you experience it through various models.
There Is a Lot to Learn
Luxury timepieces are extremely complicated mechanisms, and learning about them can be really fascinating. The more you learn about watch brands, the more you appreciate them, and the more you desire to build your collection. It's also a way for collectors to get started. It's very likely that you'll conduct some research before purchasing your first luxury wristwatch, since they cost more. This is a serious purchase that you find intriguing; this might eventually develop into a desire to learn more, including Rolex explorer, Patek Philippe, Vacheron Constantin and Audemars Piguet, which are luxury timepiece.
They Are Part of History
Watches offer a great deal of fascinating stories. Many collectors can learn more about the history behind their expensive watches, vintage models and discover why they're so special by reading them. The OMEGA Speedmaster examined the moon's surface, while the Cartier Santos aided aviators in flying. These fantastic wrist timepieces allow you to commemorate and honor these momentous events by wearing them. People want to be a part of history by owning something that is, or will soon be, historic. It's an honor to own such a revered item. For many enthusiasts, the chase is far more fulfilling than the acquiring. It is why they can spend significant amounts of time and even more significant amounts of money securing their own personal grail watch.
The Thrill of the Chase
Some watch collectors are particular about certain manufacturers, functions, or aesthetic features. They might spend years looking for specific pieces to add to their collection. It's possible they're waiting for new models to come out or are looking for limited edition or vintage versions. Collecting is exciting because of this search and the rush of obtaining that elusive item.
They Are Works of Mechanical Art
Luxury timepieces are seen by collectors as tiny pieces of art that are works of art in their own right. The skill and craftsmanship involved in their manufacture make them something to be truly proud of. They are complicated and sophisticated mechanisms with hundreds of tiny components working together that need a high level of expertise to construct. Wristwatches intrigue watch collectors, who enjoy seeing how the mechanical workings and improvements have changed throughout the years. The small engineering that goes into these is fascinating, and the technology improves year after year with exciting new additions. Collectors around the world cherish the balance between technological progress and watchmaking tradition, as well as the hands-on abilities of the artisans.
Celebrity Vampirism
Last year, a variety of timepieces belonging to the late TV host and chef Anthony Bourdain went up for sale. The final offers far exceeded expectations. The advertised price of Bourdain's stainless steel Rolex Oyster Perpetual Date was $2000 to $4000. The end result: $48,750.
The late and great have also been known to receive staggering prices for their timepieces. Paul Newman's Daytona, which sold for US$17.8 million, is just one example. This isn't the first or last instance in which a celebrity's watch has fetched a princely sum at auction.
Dr Moulding explains that the sky-high cost of these timepieces goes much beyond their scarcity value. It's as though there's a form of epidemic when it comes to collectors' golf clubs, according to Dr Moulding. It's as though the essence of the previous owner has been infused into it.
There's certainly some truth to this fantastic claim. Bourdain's Rolex was worth its price because it had belonged to him. In the eyes of a collector, it becomes psychically charged with his rogue swagger as his personal possession. In the same way, Newman's Daytona would have appealed to a similar taste, with the buyer hoping that some of the actor's enthusiasm might rub off.
Dr Moulding explains that objects become a part of our identity. And in this sense, they may also provide a sense of history and a physical link to the past.