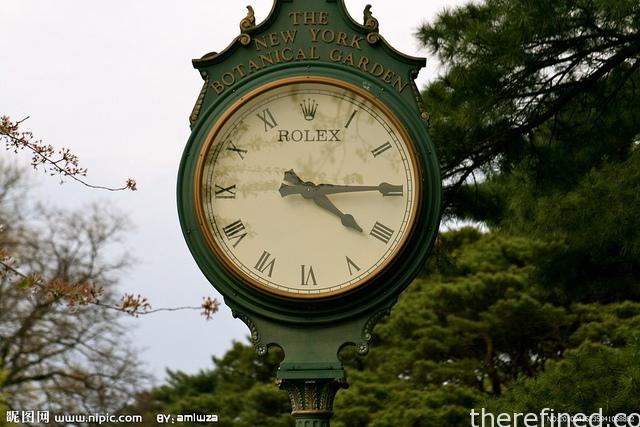 Rolex is a company with a high reputation, a reputable company that exclusively produces a high quality consumer product. It doesn't even come as a surprise that the 2014 Global RepTrack 100 study by the Reputation Institute puts Rolex on the top spot as the number one reputable company as measured by consumers and second on the overall list of the overall list of 100 most reputable companies. The study defines reputation according to how a consumer perceives a company's product, image, personal relatability, governance, citizenship and financial performance.
The history of Rolex is hard to disclose without mentioning its founder and his passion to deliver quality watches. The beginning of Rolex goes back to the birth of Hans Eberhard Wilhelm Wilsdorf. His early work experiences especially with Cuno Korten in La Chaux de Fonds, Switzerland taught him invaluable lessons that would later be very useful in the founding and success of Rolex. After working for a watch explorer in Switzerland and doing his military service in Germany, he moved to London in 1903 and two years later set up his first watch company – Wilsdorf & Davis and the rest was history.
[custom_headline type="left, center, right" level="h2″ looks_like="h3″ accent="true"]The Rolex Timeline[/custom_headline]
1905 – Founded the firm of Wilsdorf & Davis
1907 – An office in La Chaux de Fonds for marketing wristwatches was opened
1908 – Rolex as a brand naee was regstered (July 2) in Chaux de Fonds
1910 – The Official Watch Rating Centre in Bienne granted a Rolex watch the Swiss Certificate of Chronometric Precision. It was the first wristwatch in the world to receive the said award.
1914 – Kew Observatory in Great Britain awarded a Rolex wristwatch a class "A" precision certificate. This was the start when Rolex had become popularly known as synonymous with the word precision.
1919 – Rolex moved to a city renowned internationally for watchmaking, Geneva.
1925 – Rolex registered the crown symbol as a trademark
1926 – Launch of the first waterproof and dustproof watch named Rolex Oyster
1927 – Mercedes Gleitze, a young English swimmer crossed he English Channel that lasted for 10 hours to prove that Oyster is indeed waterproof; Wilsdorf with his advertising campaign took over the whole of the front page of the Daily Mail which stated the following – "The marvelous Rolex wristwatch – The World's best by every test" and "All Good Jewellers throughout the British Empire stock Rolex watches"
1931 – Rolex invented and patented the world's first self-winding mechanism with a Perpetual rotor.
1933 – The members of the first expedition to fly over Everest wore Rolex Oysters
1935 – The technical performance of Rolex Oyster was tested in the areas of sport, aviation, motor racing and expeditions; Sir Malcolm Campbell, the "king of speed" wore a Rolex watch on his quest to break his own world speed record for the 9th time at Daytona, Florida saying Rolex had kept the perfect time even at strenuous conditions.
1945 – The birth of Rolex Datejust, the first wristwatch with an automatically changing date on the dial equipped with a Jubilee bracelet
1947 – Wilsdorf presented Datejust to an unknown gentleman who was the greatest figure of all time commemorating Rolex' 100,000th official certified chronometer
1950s – Rolex started developing professional watches known as watches for achievers who are into deep-sea diving, aviation, mountain climbing and scientific exploration.
1953 – Rolex Oyster Perpetual watches reached Mt Everest as Sir Edmund Hillary and Tenzing Norgay reached the summit of the mountain; the Submariner was launched as the first divers' watch waterproof to a depth of 100 metres (330 feet)1954 – Rolex GMT-Master the first wristwatch to show two time zones at once was developed.
1956 – Rolex Oyster Perpetual Day-Date was launched as the first wristwatch with an automatically changing day and date on the dial; the Rolex Oyster Perpetual Milgauss was confirmed by The European Organization for Nuclear Research (CERN) to resist magnetic fields and interferences.
1957 – Rolex Lady-Datejust was the first ladies' version of the Rolex date chronometer
1963 – Rolex Cosmograph was launched as a new-generation chronograph which featured a tachymetric scale on the bezel for calculating average speed; Divers of the Compagnie Maritime d'Expertises (COMEX) wore Rolex Sea-Dweller watches while working at great depths
1967 – Rolex Oyster Perpetual Sea-Dweller was launched made specifically for pro deep-sea divers since it is waterproof up to 610 metres.
1971 – Rolex Oyster Perpetual Explorer II watches is for polar explorers, speleologists, and all those pushing the boundaries of exploration so they can tell night from day
1976 – Rolex Awards for Enterprise commemorating the 50th anniversary of the Oyter.
1978 – Rolex the Sea-Dweller 4000 was launched
1985 – Rolex was the first to use 904L for the cases of its steel watches valued for its excellent anti-corrosion properties and exceptional sheen
1992 – Rolex Lady-Datejust Pearlmaster was launched; Marked the arrival of Rolex Oyster Perpetual Yacht-Master as the company became a sponsor of some of the world's most renowned offshore races
Visiting the early years of Rolex is truly breath taking and full of extraordinary events that marked not only the watchmaking industry but also world history itself. It is extremely interesting that Rolex still impresses its customers ever since its humble beginning which was started by an ambitious German Swiss jeweler Hans Wilsdorf in in the early 1900s. Surely, Rolex remained to be at the top rank not only because of its overall corporate performance and growth, but also because of the fact that it has retained its core element of Rolex ownership experience – Rolex is a sign of success and personal accomplishment. Even after the passing of Wilsdorf, Rolex continues to be strong, passionate and driven in its relentless pursuit to detail and perfection.