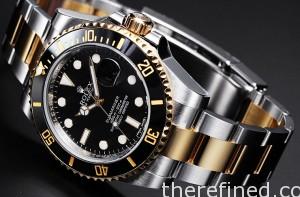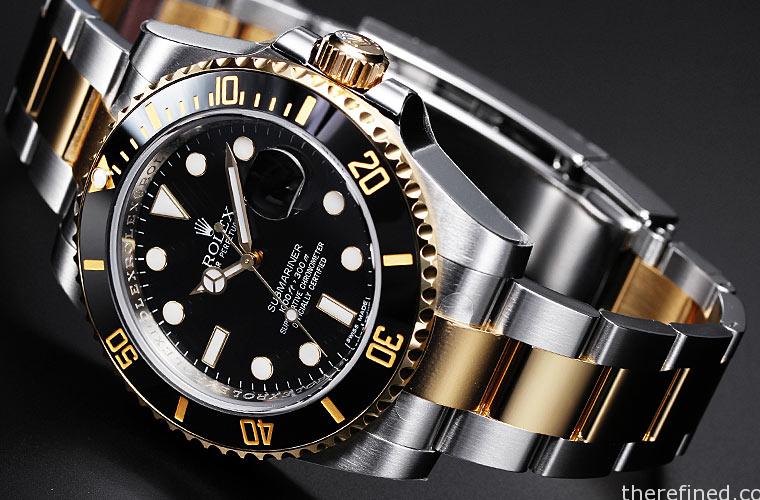 Among other sports watches developed by Rolex, the Submariner is one of the most famous watch models due to its timeless design and functionality.  It is acknowledged by many as the model most closely associated with the luxury brand Rolex.  Perhaps the names attached to the Submariner have something to do with people wanting to see the model at their wristwatches.  The list of famous names associated to this particular Rolex watch model is endless but a few historical figures include:
Jacques-Yves Cousteau, along with his father Auguste Piccard, wore an early Rolex prototype Submariner (6200 model) when they attempted a world diving record;
Thor Heyerdal, a Norwegian ethnographer and adventurer, wore a Rolex Submariner during his famous 1970 sea expedition; and
Sean Connery wore a Submariner in several of his character's films (at least 9 James Bond 007 films), which opened the model among non-diving public.
The eventful journey of the Submariner began in the early 1950s with Rene P. Jeanneret, a Rolex director and an amateur diver, encouraged the company to develop a sports watch solely intended for scuba divers.  Its ability to work at incredible depths under the water is what made the Submariner perfect for diving with its rotating bezel that keeps track of air time when the diver is submerged underwater.  Rolex wanted to make the Submariner function failure free because of the extreme conditions the model was always subjected to.  Over the course of the watch's 50+ year history years, there has been only a few changes made to the handsome, masculine, and classic style of the Submariner which include helium escape valve, a 31-jewel movement, superluminova hour markers, and an even greater depth rating of 300 meters.
SPECIFICATIONS
Over the years, the Submariner transformed from a rugged sporty diver's wristwatch to a sophisticated model worn at board meetings and due to its popularity and mass appeal, it has become the subject of global counterfeiting.  Before we seek out and purchase the Submariner, let's examine the features of the 'no date' Sub:
THE MODEL CASE
The case is crafted from a solid block of 40mm, 904L stainless steel, a corrosion-resistant alloy made in Rolex's own foundry.  Exclusive to Rolex watchmakers, the fluted case back is screwed down with a special tool.  It has a Triplock system waterproof crown, identified by three dots on the crown, which screws down securely against the Oyster case to provide an extra layer of protection.  These special features have made the Submariner waterproof to a maximum depth of 300m (1000 ft).
THE BEZEL
The new no-date Sub has a bezel of Cerachom, which makes the Sub absolutely resistant to fading and corrosion as well as virtually scratchproof.  The graduations are PVD coated with platinum, and the dial and hands are filled with Chromalight to emit a long-lasting blue glow.
THE MOVEMENT
Features a perpetual rotor, mechanical, and self-winding which allows the watch to run continuously.  Every slight movement of the wrist winds the movement and even when there is no movement for several days, the watch still winds because of the energy stored in the mainspring allowing the watch to continue to function.
THE BRACELET
The Submariner is tailored with a solid-link Oyster bracelet in 904L steel detailed with a patented new-generation OYSTERLOCK safety clasp and glidelock extension system, which allows fine adjustments of the bracelet length in 2 mm increments for a total of approximately 20 mm without the use of any tools.  This feature provides additional comfort in any circumstance especially among divers who have to worn a 3mm diving suit.
It is important to note here that Rolex has three watch lines namely Oyster Perpetual, Professional and Cellini.  The Rolex Submariner is part of Rolex's Oyster Perpetual line and early models where named with reference numbers:
EARLY MODELS
The Reference 6204 & 6205 (1905) – Water resistant to 600 feet; used the Rolex Caliber A260 movement; have straight "pencil" style hands; some models have the Submariner logo printed below the center pinion while others have the logo blacked out;
The Reference 6200 (1954) – The first Submariner to make use of the Mercedes hand set; and an oversized winding crown compared to previous models.
The Reference 6536 (small crown) and 6538 (oversized crown) (1954) – Used the Rolex Caliber A260 movement; with chronometer version (designated 6536/1); Use of the now-familiar Mercedes hands with the Submariner logo and depth rating printed on the dial.
The reference 5508 (small crown) & 5510 (large crown) (1957-58) – Used either gilt or gilt/silver gilt printing which means the color of the text was gold; Radium paint was used for the luminous indices; and printing on glossy black dials; and the dials had various patterns either Explorer-style dials with 3-6-9 style or the hour markers like the ones uses today.
The Reference 5512 (chronometer version) & 5513 (non-chronometer) (1959 -1978) – Used four calibers – 1520, 1530, 1560 and 1570; Oversized crown; Added a new feature to the crown side of the case called "Shoulders" in order to provide protection for the winding/setting mechanism; switched to safer tritium-infused paint from Radium paint.
The Reference 1680 (1965 or 1966) – The Cyclops date magnifier was introduced to the Submariner line; The first to be equipped with a date function which transformed the Submariner line from a diver's watch to a luxury sports watch; and the first reference to be sold in a steel and gold version ("two-tone" or "bi-metal") and also in an 18 carat gold model; The 1565 caliber, both C.O.S.C. certified and had a date display,  was introduced to include hacking (the seconds hand stops when the crown is pulled out for time setting).
The Reference 16800 (1977-78) – Caliber 3135 was first introduced with the quick set date feature and sapphire crystals; Now rated from 660 feet to 1000 feet; White gold surrounds were added to the luminous hour markers sometime around 1985 or 86.
The Reference 168000 – Stainless steel was upgraded from grade 316 to grade 904.
The Reference 16610 (1989) – Introduction of 3135 caliber, which features a 28,800 BPH rate.
The Reference 14060 (1989 – 1999) – Introduced the white gold surrounds to the hour markers, sapphire crystal, and new fast-beat 28,800 BPH movement; Use of the new caliber 3000.
The Reference 14060M – A replacement to the 14060; Use of an improved caliber 3130, which features a balance bridge for increased shock protection and improved operating rate as well as winding system.
The Reference 16610LV (2003) – Made some cosmetic changes which include green bezel and a "maxi dial" which has larger hour markers.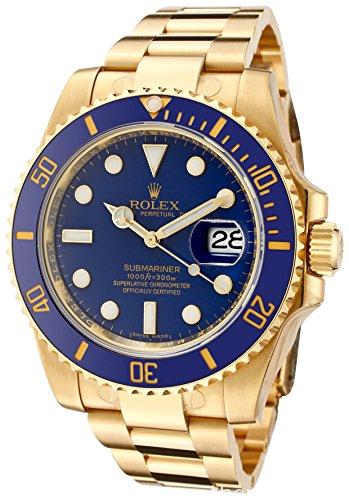 CURRENT ROLEX WATCH SUBMARINER MODELS
Later models throughout the next 40 years in the Submariner line was continually updated and improved which included features like improved water resistance, new movements, and numerous small cosmetic changes.
The Submariner Line
Model Name
Production Date
Metal
Dial
Bezel
Movement
Submariner Date 40 mm
2008 –
White gold
Blue
Ceramic/Blue
3135 COSC
[eafl id=72 name="Amazon – Rolex Submariner Blue Index Dial Oyster Bracelet 18kt White Gold Mens Watch 116619BLSO" text="Buy Online"]
Submariner Date 40 mm
2009-
Steel/Yellow gold
Blue
Ceramic/Blue
3135 COSC
[eafl id=75 name="Amazon – ROLEX SUBMARINER DATE STEEL AND YELLOW GOLD BLUE CERAMIC 116613″ text="Buy Online"]
Submariner Date 40 mm
2009-
Steel/Yellow gold
Black
Ceramic/Black
3135 COSC
[eafl id=74 name="Amazon – Rolex Submariner Black and Gold Index Dial Oyster Bracelet Mens Watch 116613BKSO" text="Buy Online"]
Submariner Date 40 mm
2009-
Yellow gold
Black
Ceramic/Black
3135 COSC
[eafl id=73 name="Amazon – Rolex Submariner Black Index Dial Oyster Bracelet 18kt Yellow Gold " text="Buy Online"]
Submariner Date 40 mm
2009-
Yellow gold
Blue
Ceramic/Blue
3135 COSC
[eafl id=70 name="Amazon – Rolex Men's Submariner Automatic Blue Dial Oyster 18k Solid Gold" text="Buy Online"]
Submariner Date 40 mm
2010-
Steel
Black
Ceramic/Black
3135 COSC
[eafl id=67 name="Amazon – Rolex Submariner Black Dial Ceramic Bezel Steel Mens Watch 116610LN" text="Buy Online"]
Submariner Date 40 mm
2010-
Steel
Green
Ceramic/Green
3135 COSC
[eafl id=69 name="Amazon – Rolex Submariner Green Dial Ceramic Bezel Steel Mens Watch 116610LN" text="Buy Online"]
Submariner 40 mm
2012 –
Steel
Black
Ceramic/Black
3130 COSC
[eafl id=68 name="Amazon – Rolex Submariner Black Dial Stainless Steel Automatic Mens Watch 114060″ text="Buy Online"]
Rolex has produced watch models specific for extreme conditions like aviation, deep-sea diving, mountain climbing, and other extreme sports and the Submariner is considered the pioneer when it comes to supreme functionality.  The Rolex Submariner is the world's first deep water resistant watch introduced in 1954 to the public at the Swiss Watch Fair.  It is regarded as a classic among the Rolex wristwatches because of its legendary history yet one of the understated Oyster perpetual models.  However, it still remains the most recognized and respected among Rolex wristwatches and agreeably, it speaks for Rolex itself – impressive innovation.