When it comes to formal events, nothing compares to the elegance and sophistication of wearing a tuxedo. A well-fitted tuxedo can make you stand out in the crowd and leave a lasting impression. From black tie events to red carpet appearances, a tuxedo is the ultimate attire for men attending any formal event. This comprehensive style guide will cover the history, components, styles, and etiquette of wearing a tuxedo, ensuring that you look your absolute best for any formal occasion.
History of the Tuxedo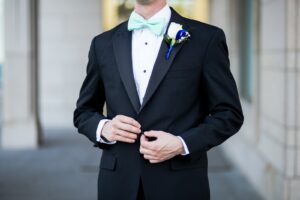 The origins of the tuxedo can be traced back to the late 19th century, when the traditional tailcoat or "morning coat" was considered the most formal style for men. However, the tuxedo, initially known as the dinner jacket, was introduced as a less formal alternative to the tailcoat. The first tuxedo was worn in Tuxedo Park, New York, at a high-society event, and since then, it has evolved into the staple of men's formal wear that we know today.
Components of a Tuxedo
A complete tuxedo ensemble consists of several key components that set it apart from a regular suit. These components include the tuxedo jacket, trousers, shirt, waist covering, bow tie, and accessories.
1. Tuxedo Jacket
The tuxedo jacket is the centerpiece of the ensemble and is typically made of the same material as the tuxedo trousers. There are several lapel styles to choose from, including peak lapels, shawl lapels, and notch lapels. Peak lapels are the most formal style, while shawl lapels are often seen on a dinner jacket. Notch lapels are the least formal and are more commonly found on suit jackets.
Tuxedo jackets can be single-breasted or double-breasted, with single-breasted being the more common choice. Double-breasted jackets are considered more formal but may not be suitable for all body types. The jacket should also have vents and buttons that match the overall style and formality of the event.
2. Tuxedo Trousers
Tuxedo trousers, or tux pants, usually feature a satin or grosgrain stripe running down the side of each leg, and they should be made from the same material as the tuxedo jacket. One key difference between tuxedo trousers and suit pants is the absence of belt loops. Tuxedo trousers should be worn with suspenders or braces to maintain the clean, formal look.
3. Tuxedo Shirt
The tuxedo shirt is typically a plain white dress shirt with a wingtip or turndown collar. Pleated shirts with vertical pleats are a classic option, but non-pleated shirts are also acceptable for a more modern look. Dress shirts for tuxedos should have French cuffs or double cuffs, which require cufflinks, adding an extra touch of elegance.
4. Waist Covering
A waist covering is an essential part of a classic black tie ensemble, and it can either be a cummerbund or a waistcoat. A cummerbund is a pleated sash worn around the waist, while a waistcoat is a more formal option that resembles a vest. Both options should be made from the same material as the tuxedo jacket and trousers.
5. Bow Tie
The bow tie is a crucial component of the tuxedo look. A black bow tie made from silk or satin is the most traditional choice, but other materials and colors can be worn for more creative black tie events. Self-tie bow ties are preferred over pre-tied options, as they provide a more polished and sophisticated appearance.
6. Accessories
Tuxedo accessories, such as cufflinks, pocket squares, and boutonnieres, can enhance the overall look and add a personal touch. Silver cufflinks and a white pocket square are classic choices, while more colorful options can be worn for less formal events. Boutonnieres should be simple and complement the overall ensemble.
Tuxedo Styles
There are several tuxedo styles to choose from, each with its own unique characteristics.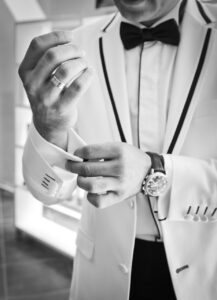 1. Classic Tuxedo
The classic tuxedo is the most traditional and timeless choice, featuring a black or midnight blue tuxedo jacket, trousers, and a white dress shirt. Peak lapels or shawl lapels are the most common choices for the jacket lapel, and a black bow tie and waist covering complete the classic black tie look.
2. Contemporary Tuxedo
A contemporary tuxedo may feature updated elements such as a slimmer fit, unique lapel styles, or alternative colors and materials. This style is ideal for black tie optional events or creative black tie dress codes, where there is more flexibility in the attire.
3. Alternative Tuxedo
For those looking to make a bold statement, alternative tuxedos can include unconventional colors, patterns, or materials. These options are best reserved for fashion-forward events or red carpet appearances, where a more daring look is encouraged.
How to Choose the Right Tuxedo
When choosing the perfect tuxedo, consider your body type, the formality of the event, and your personal style preferences. A well-fitted tuxedo should complement your body shape, with the jacket and trousers tailored to fit comfortably and neatly. The formality of the event will determine whether a classic, contemporary, or alternative tuxedo is most appropriate, and your personal style preferences should also be taken into account to ensure you feel confident in your attire.
How to Properly Fit a Tuxedo
A properly fitted tuxedo is essential for achieving the desired polished and sophisticated appearance. Key measurements to take include your chest, waist, hips, and inseam, and these measurements should be used to determine the correct size for your tuxedo jacket and trousers. Additionally, the jacket sleeves should reveal approximately half an inch of your dress shirt cuff, and the trousers should have a slight break at the shoes.
How to Care for a Tuxedo
Proper care and maintenance of your tuxedo will ensure its longevity and continued elegance. Dry cleaning is the recommended method for cleaning a tuxedo, and it should be stored in a garment bag when not in use to protect it from dust and damage.
Renting vs. Buying a Tuxedo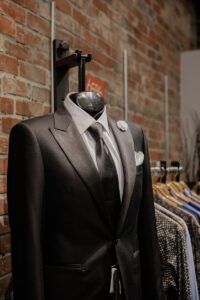 Whether to rent or buy a tuxedo will depend on factors such as the frequency of formal events you attend, your budget, and your personal style preferences. Renting a tuxedo may be more cost-effective for those who rarely attend formal events, while purchasing a tuxedo can be a worthwhile investment for those who frequently require formal attire.
Common Tuxedo Mistakes to Avoid
To ensure the perfect tuxedo look, avoid common mistakes such as an improper fit, mismatched accessories, or wearing a tuxedo to the wrong event. A well-fitted tuxedo is essential for achieving the desired polished and sophisticated appearance, and accessories should complement the overall ensemble. Additionally, be mindful of the dress code for each event to ensure that a tuxedo is the appropriate attire.
Final Thoughts: Wearing a Tuxedo
Wearing a tuxedo is the pinnacle of men's formal wear, and this comprehensive style guide has provided valuable information on the history, components, styles, and etiquette of wearing a tuxedo. By following these guidelines, you can confidently attend any formal event looking your absolute best in a well-fitted and stylish tuxedo ensemble.