Pulling off style success is all about the details. With informal events you can make your own fashion choices, but the same cannot be said for formal gatherings. Weddings, corporate seminars and charity presentations are a few examples of where your knowledge of the dress code could make or break your success.
If you've received an invitation with "white tie event" or a "black tie code" you're one step away from social success or ostracism.
What are the differences between the white tie vs black tie? Let's take a look at what you need to know (and what you might have been afraid to ask about black tie vs white tie).
Understanding black tie vs white tie
Let's dig deeper to understand the differences between white tie vs black tie event.
What is a Black Tie Event?
Black tie events have certain dress rules, but they are not as strict and unforgiving as a white tie event. The main takeaway point is that a black tie gathering normally tends to be associated with a semi-formal or a formal event when the guests are expected to dress within somewhat uniform guidelines.
The origins of this formal dress code can be traced as far back as 1865 when the the Prince of Wales, later King Edward VII, first wore this style of jacket.  Thankfully though the styles and required accessories have come a long way since then.
What do You Need to Wear?
The dinner jacket or Tuxedo is the centre piece of black tie event. It is a suit jacket cut in the style of lounge suit jacket, i.e. no tails. While they were traditionally made of silk, you can now choose more trending materials such as wool or even velvet for a more chic flavor. These jackets come in three different lapel cuts:
The peak
The shawl
The lapel
If you are uncertain of the differences between each, the shawl style is said to be the most universal and traditional. You can choose alternative tones besides black; a trend that many celebrities have been embracing in recent years.  Just remember if you don't have the social presence to pull it off, you'll end up looking like a clown.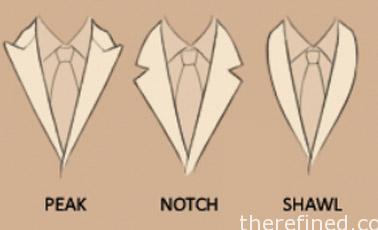 The Black Tie
One of the most ironic aspects of black tie events is that the original black bow tie were not even black! Indeed, they were a stunning midnight blue. In fact the whole suit was often a deep midnight blue. The term "black" comes into play due to the fact that their sheen will darken when appearing next to a dinner jacket. While there is nothing wrong with wearing a black tie, midnight blue will provide you with a nice three-dimensional contrast.
Pre-Made or Tie Your Own?
Take a trip to any department store tie section and you'll see a wide variety of pre-made/pre-tied bow ties, and it you're really stuck one of those will suffice.  But just like you don't get your mom to tie your work ties (we hope!), we hope you're a big enough boy to tie your own bow tie.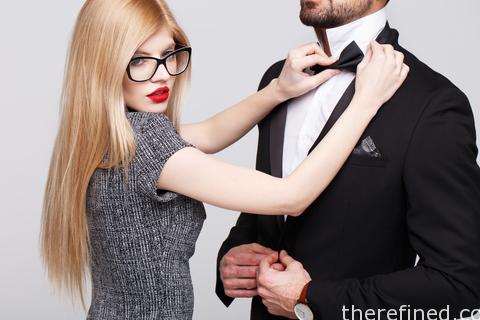 The Trousers and the Shirt
Keep it simple with the trousers. They need to match the dinner jacket. Dinner suit trousers have a line of black silk ribbon down the outside seem of the leg.  They are worn without a belt.
In terms of the shirt, traditional pleats and winged collars have remained the mainstay for some time. If you are looking to display a bit of extra bling, choose a dress shirt that possesses holes for cuff links. Double (French) cuffs have that extra level of style.  The shirt normally has covered buttons, but might use visible studs instead.  Opt for white or off-white colours, as this will help to break up the appearance of the trousers and the dinner jacket.
Back in Black: Shoes and Socks
Always stick with black when choosing your shoes. Traditionally they were shiny (patent) leather however you may be loath to buy a separate pair just for black tie events. If that's the case make sure to polish up your normal black leather shoes to a lovely sheen to make a visual impression.  Absolutely avoid suede and brown shoes should never be worn after 5pm in a formal situation.
Black socks should be worn, but the material does not necessarily have to be overly thin. Thicker socks will provide you with an additional level of comfort. Just be sure that the socks rise up high enough so that you are not unwittingly exposing any leg to the audience!
What Goes Into a White Tie Event?
You might be tempted to think a black tie event is the most formal event, nothing could be further from the truth. A white tie event is said to be the most rigid in terms of what you will be required to wear (think of Leonardo DiCaprio in the film Titanic to appreciate this sense formality).
However in actual fact "White Tie with Decorations" is the most formal, where you are invited to wear military and civil honours and decorations. Most of the time however white tie events are considered to be the most formal.
Some of the events which might be associated with a white tie attire code include balls, royal events and state-sponsored banquets. The good news is that the regulations are quite clear and straightforward.
How Do I know It's White Tie?
A white tie event will say so on the invitation.  Terms which mean white tie are:
North American: "White Tie"
United Kingdom: "Evening Dress"
Just remember white tie is not interchangeable with black tie.  Rock up to a white tie event in a dinner jacket and black tie and you'll be horribly underdressed. Turn up to a black tie event in full tails and waistcoat and you'll look like the piano player.
The White Tie
Of course, you will always need to show up at a white tie gathering with a white bow tie. President Barack Obama was famous for his white-tie appeal and you can find plenty of online images displaying such a smooth style. As before it is best to tie your own knot. The underlying dress shirt should also be white; completely matching the tie. There is little room for "making a statement" in this case, so stick with a conservative approach.
Don't ever be tempted to wear a black tie with full black tie attire.  You'll be mistaken for the waiter…
The Dress Shirt
The style of the shirt is just as important as its white tie outfit. While you can choose plain or pleated patterns, it must be "stiff" as opposed to overly baggy. Buttons are another faux pas in this case. Most feel that they should be replaced with either mother-of-pearl inlays or studs. Pair the shirt with cuff links.  You'll also need a white waistcoat over the shirt.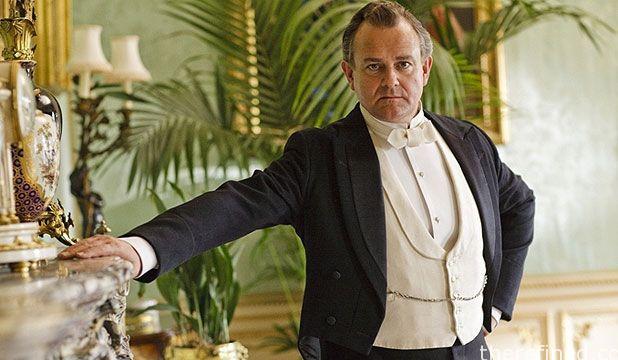 The Trousers and Jacket
Trousers should exhibit a high waist and it is best to choose a design that does not fit too loose. One of the main intentions of a white tie dress code is to display a sense of slender elegance. Black is the only allowable colour, so you can leave that paisley pattern on the rack.  Traditionally the trousers will have two black ribbons down the outside seem, unlike the 1 on the dinner suit.
The jacket is actually termed an "evening tailcoat" and as you may have guessed, its defining characteristic is the two tails at the rear. It will need to be narrower in the midsection so that a tapered appearance is achieved and peaked lapels are a must. The jacket will normally be worn unbuttoned.
The Shoes
Try to keep it simple with your shoes. Black is the colour of choice and you need opt for patent leather. Much like the black tie guidelines mentioned in the first section, a pair of black evening socks will complete the entire look.
What Accessories Should be Worn?
White tie event and black tie event are associated with some different choices for accessories. Some worthwhile additions can include (again just make sure you have the presence to carry them off):
White gloves
A top hat
A dress cane (without the pimped-out look)
In terms of a black tie event, your choices are slightly more flexible. Some suggestions are:
A simple pocket square
A silver or gold dress watch
Personalised cuff links
White Tie vs Black Tie: What About Etiquette?
A formal occasions, particularly as those associated with a white tie event means you need conduct yourself in reserved manner. Think British aristocrat. So, forget about that all-you-can-drink bar. While black tie event might be more laid back, still be sure to keep your wild side in check. If all else fails, simply examine how other guests seem to behave.
In terms of white tie vs black tie rules, these are some of the most important suggestions to keep in mind. With a bit of preparation, you can show those around you that you have the presence of mind and class to justify your inclusion in the better circles of society.