Menswear is always changing to match the styles of the time. While there are many different types of suits, today we will focus on the essentials. Here's our guide to types of suits for mens body types.
Different Types of Suits for Mens Body Types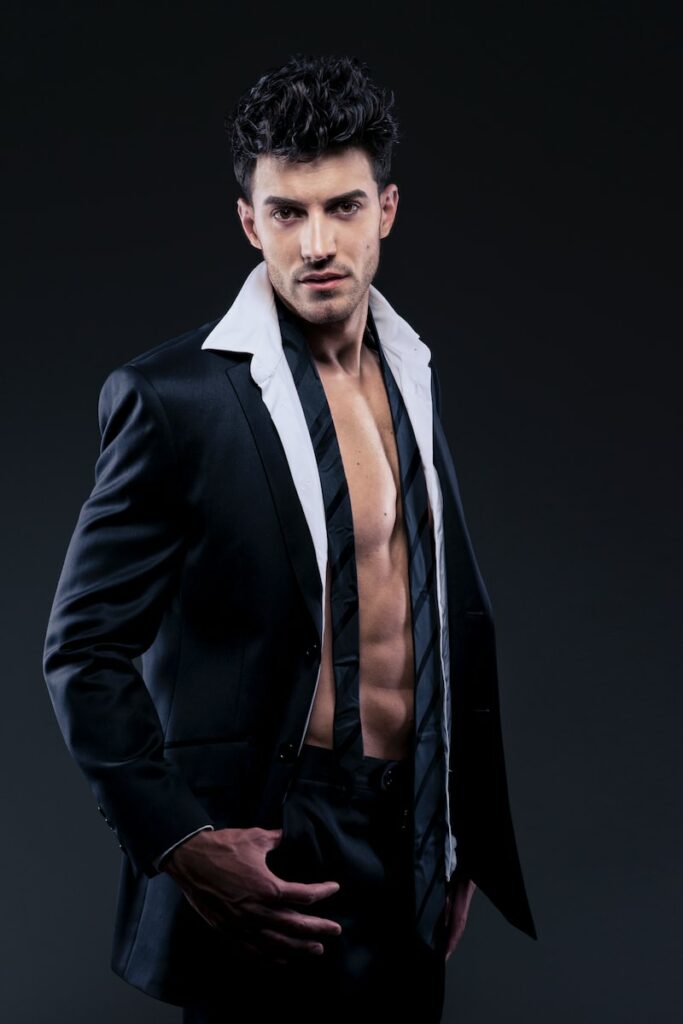 Modern Fit Suit
The modern fit suit is the style for men with inverted triangle body shape who want to appear sartorial, but aren't quite ready for the slim fit look. straddling the middle ground between slim and classic fits, Modern suits deliver a tight appearance with enough air to breathe. With the right fabric and accessories, you can wear a modern suit style confidently in any situation – from casual events to formal occassions.
Notch Lapel
The notch lapel is a mainstay on single-breasted jackets, and it's arguably the most common type of suit lapel. The notch lapel is defined by a visible indent at the spot where the collar meets the lapel, which makes it versatile for any occasion. If you're unsure about which men's lapel style to choose, then go with the notch lapels as they are safest and best suit.
Single Breasted Suit
The single-breasted suit is the most commonly worn type of men's suit. You can spot one by looking for buttons along the seam- either one, two, or three. Usually, a single-breasted suit will give off a narrower and tighter appearance because of that singular row of buttons. These suits are mostly worn with notch lapels.
Classic Fit Suit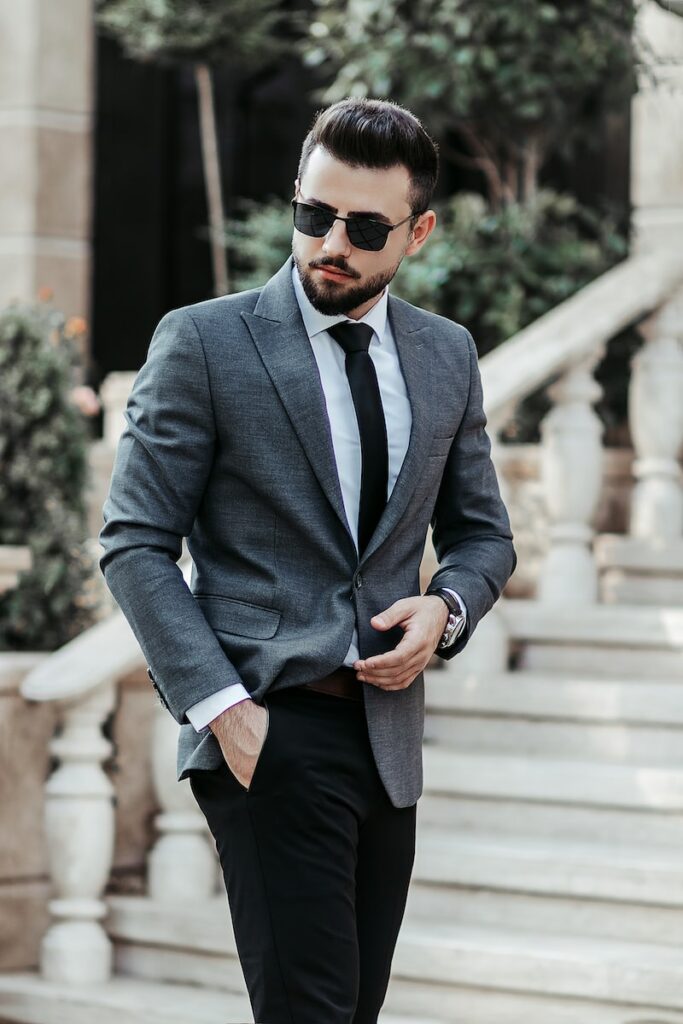 The beauty of a classic fit suit is its simplicity–it's comfortable and breathable without being too loose or unkempt. It's perfect for the office during the week but can also be dressed down with chinos for a smart casual weekend look. You really can't go wrong with a classic fit suit–they never go out of style!
Patch Pocket Blazer
A patch pocket is a pocket that has been created from a separate piece of cloth and then sewn on to the outside of your sports jacket or blazer. Similar to an unstructured blazer, patch pockets are an excellent way wear casual style with personal flair. A brief tip: if you choose patch pockets, make sure all exterior pocket square are patched–not just one or two. Also ensure everything coordinates in terms of colour or pattern. These modern, casual men's blazers can provide the perfect complement to any autumn or winter outfit–even one that may be understated yet fashionable .
Shawl Lapel
The shawl lapel's smooth, uninterrupted lining Radiates elegance and is most commonly found on formal wear like tuxedos and dinner jackets. The shawl lapel has a timeless sense of class and distinction. It provides a complementary addition to most men's formal wear styles.
Unstructured Blazer
Men usually believe that interior padding and fashionable blazers always come together. Nevertheless, the men's unstructured blazer is here to transformation those original thoughts. By taking out the interior padding, the unstructured blazer steps away from tradition and delivers a comfortable fit with a less formal look.
Slim Fit Suit
A quality men's slim-fit suit is cut to remove excess fabric, much like how a workout removes unwanted fat. This gives you a stylish look that's form-fitting and narrow at the chest and narrow waist without restricting blood flow. You might think that slim fit suits are only for athletic builds, but many different male body types, even with oval body shape, rectangle body shape or trapezoid body shape can rock this style.
Pleats are tiny, sharp creases on both sides of the front of your pants. They form when the material is folded over and sewn before being attached to the waistband. This makes pleated pants looser in the middle than other styles, so it's best to wear them just above your hips to avoid billowing out at your thighs. While they're generally more comfortable overall, you'll still want a pair of modern suit pants that give you a close fit and relatively snug look.
Double Breasted Suits
Double breasted suit jackets have buttons on either side of the jacket for aesthetic purposes, typically ranging from four to six. The focal point drifts away from the seam and toward the sides to create an optical illusion of a wider frame. Whether such trickery is beneficial usually depends on body type—stockier men are probably better off with a single-breasted suit.
How To Choose The Perfect Suit For Your Body Type
The way a suit looks on you in person can be completely different from how it looked in the photo. This is because everybody has a unique body shape, so what might look good on one person might not look as good on another. Therefore, it's essential to get a suit that fits well and flatters your specific body type. Not only will this make you look better, but it will also make you feel more confident and comfortable.
Body Type Variations
Short Man
In order to appear taller, men who are on the shorter side should look for a suit that creates the illusion of one long line from head to toe. A single-breasted suit with a vertical central line is perfect for this purpose. An upwards-pointing peak lapel will also help you appear taller. Trouser rise is also very important in changing your perceived dimensions. Mid- or high-rise pants will serve to visually lengthen your legs. Keep the break on the trouser leg to a minimum, or go with no break at all
Tall Man
Though tall men have been blessed with height, the solution to looking too long and lanky isn't making yourself shorter. Instead, you want to bring balance to your proportions and not look big and imposing.
Final Thoughts on Types of Suits for Men's Body Types
Suit jacket and flat front pants that fit well and complement your unique body type are essential for looking good in a suit. The suit jackets typically provide just enough sleekness down without giving away too much of what's really under your upper body.
Whether you're on the shorter side or taller than average, there are plenty of options out there to help you look and feel great. By choosing the right style for your body type, you can wear a suit confidently and be sure that it looks great on you.