Brunch has evolved from a mere casual weekend outing to a popular social event where friends, family, and even business acquaintances gather to catch up and bond over delicious food and drinks. As brunch continues to grow in popularity, it's essential for men to dress appropriately for the occasion to make a good impression and showcase their sense of style. In this blog post, we'll guide you through the perfect brunch attire for men, providing brunch outfit ideas, and fashion tips that'll make you look stylish, trendy and feel comfortable at the same time.
Importance of Dressing Appropriately for Brunch
Choosing the right brunch outfit is all about demonstrating your understanding of the occasion and making a statement. The perfect attire exudes confidence, leaving an impression on friends, family, or colleagues. It's important to showcase your style while feeling comfortable and fashionable in your choice of clothes.
Factors to Consider When Choosing Brunch Attire
Location: Your brunch outfit should be tailored to the location – whether it's outdoors or indoors, an upscale or casual establishment.
Time of day: Will it be a morning or afternoon rendezvous?
Season/weather: Dress accordingly for hot or cold weather, and consider wearing layers for unpredictable climates.
Dress code: Always take the dress code into account, if applicable.
General Guidelines for Brunch Attire for Men
1. Opt for a smart casual look incorporating comfortable yet stylish brunch outfits.
2. Choose versatile pieces that can be dressed up or down.
3. When in doubt, lean more towards dressier options.
Top Brunch Attire Fashion Tips
 A. Choosing the right shirt
Picking the perfect shirt can make or break your brunch outfit. Below are some ideas for various shirt styles and colors for men.
1. Collared vs. non-collared options:
Collared shirts, like a button-down or polo, fit most brunch settings. A casual brunch lends itself better to non-collared shirts, like an upscale t-shirt.
2. Patterns and colors:
Pair patterns like plaid or bright retro shirts with solid-colored pants, or dress in a monochrome look to keep things balanced and appealing. Don't shy away from bright colors, but avoid gym shorts and flip-flops unless the brunch is extremely casual amongst close friends and family.
B. Select the right pants:
Choose comfortable and stylish pants that match your shirt, or opt for trousers that are semi-fitted (not too slim or baggy). Colored jeans also make a great choice for brunch but should be paired with an equally stylish top. Choose neutral colors to add sophistication to your outfit, such as khakis, navy blue or grey.
C. Footwear:
Your brunch outfit isn't complete without the right shoes. Comfortable and stylish loafers, boat shoes, or dress shoes add a polished look to your brunch ensemble. Avoid wearing sneakers unless the occasion is ultra-casual.
Brunch Outfit Ideas
1. Classic blue jeans outfit:
For a casual brunch, a classic blue jeans and crisp white shirt combo never fails. Add a light-colored coat or blazer to elevate the look for a dressier setting.
2. Trendy white sneakers:
Pair white sneakers with anything – from chinos to blue jeans. White sneakers complement any attire and automatically make one appear more fashionable.
3. Urban wear for contemporary vibes:
Try variation with shirt-jacket combos or adding a denim jacket to your outfit for a contemporary urban touch.
4. Layering for seasonal changes:
In colder weather, layer with a fawn roll neck and brown boots combo. A short-sleeved shirt paired with a monochrome fawn sweater and light-colored pants works well in transitional weather.
Ideal Fabrics and Clothing Combinations for Brunch Outfits
1. Denim Jacket: An all-time favorite for its versatility, a denim jacket can be paired with chinos, dress pants, or blue jeans. Wear a simple blue shirt or a bright retro shirt for added contrast.
2. White Suede Boots: Pair these with slim-fit blue jeans and a crisp white shirt for an effortlessly stylish look.
3. Silk-Blend Fabrics: If you're going for an upscale brunch, silk-blend shirts with paisley prints are an excellent choice for added luxury and appeal.
Outfit Ideas for Different Brunch Settings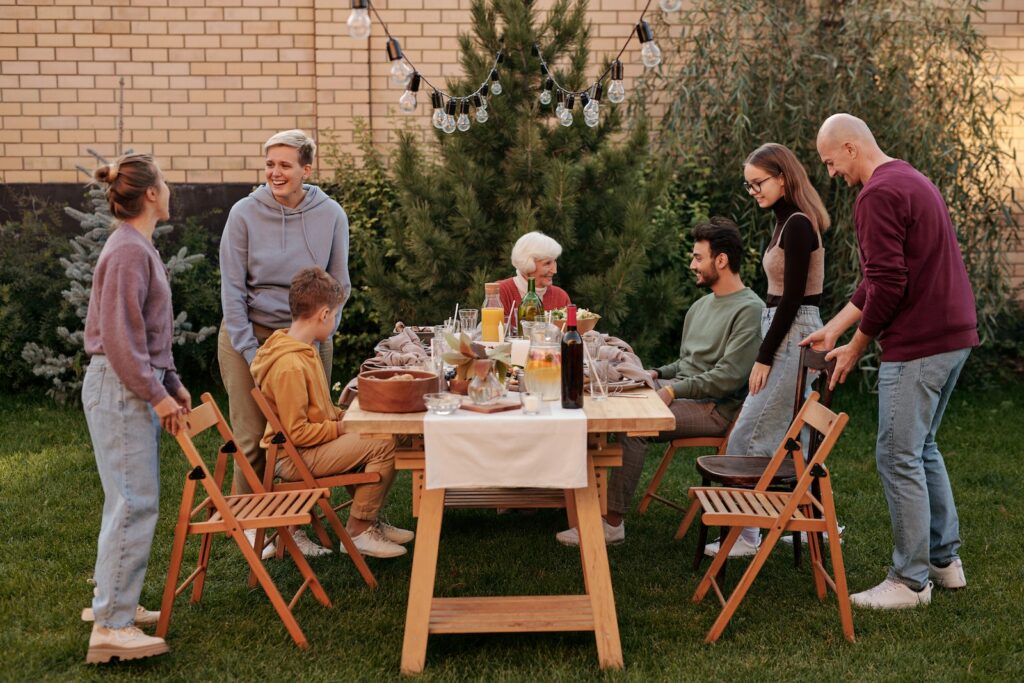 1. Family Sunday Brunch: Comfort is key – think blue jeans, sneakers, and a bright-colored shirt. Add a light coat and stylish sunglasses for outdoor venues.
2. Formal Brunch Gathering: Opt for dress pants, a crisp white shirt, and a well-tailored coat. Don't forget the formal shoes to enhance the classic look.
3. Business Brunch Meeting: A slim-fit blazer with chinos or dress pants, a patterned shirt, and dress shoes will make you appear professional without sacrificing style and comfort.
4. Casual Brunch Outing: Embrace a relaxed vibe with blue jeans, white sneakers, and a shirt in a bright shade or a cool print.
Wrapping Up
In conclusion, the perfect brunch outfit is all about balancing style, comfort, and location-based factors. Be mindful of the time, season, weather, and dress code – it's essential to dress appropriately and feel comfortable while showcasing your personal style. With these brunch outfit ideas, you're sure to be a style icon and make an impression at your next brunch gathering.
Other suggested articles:
When to Wear a Vest With a Suit