Khaki pants are a classic piece of clothing that can be dressed up or down depending on the shirt you choose to wear with them. Many people have trouble figuring out what color shirt goes with khaki pants, but it's actually not as difficult as you might think. In this blog post, we will give you some tips on what colors work well with khaki pants and how to put together a stylish outfit!
What is the color khaki?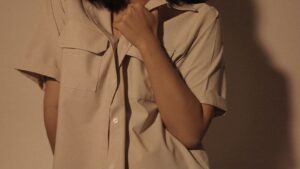 Khaki is a light shade of brown color that is often used for military uniforms. It can also be found in a variety of clothing items such as pants, skirts, and even jackets. Khaki is a neutral color which means it goes well with many other colors.
Picking the perfect shirt to wear with khaki pants
When it comes to choosing the right shirt to go with your favorite pair of khaki pants, there are a few things you'll want to keep in mind. The color of your shirt is important, as is the fit. You'll also want to consider the occasion and what kind of message you want to communicate with your outfit. 
Color 
There are a few colors that go well with khaki pants. A Navy blue shirt is always a safe choice, and it pairs well with both light-colored and dark-colored khakis. For a more casual look, you can try a white or light-colored button-down shirt. If you're looking to make more of a statement, however, you might want to experiment with a brighter color like pink or yellow. 
Fit 
The fit of your shirt is just as important as the color. A fitted shirt will show off your physique and can help create a sharp look, while a loose-fitting shirt can make you look slovenly. If you're not sure what size to wear, err on the side of caution and go with a shirt that's slightly too big rather than one that's too small. You can always tuck in a loose-fitting shirt to create a more tailored look. 
Occasion 
The occasion you're dressing for will also dictate what kind of shirt you should wear with your khakis. For example, if you're going to a job interview, you'll want to stick with a traditional button-down shirt in a conservative color. On the other hand, if you're going out for drinks with friends, feel free to experiment with a brighter color or even a patterned shirt. Just be sure it's still within the bounds of good taste! 
What color shirt goes with light khaki pants?
Light khaki pants open the door to a world of versatile pairing options. Their neutral undertone effortlessly harmonizes with a variety of shirt colors, allowing you to curate an array of looks for different occasions. A light blue shirt is a timeless choice, creating a serene and polished ensemble. For a touch of sophistication, consider a white or cream-colored button-down shirt that exudes an air of refinement. For those feeling a bit daring, a patterned shirt can add a playful dimension to your outfit. With light khaki as your canvas, you have the freedom to explore a spectrum of shirt colors that align with your personal style.
What color shirt goes with dark khaki pants?
For dark khaki pants, you'll want to stick with darker-colored shirts. A navy blue shirt button-down is always a good choice, and black or dark blue also works well. If you're going for a more casual look, you can try a dark-colored T-shirt or even a denim shirt. Just be sure it's not too faded or distressed – you want to look stylish, not sloppy!
Shoes for khaki pants
Now that you know what color shirt goes with khaki pants, it's time to choose the perfect shoes to complete your look. Depending on the occasion, you'll want to pick a shoe that's both stylish and appropriate. For example, if you're going to a job interview, you'll want to stick with closed-toe shoes in a conservative color like black or brown.
You can wear dark brown suede loafers with your khaki pants for a more casual look. For a night out, you can experiment with brighter colors or even patterned shoes. Just be sure they're still within the bounds of good taste!
Putting it all together 
Now that you know what color shirt goes with khaki pants, it's time to put together an outfit! For a casual look, try pairing khaki pants with a white T-shirt and sneakers. If you're dressing up for an event, however, you might want to go with a button-down shirt in a light blue or pink color. Add some heels and statement jewelry, and you'll be sure to turn heads!
What fabric are khaki pants typically made of?
Khaki pants are typically made of a cotton twill fabric. This type of fabric is durable and easy to care for, which makes it a great choice for everyday wear. Khaki pants can also be made of linen or wool, although these fabrics are typically reserved for more formal occasions. No matter what fabric your khakis are made of, be sure to follow the care instructions on the label to keep them looking their best.
How should khaki trousers fit?
Khaki trousers should fit comfortably around your waist and hips, with a bit of room to spare. The legs of your khakis should be slim, but not too tight. If you're unsure what size to buy, it's always better to err on the side of caution and go up a size. You can always have your pants altered if they're too big, but it's much more difficult to make them smaller.
Where can I buy khaki trousers?
Khaki trousers are available at most clothing stores, both in-person and online. If you're looking for a specific style or fit, you may want to check out a store that specializes in khakis, such as The Gap or Banana Republic. You can also find khaki trousers at most department stores, such as Macy's or Nordstrom. With so many options available, you're sure to find the perfect pair of khakis to suit your needs!
Elevating Your Look with Versatile Khaki Pants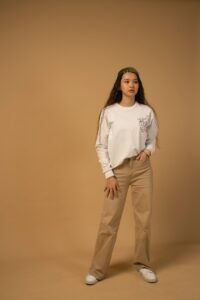 Khaki pants have long been a wardrobe staple, admired for their adaptability and timeless appeal. Whether you're dressing up or keeping it casual, these trousers offer a versatile canvas for a range of stylish ensembles. Their neutral tone forms a perfect backdrop for a variety of shirt colors, making them a go-to choice for countless occasions.
Harmonizing Ensembles: What color shirt goes with khaki pants? 
Selecting the ideal shirt color to accompany your khaki pants is a skill that can truly elevate your fashion game. The harmonious pairing of shirt colors with khakis involves considering the principles of color coordination and personal style. By understanding the color wheel and experimenting with different shades, you can effortlessly create ensembles that catch the eye and reflect your individuality.
Palette Perfection: Selecting Ideal Shirt Colors
When contemplating what color goes with khaki pants, it's essential to understand the color palette that complements this versatile garment. Neutrals, cool tones, and earthy hues are particularly effective choices. A neutral shirt provides a classic and balanced look, while cool shades like gray and green bring out the warmth of khaki. Experimenting with complementary shades from the color wheel opens up exciting possibilities for creating well-coordinated outfits.
Crisp and Classic: The Timeless Appeal of White Shirts
A quintessential choice, the white shirt exudes an air of crisp sophistication when paired with khaki pants. This classic combination seamlessly bridges the gap between formal and casual, making it a versatile choice for a variety of occasions. The neutral nature of khakis allows the clean, bright essence of white to shine, making it an enduring and stylish option.
Effortless Elegance: Embracing Cool Tones for a Chic Vibe
Cool-toned shirts, such as shades of blue and green, effortlessly complement the warmth of khaki pants. This pairing radiates a serene and sophisticated vibe, perfect for creating elegant yet relaxed ensembles. The inherent coolness of these shades paired with the neutral khaki creates a harmonious equilibrium that's both visually appealing and fashion-forward.
Crafting Your Ensemble: Infusing Personal Style into Khaki Outfits
Your personal style is the key to transforming khaki pants into a canvas of sartorial expression. Whether you opt for a tailored dress shirt or a laid-back polo, the key is to embrace your preferences while adhering to some styling fundamentals. Pair khakis with shirts that align with your fashion ethos, experiment with different fits and patterns, and accessorize with intention. This is where your creativity takes center stage, allowing you to curate outfits that showcase your unique taste.
As you venture into the world of khaki chinos, consider the fabric blend that suits your comfort. A cotton-twill fabric blend is a popular choice, offering durability and ease of care for everyday wear. Pair these pants with a crisp oxford shirt for a polished look or opt for a plaid shirt for a touch of casual flair. The shirt-khaki synergy is a versatile canvas for your fashion ideas.
Whether you're in pursuit of a neutral shirt for a balanced ensemble or aiming to match your shirt color to the warm tones of khaki pants, the key is to explore a spectrum of options. From a short-sleeve button-up for a relaxed outing to a dress shirt for formal affairs, the choice of shirt plays a vital role in defining your style.
Incorporating Cool Tones for a Stylish Edge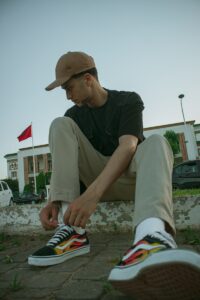 Cool tones, like various shades of blue and green, offer an elegant contrast to the earthy warmth of khaki pants. Experimenting with these cool shades adds depth and character to your outfit, giving you an edge that's both stylish and fashion-forward. Whether it's a gray sweater or a green polo, these colors can be paired harmoniously with khakis to create a sophisticated look.
Crafting a Wardrobe of Neutrals
Neutrals form the foundation of a versatile and timeless wardrobe. By pairing khaki pants with neutral shirts, you create ensembles that exude effortless style. Gray, white, and beige shirts seamlessly integrate with khaki chinos, providing a canvas to experiment with different accessories and layers. This neutral synergy gives you the freedom to mix and match while maintaining a polished appearance.
As you explore the world of khaki pants and their accompanying shirts, remember that personal style is your most potent fashion tool. Whether you're drawn to classic pairings or you're eager to experiment with unconventional combinations, the key is to infuse your unique perspective into each ensemble. With the right understanding of color theory and an eye for balance, you can craft khaki outfits that radiate confidence, creativity, and an impeccable sense of style.