How to read mens pants size? The sizing system for men's pants is completely different from both European men's pant sizes and US women's pant sizes, which makes it confusing for consumers. Additionally, the same size in two different brands may have different waistband measurements, making it even more difficult to find the perfect fit.
It's difficult enough to figure out your size when items are labelled small, medium, or large. It's a lot more difficult than that with pants because there are two numbers and a few words next to them. It's doubly so when you're acquainted with one system of measurement and need to switch over to another.
Shopping for pants is confusing, and I got tired of it a while ago. Rather than trying to figure out how a pair of pants would fit by looking at the labels, I decided to turn pant shopping into a science. I've researched hundreds of jeans and taken measurements on all of them.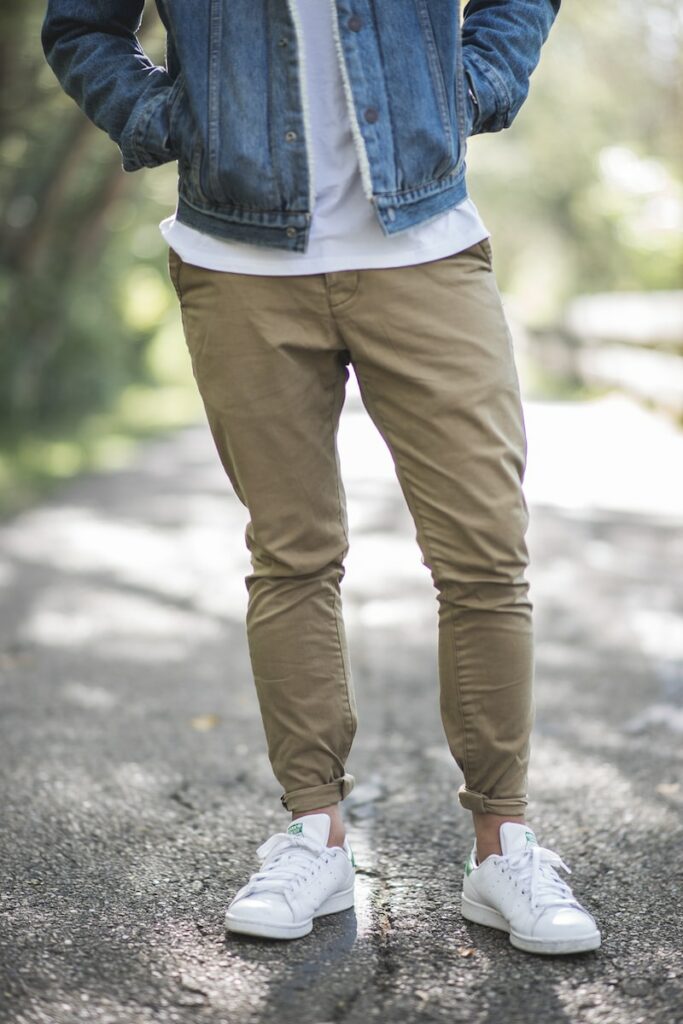 I discovered that it is not as difficult how to read mens pants size as I had imagined. The basic idea is straightforward:
The waist measurement is the first number in a pant size. It indicates the natural waist measure of the pants — in inches.
The inseam is the second number you'll see on a pair of pants. It tells you how long — in inches, from crotch to the top of your ankle — that the pants are meant to be worn by somebody with your measurements.
Did you know that men's pant size numbers only tell you how the waist fits and how long they are? Fit labels come in handy for determining the width and shape of the pant leg.
How to Read Mens Pants Size?
How to read mens pants size? In the United States, men's pants sizes are typically two numbers separated by a "x". For example: 36×32. The meaning of each number in relation to pant size is as follows:
The first number indicates waist circumference and the second specifies inseam length.
The waist size of a pair of men's trousers is the first number. If a pant is labeled 36×32, for example, the waist size is 36. The waist size is a reasonable estimate of the natural waist measurement that the pants are intended for. As a result, a pant with a waist size of 36 is intended for males with a natural waist of 36 inches.
The waist size does not indicate the size of the waistband. Because pants sit below your natural waist, the waistband measurement is usually larger than the labeled waist size. Your body grows wider below your natural waist, necessitating an additional space in the waistband to fit properly.
The second number on the tag is the inseam length. For example, if a pant is labelled size 36×32 then the inseam length is 32. The inseam length is (in inches), from the top of your thigh to ankle– give or take an inch since it's only an estimate.
The inseam length is measured from the crotch to the top of the calf. The length size is determined by subtracting the inseam measurement from the regular leg length. On most pants, the inseam measurement equals the length size. However, because a pair of trousers has an internal label with its own specified length size, it would be incorrect to assume that they are all exactly 7 inches long (which is how we define a standard inch).
When you hear "tapered pants," think of inseam. In other words, the length of tapered pants' legs are an inch smaller than the stated size. Conversely, "bootcut" usually has extra fabric at the bottom so that it can go over your shoes without being skin-tight.
How to Read Mens Pants Size: How Do I Find My Pant Size?
Your favorite pants' tag provides the size for that particular brand. The tag is usually inside the waistband on the back of pants. Brand sizes vary though, so don't assume your usual pant size will work in every store. That's because every brand makes pants for different body types. When we examined hundreds of jeans, we discovered that the waistline on a size 36 might vary by up to 3" – that is, from being too loose or too tight. If you're looking for pants from a new company, there are a few options to get your size.
To easily find your size, measure yourself with a flexible tape measure around your natural waist. After you have recorded this measurement, locate its corresponding size on a sizing chart.
Unfortunately, measuring yourself is often difficult, and size charts aren't always accurate. More importantly, buying quality-fitting pants isn't simply about matching your waistline measurement to a size chart. If the form of those brands' pants doesn't suit your body type, no amount will fit you properly. That's why we recommend going without them if at all possible.
If you're unsure of your size in a new jeans brand, don't worry! You can base it off of the pant size from your favorite denim company. In fact, there are tools that find pants with similar measurements to your beloved pair.
How to Read Mens Pants Size: Men's Pants Sizes and Their Meaning
Most men's pants sizes adhere to the waist/inseam length format, where the first number corresponds to waist length and the second measurements is inseam. In other words, it's often referred to as W/L. For context, Pants are measured differently in North America – inches – vs Europe- centimeters.
How to Read Men's Pants Size: Tips on How to Get A Proper Fit
If you want to avoid dirt on the bottom of your pants, make sure the measurement for suit and dress pants is done so that the pant leg falls directly on top of shoes.
Make sure to account for shrinkage when purchasing pants or jeans, as well as style. While skinny jeans are fashionable, it's typically advisable to get them a size or two bigger than usual since skinny jeans at the ankle are smaller and tighter than normal pants and will most likely shrink in the washing.
What Are the Types of Pant Fits?
There are two ways that brands can label their pants: by size and by fit. A size tells you how big the pants are, both around the waist and through the leg. A fit label tells you how wide a pant is within a brand.
Within a brand, there are four types of fits that describe how wide the pants are:
Skinny fit. This is the slimmest-fitting pant a brand makes. Skinny fit pants are designed to hug your body closely.
Slim fit. A brand's slim fit pants aren't as skin tight as the skinny fit pant.
Regular fit. Classic fit is also known as original fit or classic fit. This is the conventional pant shape. It should allow for 2" to 3" of breathing room around your seat — the area where the pants hug your hips.
Relaxed fit. The loose fit is another name for a relaxed fit. This is the baggiest pant from a brand.
The pant leg may be classified into three types of fits:
Taper fit. Taper fit pants have a knee measurement that is broader than the leg opening. The standard difference between the knee and leg opening is 2.1".
Straight fit. Straight fit pants have a knee measurement that is equal to or slightly larger than the leg opening. The average difference between the knee and leg opening for these type of pants is 1.1"
Bootcut fit. Bootcut pants have a narrower knee than the leg opening, which means they're cut lower down. The leg opening on bootcut jeans is typically 1″ larger than the knee.
How to read mens pants size? On men's pants, fit labels can be difficult. You can't compare fit labels from different companies. Some slim fit trousers are narrower than others. Some fit labels, such as slim or straight fit, have multiple meanings.
Does Cologne Go Bad?