Do you know what twill pants are? If not, don't worry – you're not alone. A lot of people have never even heard of this type of pant before. In this blog post, we will discuss what twill pants are and what makes them different from other types of pants.
What Are Twill Pants? Unveiling the Stylish and Durable Wardrobe Essential 
Twill pants, often referred to simply as twill, are a unique and versatile type of trousers that are woven in a specific diagonal pattern known as twill. This diagonal pattern, known for its distinctive appearance, creates tiny ridges or lines in the fabric. These pants, made using a twill pattern, offer a balance of durability and comfort, making them a popular choice among men and women.
Twill Pants: A Closer Look at Their Comfortable and Distinctive Design
The term "twill" refers to the diagonal pattern in which cloth is often woven. This weaving technique results in a sturdy fabric—in the case of twill pants, this translates to pants that are not only stylish but also capable of withstanding everyday wear and tear. The unique twill weave provides twill pants with a textured finish that sets them apart from other fabrics.
Exploring the Evolution of Pants: From Utility to Fashion with Twill
The history of twill pants dates back to the 19th century when they were originally used by sailors and members of the military. The twill fabric's durability and lightweight qualities made it ideal for long sea voyages. Over time, twill pants transitioned from utilitarian wear to a fashion staple embraced by civilians, thanks to their comfort and timeless style.
The Art of Weaving: Discovering the Elegance of Twill Fabric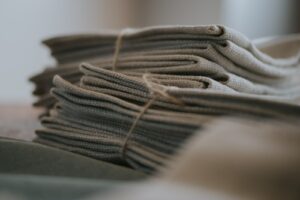 Twill fabrics are known for their distinct diagonal weave, created by the weft thread alternating over and under two or more warp threads. This weaving technique results in the recognizable ridges or lines that characterize twill fabric. Apart from its visual appeal, twill fabric boasts durability, making it a preferred choice for various pant styles, including twill pants, chinos, and more.
Twill Pants: A Classic Choice for Both Comfort and Elegance
One of the key features of twill pants is their slightly loose fit, which provides a clean and comfortable silhouette. This fit, combined with the benefits of twill weave fabric, offers wearers a versatile and stylish option suitable for both casual and dressier occasions. Whether you're heading to the office or enjoying a casual weekend, twill pants have you covered.
Chino Fabric: The Timeless Appeal and Versatility of Twill
Chino fabric, a type of twill weave fabric, is commonly used for crafting stylish and comfortable pants. Khakis, washed chinos, and other variations offer wearers a range of choices when it comes to selecting the perfect twill pant style. Chinos tend to be straight-legged with front creases, and they often feature side or back pockets for added functionality.
Woven Wonders: Understanding the Intricacies of Twill Weave Fabric
Twill weaves, characterized by their diagonal pattern, result in fabrics that are not only visually appealing but also more durable and wrinkle-resistant compared to other weave patterns. The weaving process enhances the fabric's strength, contributing to the longevity of twill pants. This durability makes twill pants a worthwhile investment, as they outlast many other types of pants.
From Trousers to Shorts: The Versatile Adaptability of Twill
Twill pants' versatility extends beyond full-length trousers. The twill weave fabric lends itself well to various clothing styles, including shorts. Shorts crafted from twill offer a comfortable and stylish option for warm weather. These shorts often feature the same durable and breathable properties as their full-length counterparts, making them a popular choice for casual wear.
Amping Up Utility: The Functional Aesthetics of Twill Pant Pockets
Twill pants frequently incorporate pocket designs that enhance their utility. Cargo twill pants, for instance, feature large pockets on the sides or legs, adding both a relaxed look and practical functionality. These pockets are often made from lightweight, breathable fabric, making cargo twill pants an excellent choice for those seeking a balance between style and convenience.
The Benefits of Wearing Twill Pants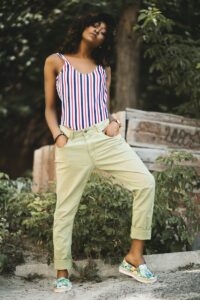 Twill pants are cherished for their comfort, style, and versatility. Beyond their visual appeal, they offer exceptional durability, thanks to the intricate twill weave fabric. This durability translates to a longer lifespan compared to other types of pants, making twill pants a smart investment for your wardrobe.
Difference Between Twill Pants and Denim Pants
While twill pants and denim pants may appear similar at first glance, there are key distinctions between them. Twill fabric, as previously mentioned, features a diagonal pattern, resulting in a lightweight weave. On the other hand, denim is characterized by its thicker and heavier construction. Both denim jeans and chino pants are technically types of cotton twill fabric, with denim pants leaning towards a sturdier and more structured design.
Twill Dress Pants: A Perfect Fit for the Office
Twill dress pants are well-suited for professional settings. The loose fit of twill pants strikes a balance between comfort and a polished appearance, making them an ideal choice for business attire. With various colors and styles available, you can easily find the perfect pair of twill dress pants to suit any workplace environment.
Suitability for All Body Types
Twill pants cater to a wide range of body types and preferences, boasting an array of styles to choose from. Whether you have an athletic figure or curves in all the right places, twill pants offer a flattering fit. From skinny jeans to chinos and joggers, there's a twill pant style that can help you look and feel your best.
Pants Crafted with Precision: The Enchanting Twill Weave
When it comes to fashion, the interplay between fabric and design holds significant sway. Twill pants stand out in this regard due to their distinct weaving pattern. This weaving technique creates a specific diagonal pattern known as twill, setting these pants apart from the conventional. The resulting fabric showcases tiny ridges or lines that run diagonally across the material, lending it a textured and engaging appearance.
The term twill itself refers to the unique diagonal pattern in which cloth is often woven. This weaving method creates a dynamic visual effect that adds depth and character to the fabric. As a result, pants crafted using a twill pattern boast an elegance that captures attention effortlessly.
The Sturdy Elegance of Cotton Twill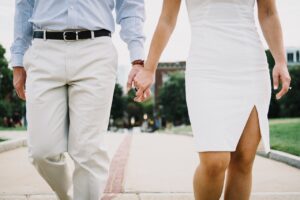 While the weaving technique defines the allure of twill pants, the choice of fabric plays a crucial role as well. Cotton twill, in particular, takes center stage due to its remarkable qualities. This blend of craftsmanship and material results in a sturdy fabric that embodies durability and resilience.
The twill weave enhances the fabric's inherent strength, making it an ideal choice for enduring pants that can withstand the rigors of daily wear. As you explore options to expand your wardrobe, consider the lasting allure of cotton twill and the exceptional comfort it offers.
Elevating Your Wardrobe: Twill Stretch and Versatility
In pursuit of comfort and style, twill stretch pants emerge as a versatile option that seamlessly blends fashion and function. The incorporation of stretch fibers within the fabric ensures a fit that moves with you, enhancing your mobility while maintaining the pants' tailored appearance. This is particularly advantageous when you're on the go or navigating through the demands of a busy day.
Twill stretch pants are not only comfortable but also stylish, making them a go-to choice for modern individuals who prioritize both aesthetics and practicality. Their ability to effortlessly transition from a day at the office to an evening out highlights their remarkable versatility.
Navigating the Fashion Landscape: A Twill Buying Guide
For those embarking on a journey to acquire twill pants, a well-considered buying guide can be immensely valuable. When selecting the perfect pair, factors such as fit, style, and color come into play. Whether you're seeking a classic, straight-legged look or a more contemporary silhouette, understanding the nuances of pant styles can help you make an informed choice.
Moreover, exploring different types of twill, such as chino fabric and khaki pants, widens your options and enables you to curate a wardrobe that resonates with your personal style. The world of twill pants is rich and diverse, offering endless possibilities to express your individuality.
The Timeless Charisma of Denim and Khaki: A Stretch Beyond Twill
While twill pants hold a special place in the realm of fashion, it's worth acknowledging the enduring appeal of denim and khaki. Denim, renowned for its durability and character, presents a unique texture that complements the sophistication of twill. The choice between the two opens doors to varied styles, allowing you to seamlessly switch between casual and refined looks.
In a similar vein, khaki pants stand as a classic alternative, exuding a sense of elegance and charm. The term khaki itself refers to the tan color that often characterizes these pants, lending a touch of timeless allure to your ensemble. Whether you're opting for denim's rugged charm or the refined subtlety of khaki, the world of pants extends far beyond twill.
Weaving Dreams: The Khaki Influence and Beyond
As we delve into the intricacies of twill and its counterparts, it's worth acknowledging the central role of weaving in the world of fashion. The weaving process not only determines the visual aesthetic of the fabric but also shapes its texture and properties. Khaki, often associated with military origins, showcases the lasting influence of a specific weave on fashion.
Beyond its influence on pants, weaving techniques extend their impact to other clothing articles, such as sleeve shirts and even shorts. The art of weaving remains an essential cornerstone, weaving dreams and aspirations into each thread.
Embracing the Twill Pant Trend
Twill pants add a touch of variety and sophistication to your wardrobe. Their blend of comfort, style, and versatility makes them an essential garment for any fashion-conscious individual. Whether you're seeking a casual look for the weekend or a polished appearance for a formal event, twill pants are sure to exceed your expectations. Don't wait—explore the world of twill pants today and experience their enduring appeal!