Selecting the perfect tuxedo bow tie style can elevate your entire look, making you feel confident and fashionable at any formal event. With numerous bow tie styles to choose from – including self-tie bow ties, pre-tied bow ties, and various colors and fabrics – it can be overwhelming to find the right one to complement your ensemble. This article is here to help you navigate the world of tuxedo bow tie styles and find the best one for you.
When it comes to choosing the ideal bow tie to complete your tuxedo look, there are a few key components to consider: the type of self-tie bow tie or pre-tied bow tie, the color (such as a classic black bow tie or a more playful patterned option), and the material (ranging from luxe silk satin to plush velvet). For instance, a black tie dress code may warrant a timeless black satin or shantung silk bow tie, while a garden wedding might allow for something more whimsical like polka dots or stripes.
Your choice of bow tie style can also depend on the shape, such as the classic butterfly bow tie, diamond point, or big butterfly. For those who prefer the authentic look and feel of a self-tied bow tie, options like pure silk, self-tie bow ties provide a sense of accomplishment when tying the perfect knot. On the other hand, pre-tied bow ties offer convenience and consistency, ensuring you look sharp without the hassle of tying your own bow. Ultimately, selecting the right bow tie comes down to personal preference and the particularity of the formal event in question.
Classic Black Tuxedo Bow Tie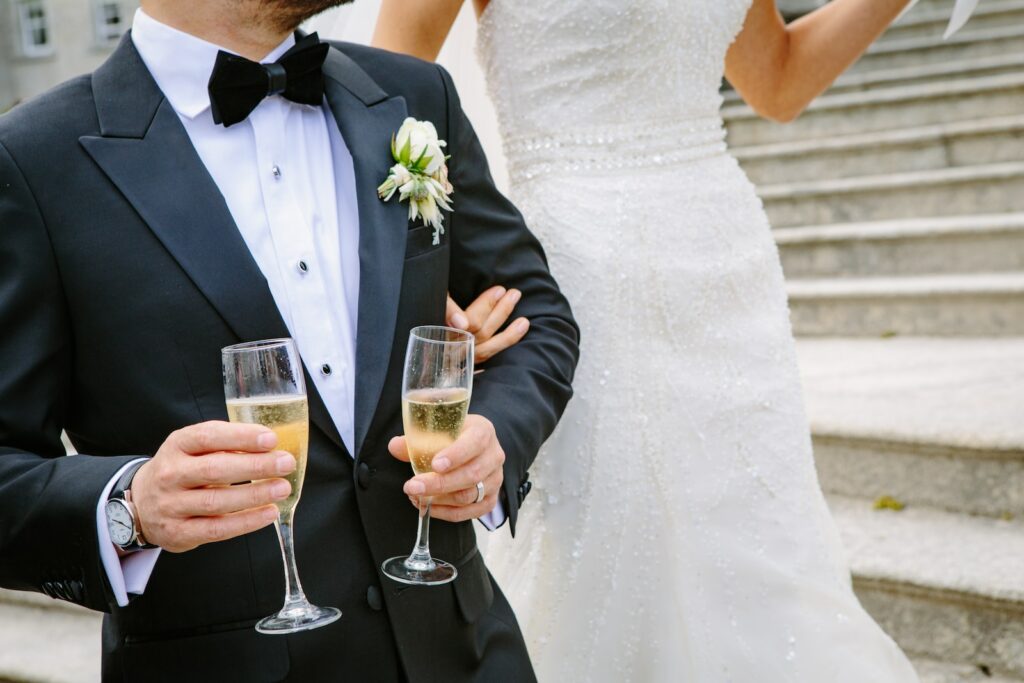 When it comes to tuxedo bow tie styles, the classic black bow tie remains a timeless and elegant choice for any formal occasion. No matter the dress code, a black bow tie is a versatile and sophisticated accessory that can elevate your outfit's overall appearance. In this section, we'll explore the various types of classic black tuxedo bow ties and help you choose the perfect one for your special event.
The self-tie bow tie, also known as a "freestyle" bow tie, is a traditional choice that allows you to create the perfect knot according to your personal preference. With practice, tying a self-tie bow tie becomes a satisfying skill that can make a statement about your attention to detail. Some popular self-tie bow tie styles include:
Butterfly bow tie: Known for its large, wide shape, the butterfly bow tie is a popular option at formal events, especially weddings.
Diamond point: This style features pointed ends, giving it a unique, modern edge that stands out among the crowd.
Big butterfly: Similar to the butterfly style, the big butterfly has an even larger, more dramatic shape that draws attention.
If the thought of tying your bow tie isn't appealing to you, the pre-tied bow tie is a convenient and time-saving alternative that still maintains a polished appearance. Pre-tied bow ties are available in a variety of styles and are ready to clip onto your collar effortlessly.
Fabric choice matters when selecting the right bow tie, as certain materials create a more formal or casual look depending on the occasion. Some popular fabric options for classic black tuxedo bow ties include:
Silk satin: A luxurious and elegant choice, perfect for black tie events and weddings alike.
Plush velvet: A unique option for a winter black tie event, adding warmth and texture to your look.
Shantung silk: This textured silk fabric provides a more casual appearance, making it suitable for less formal events.
Black satin: A versatile option, providing a sleek and polished appearance alongside a wide range of tuxedo styles.
Pairing your classic black bow tie with the appropriate collar style is crucial for achieving the right look. For a traditional and elegant appearance, opt for a wingtip collar, pleated shirt, and black tuxedo. For a more relaxed, contemporary vibe, try a dark blue or charcoal gray tuxedo worn with a spread collar and a flat-front shirt.
In conclusion, selecting the perfect classic black tuxedo bow tie involves considering style, fabric, and pairing options. Be it the self-tie or pre-tied variation, ensuring your bow tie complements your tuxedo ensemble is key to creating an elegant and timeless appearance for any formal occasion.
The Velvet Bow Tie and Its Charm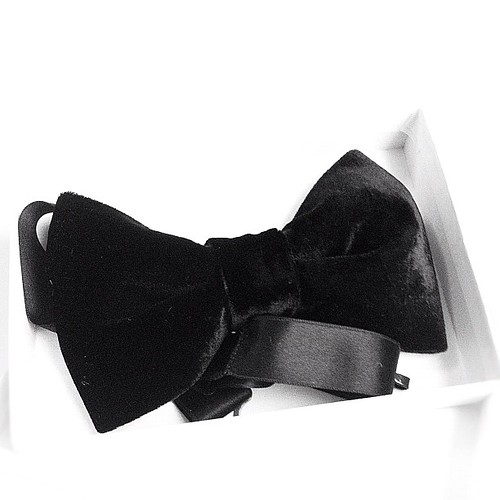 Come holiday season or a swanky soirée, the velvet bow tie stands out as a refined and stylish option among various tuxedo bow tie styles. Exuding elegance and sophistication, velvet bow ties offer a unique texture and aesthetic that can elevate your entire outfit. In this section, you'll discover the charm of the velvet bow tie and how it can enhance your wardrobe selections for formal events.
One of the advantages of velvet bow ties is their versatility. Perfect for a black tie or white tie affair, they're available in both self-tie bow tie and pre-tied bow tie variations. Of course, enthusiasts might argue that the self-tie bow tie is the best bet when aiming for that oh-so-perfect knot, while others may prefer the convenience of a pre-tied bow for a hassle-free dressing experience.
Velvet bow ties come in various shapes such as the butterfly bow tie, diamond point, and big butterfly. Your choice of the right bow tie shape will depend on factors like your personal style, face shape, and the collar style of your pleated shirt. Regardless of the shape, a velvet bow tie makes a stylish statement that sets you apart from the crowd.
Color-wise, the classic black bow tie in plush velvet is an excellent choice for a sharp look, akin to the famous James Bond style. Alternatively, dark blue, burgundy, or other decadent shades can add a touch of distinctive flair to your ensemble. Pairing your velvet bow tie with either a dark-colored or white dress shirt can create an enticing contrast that highlights this fashionable accessory.
When it comes to fabric, opting for a silk satin velvet bow tie adds a luxurious touch to your attire. Other fabric options like shantung silk or pure silk can also make an impact, but there's something uniquely enchanting about the lustrous sheen of silk satin velvet.
In conclusion, the velvet bow tie has an undeniable charm that can enhance any formal look. Its versatility, variety in shape, and richness in color make it a must-have accessory for your collection. Keep in mind your preferred dress code and personal style to select the perfect velvet bow tie for your best formal event yet. So go ahead and give the velvet bow tie a try, and don't be surprised if you find it becoming a regular in your rotation of classy bow tie options.
Satin and Silk Bow Tie Extravaganza
When it comes to tuxedo bow tie styles, satin and silk materials are a must consider. Both fabrics offer a luxurious feel, making them a fantastic choice for formal events like weddings or black-tie affairs.
One popular option is the self-tie bow tie, offering a more authentic and personal touch. With this style, you'll be able to learn the skill of tying the perfect bow, ensuring that your look is uniquely your own. Some classic self-tie bow tie options include the:
Butterfly bow tie
Big butterfly bow tie
Diamond point bow tie
Of course, not everyone has the time or patience to master the art of tying a bow tie. If that's the case, you may opt for a pre tied bow tie. These convenient ties come already tied, taking the hassle out of achieving the perfect knot. While some may argue that these lack a touch of sophistication, they're still a viable choice for those seeking a polished look without the fuss.
Let's not forget about the importance of color when it comes to tuxedo bow tie styles. A classic option is the black bow tie, which pairs perfectly with the traditional black tuxedo and white pleated shirt. However, don't be afraid to experiment with variations like:
Dark blue bow ties
Plush velvet bow ties
Polka dots and patterned bow ties
For more formal occasions that call for a white tie dress code, consider a white bow tie made of pure silk. This classic and elegant option will ensure you meet the strictest of dress codes while looking dashing.
If you're after a more luxurious look, consider shantung silk bow ties. These have a textured appearance, adding a touch of sophistication to your formal ensemble. Alternatively, you can choose a smooth and shiny silk satin bow tie, which pairs well with a James Bond-inspired tuxedo.
When selecting the right bow tie, remember that matchy-matchy is not always your best bet. Instead, aim to complement your tuxedo and other accessories, creating a cohesive and stylish outfit. Your bow tie should stand out but not steal the show. The key is to strike a balance between color, fabric, and style to ensure that you look dapper for your formal event.
Self-Tied vs Pre-Tied Bow Ties
When selecting that perfect tuxedo bow tie, you'll encounter two main options: self-tied and pre-tied. It's important to understand the differences and what each type offers before making a decision.
Self-tie bow ties give you the classic gentleman charm. These bow ties are also called "freestyle" or "tie-it-yourself" bows. True to its name, you'll have to tie the knot yourself. The advantage is showing off your skill of tying a perfect bow. So, if you're attending a black tie event or a wedding, a self-tie bow tie is the embodiment of traditional elegance.
On the other hand, pre-tied bow ties are just as the name suggests – tied and ready to wear, with a convenient adjustable strap or a clip. For those who don't have the time or patience to learn the art of bow tying, pre-tied bow ties offer a practical option. They're also a lifesaver for those last-minute events when there's no time to practice your knot-making skills.
When comparing the look, it's important to note that self-tie bow ties have a slightly more relaxed appearance, as the knot tends to be asymmetrical and unique to the individual. By contrast, pre-tied bows have a uniform look, as each knot is identical, making them appear less personal.
When deciding between the two, consider the occasion. If it's a formal event with a strictly observed dress code, like black or white tie affairs, self-tie bow ties are the way to go. They're also a popular choice for grooms at weddings. Pre-tied bow ties are perfect for casual events or younger attendees who aren't confident in their bow-tying skills.
Another factor is fabric. Both self-tie and pre-tied bow ties come in various fabrics, such as silk, satin, velvet, and wool. Luxurious materials like pure silk and plush velvet add a touch of elegance to any outfit, while more casual fabrics like cotton and linen work well for laid-back occasions.
Lastly, picking the right shape plays an important role in the final appearance. Some common tuxedo bow tie styles are:
Butterfly: The classic, large bow shape that's a popular choice for black tie affairs
Diamond point: A modern twist on the classic butterfly, with pointed ends for added flair
Batwing: A minimalist, slim bow tie that works well with slim fit tuxedos and narrow collars
In conclusion, whether you choose a self-tied or pre-tied bow tie depends on the occasion, your personal preferences, and your confidence in tying a bow. Both options offer a range of styles, fabrics, and shapes, so you're sure to find the perfect bow tie for your needs.
Final Thoughts: Choosing Your Style
Having explored various tuxedo bow tie styles, it's important to reflect on those key factors that influence your ultimate choice. Your selection can greatly enhance the entire outfit and make you stand out at a formal event. Here's a summary to help you decide on the perfect bow tie for your tuxedo:
Self-tie bow tie vs. Pre-tied bow tie: Self-tie bow ties add an authentic, personalized touch, while pre-tied bow ties offer convenience and time savings. For a more dashing look, go with the self-tie bow tie.
Types of bow ties: Classic butterfly, big butterfly, batwing, diamond point, and pointed-end are all unique styles, suited for different preferences and occasions. Trying out various options will let you discover the right bow tie for your needs.
Fabric: From lush silk satin and pure silk to plush velvet and shantung silk, the choice of fabric can influence the overall appearance and texture. Consider the event's dress code, tuxedo fabric, and personal preference when selecting this detail.
Colors and patterns: Black bow ties are a classic choice for a black tie event, with dark blue and white bow ties being ideal for a formal look, while polka dots, stripes, or a splash of color can be used for more daring, fashion-forward appearances.
Matching with other elements: Keep in mind the collar shape of your pleated shirt, the dress code of the event, and any other accessories to make sure your bow tie is harmoniously integrated into the outfit.
In the end, the perfect bow tie will strike the ideal balance between style, fabric, and personal preference, making you look and feel confident at any formal gathering.
Other suggested articles: