Is Kenneth Cole a designer brand? Kenneth Cole is a well-known brand in the fashion industry that offers a wide range of clothing, shoes, and accessories. Founded in 1982, the brand is named after its founder, Kenneth Cole, who started his career as a shoe designer. Over the years, the brand has become synonymous with contemporary fashion that combines style, quality, and affordability.
While the brand is often associated with footwear, it has expanded to include a variety of fashion products, ranging from clothing and handbags to jewelry and watches. Despite its popularity, there is often debate among fashion enthusiasts about whether or not Kenneth Cole can be classified as a designer brand. In this article, we will explore the history of the brand and examine its place in the fashion industry.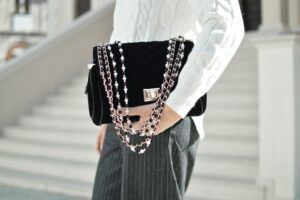 Kenneth Cole History
Kenneth Cole Incorporated which is now known as Kenneth Cole Productions was founded in 1982 by Kenneth Cole, a young designer who wanted to create fashionable shoes that were both comfortable and affordable. Initially, the brand operated as a shoe company, but over time, it expanded its product offerings to include clothing, accessories, Kenneth Cole watches and fragrance, making it an American fashion house.
One of the defining moments in the brand's history occurred in 1987, when Kenneth Cole decided to launch his first collection of men's and women's shoes at a trade show in New York City. Instead of renting a traditional showroom, he parked a truck on the street outside the show and displayed his shoes inside. To gain attention and generate buzz, he also created a bold banner that read "Kenneth Cole Productions, Inc." and pretended to be a film company shooting a movie called "The Birth of a Shoe Company." This guerrilla marketing strategy worked, and the brand quickly gained national attention.
In the years that followed, Kenneth Cole continued to innovate and expand, introducing new product lines and collaborating with other designers and brands. In 1994, the brand launched its first men's and women's clothing collections, which were met with critical acclaim. The brand also expanded into fragrance, launching its first fragrance, Kenneth Cole for Men, in 2002.
Today, Kenneth Cole brand is a global fashion brand that is known for its modern, sophisticated designs and commitment to social activism. The brand has Kenneth Cole Foundation, Kenneth Cole Fellows and won numerous awards and accolades for its innovative products and marketing campaigns, and it continues to be a leading force in the fashion industry. They own Kenneth Cole Collection, Kenneth Cole Reaction Line and Kenneth Cole New York.
What Does Designer Brand Mean?
A designer brand is a fashion label that is associated with a high level of quality, exclusivity, and luxury. Designer brands are known for their premium materials, superior craftsmanship, and attention to detail, and they often command higher prices than other fashion brands.
Designer brands are typically created by a fashion designer or a team of designers who have a unique vision and aesthetic. These brands often have a strong identity and are instantly recognizable by their signature styles, logos, and marketing campaigns.
Designer brands may offer a range of fashion products, including clothing, shoes, accessories, and fragrance. They may also collaborate with other designers, artists, or celebrities to create limited-edition collections or exclusive products.
While the term "designer brand" is often associated with luxury fashion and high-end pricing, there are also more accessible designer brands that offer premium products at a lower price point. Ultimately, what sets designer brands apart is their commitment to quality and craftsmanship, and their ability to create fashion products that are both functional and aesthetically pleasing.
So, Is Kenneth Cole a Designer Brand?
Kenneth Cole is considered by some to be a designer brand, while others classify it as a contemporary fashion brand. The brand is known for its modern, sophisticated designs and commitment to quality, and it has won numerous awards and accolades for its innovative products and marketing campaigns.
While Kenneth Cole may not have the same level of exclusivity or high-end pricing as some other designer brands, it is still recognized as a leader in the fashion industry and offers products that are well-designed, well-made, and on-trend like Reaction Kenneth Cole.
The brand has a strong identity and aesthetic, and it continues to innovate and evolve, introducing new product lines and collaborating with other designers and brands. Kenneth Cole Productions sold numerous products like Kenneth Cole shoes, making it popular to shoppers.
Ultimately, whether or not Kenneth Cole is considered a designer brand depends on one's definition of the term. While the brand may not fit the traditional mold of a luxury fashion brand, it is still widely respected and admired for its commitment to quality and style.
Related articles you might like…