Is Celine a designer brand? Absolutely, and it's not just any designer brand. Celine is a renowned French fashion house that has been making waves in the world of luxury brands for decades. The Celine brand has carved out an impressive position in the competitive landscape of high fashion, standing shoulder to shoulder with heavyweights like Louis Vuitton, Michael Kors, Chanel and Christian Dior.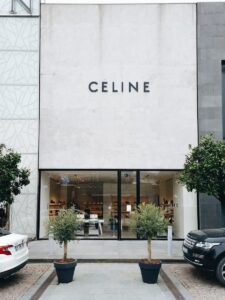 The story of Celine starts with its founder, Céline Vipiana, who began her journey in 1945 by creating made-to-measure children's shoes. With an emphasis on practical clothing and leather goods for the everyday woman – think wool skirt suits and chic leather vests – she quickly expanded into women's ready-to-wear fashion. Under her guidance, the brand became synonymous with a unique style that blends a minimalist aesthetic with sophisticated tailoring.
Fast forward to today, and you'll find that Celine bags, such as the iconic Luggage Tote and Trapeze bag have become must-have items in every fashionista's closet. These designer handbags are crafted from the highest quality materials like lizard skin which reflects their high resale value due to their craftsmanship and timeless appeal. From Phoebe Philo's tenure as creative director emphasizing personal style to Hedi Slimane's indie rock-inspired collections; both have added layers of richness to this French Luxury Fashion House's history.
Unveiling the Legacy of Celine: A Designer Brand
Yes, Celine is a designer brand. It's one of the top fashion houses in France and is globally recognized for its sophisticated aesthetic. Known primarily for its luxury handbags and leather goods, it continues to dominate the world of high-end fashion.
Founded in 1945 by Céline Vipiana as a made-to-measure children's shoe boutique in Paris, this French Fashion House has come a long way. By the 1960s, it had expanded into women's ready-to-wear fashion and leather accessories. It wasn't just any expansion though; it marked Celine's entry into the elite club of luxury brands.
When we speak about iconic handbags, one cannot overlook the most famous Celine bag, the Luggage Tote. This bag became hugely successful due to its unique style and highest quality materials used in production – often exotic leathers like lizard skin! The practicality paired with elegant design also helped boost its popularity among everyday women who yearned for practical clothing without compromising on style.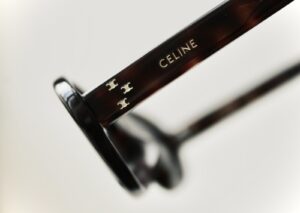 In terms of leadership, there have been notable figures at Celine steering its course through an ever-changing fashion world. Phoebe Philo brought forth a minimalist aesthetic when she was appointed creative director from 2008 to 2018 – a period many regard as golden years for Celine.
Then came Hedi Slimane who shook things up when he took over from Philo – changing both Celine's logo and direction toward indie rock-inspired looks complete with slim-fit leather vests and wool skirt suits – much to some fans' dismay but also attracting new followers to brand.
The rich history of this brand doesn't stop there though! In fact, you'll find that Celine is part of LVMH Group, which happens to be one of the largest luxury conglomerates worldwide hosting other renowned names such as Louis Vuitton, Christian Dior and Marc Jacobs among others.
As part of this group under Bernard Arnault's command since 1987 (who bought it from Vipiana's husband Richard), they've managed to uphold their distinct identity while benefiting from synergy with these other amazing brands within their portfolio.
For those wondering about Chanel bags or comparing Michael Kors vs Céline or even Dior quality against theirs – remember every brand brings something different to the table. Each has their own personal style influenced by various creative directors throughout time creating diverse offerings in the market today!
So next time you're eyeing that luxury bag whether it be Chanel Bag or Lady Dior or even a Saint Laurent number- don't forget about checking out what Céline collection has on offer too! You might just find your dream designer handbag waiting right there.
The Artistic Influence Behind Celine's Fashion
Diving into the world of fashion, I can't help but acknowledge the significant impact of Celine, a top-tier luxury French fashion house. Founded in 1945 by Céline Vipiana, this brand set out as a made-to-measure children's shoe business. But it wasn't long before its sophisticated aesthetic evolved, placing it firmly among prestigious designer brands.
The evolution of the Celine brand is an intriguing tale. In 1960, both Celine and her husband Richard decided to expand their brand repertoire to include women's ready-to-wear fashion and leather goods. They introduced luxury handbags that quickly became iconic in the fashion industry due to their unique style and highest-quality materials.
In the late '90s, after being acquired by the LVMH group – a luxury conglomerate led by Bernard Arnault – things took an exciting turn for this French luxury label when Michael Kors was appointed creative director. His tenure brought about unprecedented success for the brand; however, it was during Phoebe Philo's reign as creative director that most Celine bags reached cult status.
Philo revitalized Celine with her minimalist aesthetic, making practical clothing chic again and introducing some of the most sought-after bags like luggage totes and phantom bags. Her designs catered perfectly to everyday women who valued both style and functionality.
Under Hedi Slimane's leadership since 2018 (formerly at Saint Laurent), we've seen another transformation within this powerhouse brand. Slimane's indie rock-inspired collections have been met with mixed reviews yet high demand; his vision introduces edgier elements while honoring Vipiana's legacy of delivering functional yet luxurious pieces.
Here are some noteworthy facts about key influences on Céline:
– Michael Kors (1997-2004): Introduced jet-set sportswear-inspired collections.
– Phoebe Philo (2008-2018): Elevated minimalism; created cult-favorite bags such as luggage totes.
– Hedi Slimane (2018-present): Brought rock'n'roll influence; expanded menswear line.
When it comes down to whether or not Céline is considered a designer brand: Yes! It indisputably holds its place among other esteemed fashion houses such as Chanel, Louis Vuitton, Marc Jacobs,and Christian Dior. Their handcrafted leather bags – be it lizard skin or calfskin – rival those from any top-tier designer label in terms of both design aesthetics and resale value.
In essence, the artistic influence behind Celine's Fashion is a testament to its rich history, a combination of high-profile creative directors pushing boundaries while preserving its founding principles: creating practical yet stylish designs using only premium materials. It's clear why each new collection continues to be highly anticipated in today's dynamic fashion world – because they always deliver!
Final Thoughts – Is Celine a Designer Brand?
Celine, without a doubt, is indeed a designer brand. This French fashion house has solidified its place in the fashion world with its sophisticated aesthetic and luxurious goods. The Celine brand's rich history and evolution have only added to its status as a luxury French fashion house.
Looking back at its journey from Monte Carlo where it originally set up shop to becoming part of one of the biggest names in retail–LVMH Group–you can say that yes, unequivocally so: 'Is Celine a designer brand?' Absolutely!
In conclusion, diving deep into any discussion about whether or not 'is Celine a designer brand' can bring forth various perspectives depending on individual experiences with this iconic label. But I believe most will agree: when you think about sophistication combined with practicality wrapped up into unique designs made from luxurious materials – yes indeed! We're talking about none other than true representation of designer brands – CELINE!