What color lipstick goes with green eyeshadow? Green eyeshadow, though not as popularized as other shades, can create lots of different makeup looks. If you have green eyeshadow and are unsure which lipstick colors would complement it best, don't worry! We've done the research for you and found some great options.
Green eyeshadow is best worn with nudes, corals, light pink lipsticks, and purples, and with the right application and outfit, even red looks fantastic. The color you choose for your green eye makeup depends on your skin tone, the shade of green in the colors you're using, and whether you're going for a professional or casual vibe.
Are you wondering how to match lipsticks with eyeshadow hues? Do you want to learn how to apply that recent eyeshadow product? Is dark green shimmer eyeshadow your favorite color, and you'd want to know more about colors that go well with it? We've investigated these questions and have great fashion advice to offer. Please continue reading to discover more about this topic!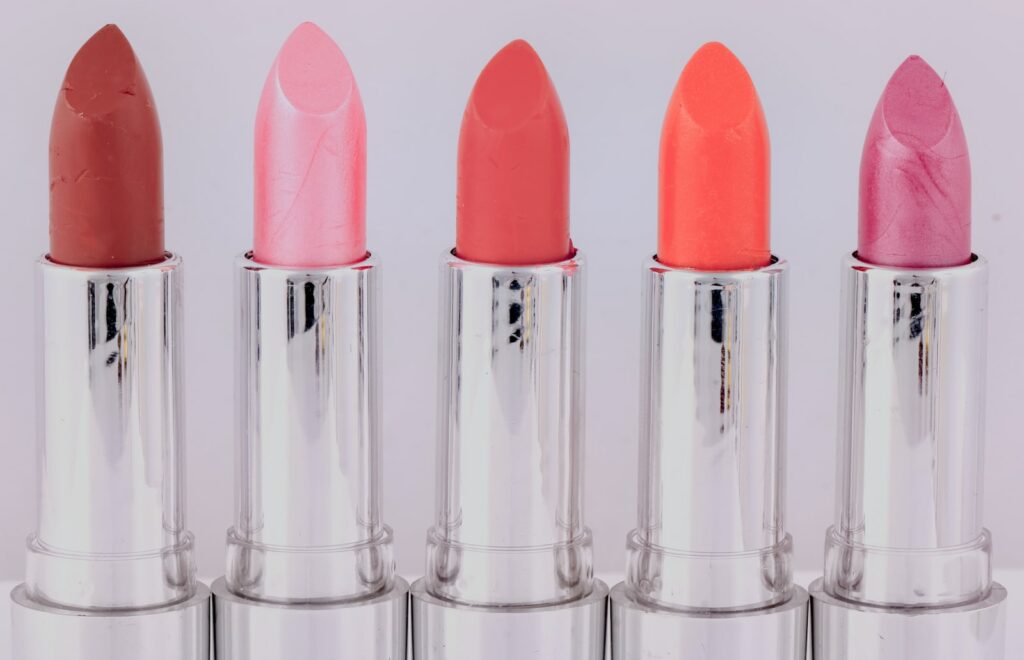 What Color Lipstick Goes With Green Eyeshadow: Nude Lipsticks
Choose a nude lip color to make your eyeshadow and other aspects of your makeup stand out. Green is an attention-grabbing hue, so balance it with a gloss or lipstick in a shade you love.
What Color Lipstick Goes With Green Eyeshadow: Corals, Pinks, Purples, And Reds
When it's time to match your gorgeous green eyeshadow with the perfect lipstick tone. Keep in mind that the tones of your eyeshadows' depth and intensity should be considered when selecting a lip color. Assume you're applying a dark emerald green eyeshadow with a little sheen to it. For a more grown-up look, consider selecting a crimson gloss or coral gloss lipstick. Alternatively, if you want to go for a stronger appearance, contrast with a deep crimson gloss lipstick.
What Color Lipstick Goes With Green Eyeshadow: How Do You Match Eyeshadow With Lipstick?
Matching your eyeshadow to your lipstick depends on the type of look you want to create. Finding a lip color like from mac cosmetics matte lipstick that is a little brighter than your eyeshadow would help you achieve a balance if you want a monochromatic appearance. When it comes to pairing, there's no end to what you can do with bright colors.
When creating any makeup look – whether professional or casual – it's important to only accentuate one feature, as per the timeless rule set by Loreal Paris. For example, you could have a flawless emerald green eyeshadow with defined black eyeliner and faux lashes. In this instance, your eyes would be the focal point for this look; therefore, choose a nude lipstick that allows your shining eyes to be the star of the show!
Monochromatic Makeup Looks
Monochromatic makeup is not only a time saver because all the products you need a match, but it also creates a consistent look. For people with mature skin, minimizing any signs of aging is always great!
To create a monochromatic look with a pop of color, select green as your chosen hue. From there, find an eyeshadow trio pack that contains shades of green—this will be used to create depth. For the remainder of your face, use natural colors for brows, light highlighter for cheeks, and nude or coral lip color.
Polychromatic Makeup Looks
Start by focusing on the feature you want to emphasize when selecting the ideal color for a polychromatic makeup style. For example, you might accentuate your lips. Choose a lipstick color that complements your skin tone and builds the look around it. Consider using bronzes or golden eyeshadows, along with a blush with a red undertone. There are many colors in this design; the contrast between bronze and gold is excellent, allowing the beauty of a polychromatic effect to shine through.
Does Eyeshadow Need To Match Your Outfit?
No, matching your eyeshadow color to your outfit is not fashionable. In the 1980s it may have been popular, but if you did that now, you would look outdated.
Choose colors that go well with your skin tone and personality. Then use those hues to mix and match pieces together. A cornflower blue dress, for example, would look great with a beige eye shadow style.
What Color Lipstick Goes With Green Eyeshadow: Eyeshadow Application Tips
Start by washing and moisturizing your face. Apply eye shadow primer to the entire lid. Eye shadow primer is beneficial for achieving even application of shadow, as well as allowing the layers of color to blend and set without smudging easily. Begin with the lightest shade, which should be applied from the brow bone to the lash line and inner corner of the eye.
Make certain the entire lid is covered before continuing. Apply the medium-tone color to the lid, from lashline to crease. Next, put a deeper medium tone in the outer corners of your eye and blend well until there are no streaks. You could use your fingers for this process too–blend and pat the color gently.
Another option is to use an eye shimmer or glitter that matches your eyeshadow. Paint along the lash line with a fine-pointed makeup brush dampened with water for added depth. This method is best suited for nights out and holidays. Not ideal for professional aesthetics. You may use a setting spray to help your look stay beautiful all night after you've finished applying your cosmetics!
What Color Lipstick Goes With Green Eyeshadow: What Colors Complement Green?
Green is a legendarily versatile color that plays well with countless other colors, seasons, and styles. Caramel brown lipstick, dusty blue green eyeshadow, lime green eyeshadow, coral lipstick, dark berry lipstick, purples, and reds are stunning options to combine with greens. The many shades of green available stretch from dramatic dirty martini to subtle spring green.
Green and lavender are a wonderful combination. If you're combining purple with a light mint green, pick a softly hued lavender. It's preferable to choose colors that are similar in intensity or opposing on the color wheel for an evenly balanced look.
Determine whether the color is warm or cool and if it's a primary or secondary hue, according to Chicago's school of professional makeup design Makeup First. Greens are seen as cold and second on the color wheel. Choose hues that are both cool and second to create attractive combinations. Colors opposite on the wheel are commonly utilized to build balanced, concentrated cosmetics looks.
Things To Keep In Mind When Using Green Eyeshadow
When using green eyeshadow, there are several key things to keep in mind to achieve a stunning and harmonious look. Whether you're a makeup enthusiast or a beauty novice, these tips will help you make the most of your green eyeshadow application.
1. Choosing the Right Lip Color
Consider the undertones of your green eyeshadow when selecting a lip color.
Neutral lip colors like nude or soft pink can complement green eyeshadow beautifully.
Avoid overly bold or contrasting lip colors that may clash with the intensity of the green.
2. Experiment with Eyeshadow Shades
Green eyeshadows come in various shades, from muted olives to vibrant emeralds.
Tailor your eyeshadow choice to your skin tone and the occasion.
Darker greens can add drama, while lighter shades offer a more subtle, everyday look.
3. Coordinating Makeup Colors
Consider the overall color scheme of your makeup.
Coordinate your eyeshadow with other makeup elements, such as blush and highlighter, for a cohesive look.
4. Hair Color Considerations
Your hair color can influence how green eyeshadow complements your overall appearance.
Red hair, for example, can create a striking contrast, while blondes may find softer green shades more flattering.
5. Skin Tone Awareness
Green eyeshadow can enhance different skin tones uniquely.
Experiment to find shades that enhance your natural beauty, taking into account warm or cool undertones.
6. Complementary Lip Colors
Explore lip colors that complement green, such as coral or berry tones.
Achieve a balanced look by ensuring your lip color enhances, rather than competes with, your eyeshadow.
7. Makeup Application Techniques
Apply green eyeshadow with precision, blending well to avoid harsh lines.
Use complementary eyeshadow shades to create depth and dimension in your eye makeup.
8. Matching with Apparel
Consider the colors in your outfit when choosing green eyeshadow.
Harmonize your eyeshadow with your clothing to achieve a polished and put-together appearance.
9. Lipstick Options
Explore the diverse range of lipsticks for compatible shades.
Find lip colors that resonate with your green eyeshadow for a seamless makeup look.
10. Beauty and Confidence
Beauty is subjective, and confidence is key.
Embrace your unique style and preferences when experimenting with green eyeshadow.
In summary, the key to a successful green eyeshadow look lies in thoughtful color coordination, considering your unique features, and experimenting with different shades and techniques. Enjoy the creative process and express your individual beauty with confidence.
What Color Lipstick Goes With Green Eyeshadow Bottom Line
There is no one-size-fits-all answer to this question. It depends on the specific shade of lipstick you are using, as well as the overall tone and style of your makeup look. You may want to experiment with different colors to see what works best for you. Some complementary lipstick shades include nude, coral, deep berry shades, or red, peach lipstick complement green too.