What color tie goes with a purple shirt? Every man needs to know how to match his tie with his shirt and suit. However, this can be tricky to learn and master. For example, it can be difficult to find a matching tie for a shirt with an uncommon color like purple.
First and foremost, when picking out an outfit, always be mindful of the color wheel. Second to that would be choosing a complementary color to go along with your Purple ensemble. But if you're still stuck on ideas, Men's Venture has got your back. We've put together some tips and tricks on how to mix-and-match different ties and shirts—even if they share the same hue!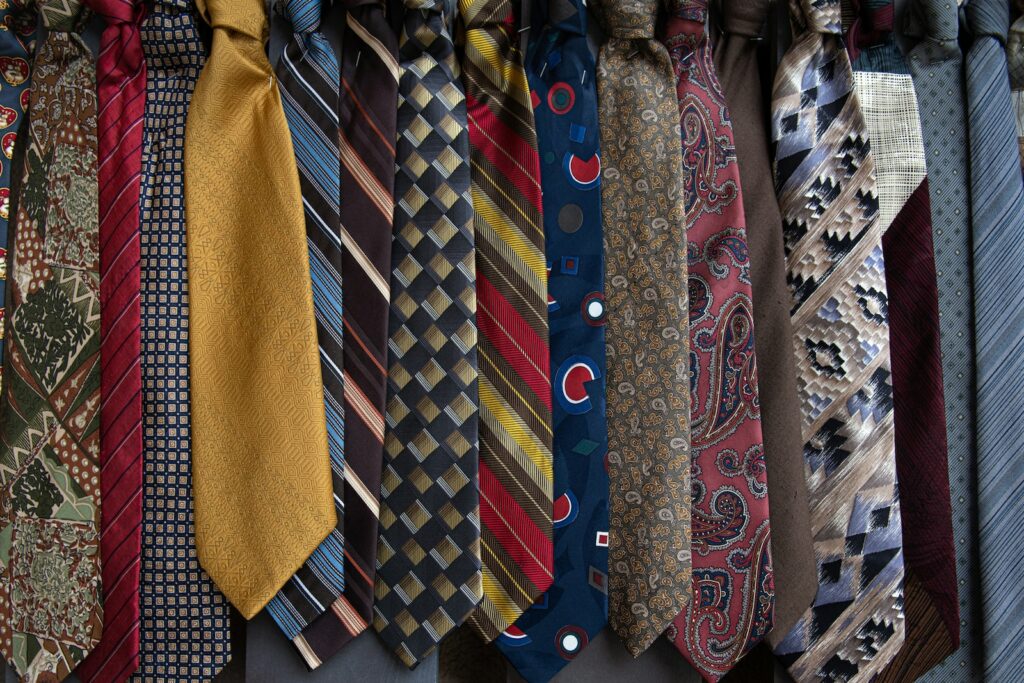 What Color Tie Goes With a Purple Shirt: The Basics
Purple is a great color to wear with navy, gray, black, and beige. These are 4 of the most common and adaptable menswear colors available.
Navy Blue Tie and Purple Shirt
Navy ties and purple shirts are always a great combo. They give you that macho look with a touch of elegance. Matching these colors is the perfect way to add sophistication without going overboard.
Gray Tie and Purple Shirt
Soothe your eyes by wearing a purple shirt with a tie of lighter shade. This combination can help you look trendy and dapper for work or social settings.
Beige Tie and Purple Shirt
A beige tie with a purple shirt will help you to appear elegant and sophisticated without requiring you to stray outside of your comfort zone. This combination is a safe and simple method to look good. It may also be used in casual social settings like weddings, as well as more formal business gatherings such as seminars and meetings.
Black Tie and Purple Shirt
If you're looking to add a little extra edge, try pairing a black tie with a purple shirt. This combination works best in social settings, as it might be considered too bold for the workplace or other professional environments.
There are many different ways you can style a purple shirt, but a few classic combinations always look great. If you're feeling adventurous, though, don't be afraid to experiment with your tie and shirt choices!
What Color Tie Goes With a Purple Shirt: Outfit Looks
With these colored ties, we think you can easily style your favorite purple shirt in a number of great ways.
Creative Look
To create a classy and creative look at the workplace, we recommend wearing a purple striped shirt with a purple dotted skinny tie. Brown leather monks are an excellent way to add personality to your wardrobe whether you're dressing up or down.
To achieve a creative look, match your purple shirt with a purple, black, and white striped necktie. This combination also looks good once paired with gray dress pants. Get noticed by colleagues or friends when you complete this look with brown leather loafers.
If you wish to accomplish a creative and preppy look, then you must try geometric purple with a stylish pink square necktie. While this combination might be out of your comfort zone, it will pay off once the compliments start rolling in. Wear it with ripped skinny jeans and beige suede brogues for an extra touch of style.
Minimalistic Look
A wool chambray burgundy tie goes great with a purple striped dress shirt for an easy yet interesting style. The unique blend of hues gives you an urban and minimalist aesthetic that others will want to copy. Textures and fabric weights that are often fascinating and popular are combined in this texture-and-fabric combination. You may also wear this tie and shirt combo with charcoal wool dress pants and a pair of dark brown leather derby shoes.
A polyester dark purple tie with a light purple shirt will give your look a minimalist appeal. For a clean-cut professional appearance, wear a purple chino dress. Complete this elegant ensemble with black leather loafers for something more formal. This combination will provide you with a new and yet edgy vibe.
A dapper, minimalistic look for the office or a special occasion can be achieved by pairing a purple shirt with a fully-lined polyester satin fabric skinny necktie.
Fashion Forward
To achieve a business professional look, wear a light purple striped dress shirt with a khaki tie. This mix is innovative and forward-to-trend! You can wear this combo with navy-blue trousers or chinos.
A bright hue that perfectly complements your unique personality is orange with purple dots necktie worn with a purple shirt. To completely transform the look, combine it with black suede lace-ups and white chinos.
Match a purple textured woven fashion necktie with your purple shirt if you want a stylish yet laid-back look. This combination will go well with your gray chinos. Also, don't forget to add some class to this outfit by slipping on a pair of dark brown leather loafers after it.
What Color Tie Goes With a Purple Shirt: Things to Remember
If you're ever stuck on how to wear a certain tie with a shirt, here are some tips to help give you ideas next time you try matching them.
A solid-colored tie should be paired with a gingham shirt for an ideal touch. This is a fantastic method to look stylish.
A white tie is a versatile accessory that can be worn with any color or pattern shirt.
Avoid matching a tie and a shirt with similar cuts and designs.
Floral ties and shirts should not be worn together.
What Color Tie Goes With a Purple Shirt Bottom Line
What color tie goes with a purple shirt? A purple shirt is a great way to add some color to your outfit. It can be dressed up or down, depending on the occasion. To add a touch of sophistication, pair it with a colored tie. For a more creative look, try pairing it with a patterned tie. And for a minimalistic look, go for a solid-colored tie. Whatever your style, there's a purple shirt and tie combo for you!
Solid colors or printed ties both work well, just make sure to create a contrast. If you're wearing a dark purple shirt, try pairing it with a light tie in silver, gray, or even another shade of purple. The opposite works for light shirts–try darker ties instead. You can also experiment with different textures and prints; playing around with shades of purple is especially beautiful on lighter shirts.
Does Cologne Go Bad?
Best Seiko 5
Are Chinos Formal? (Answered)
Dark Brown Chino Pants: Do's & Dont's