Attending a wedding is an exciting and joyous occasion, but it can also be overwhelming when it comes to deciding what colors to wear. The attire you choose should align with the wedding's theme, formality, and season. What colors to wear to a wedding? Let's explore some helpful tips and ideas to ensure you're dressed to impress while celebrating this beautiful event of love and marriage.
Wedding Color Themes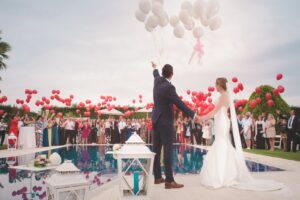 Weddings often have specific color themes, and it's thoughtful to consider these when choosing your outfit. If the couple has chosen light pink and light blue as their wedding colors, incorporating these shades into your attire can be a subtle and charming way to show your support and complement the overall ambiance.
Deciphering Dress Codes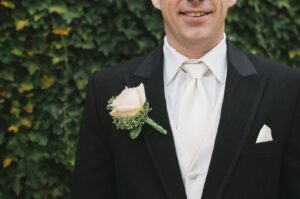 Weddings come with various dress codes, and it's essential to understand what each code entails:
Black Tie Optional Wedding
A black tie optional wedding typically indicates a formal event, and guests can choose to wear a tuxedo or a formal dress. Men can opt for a dark suit with a tie, while women can dazzle in an evening gown.
Black Tie Wedding
A black tie wedding demands utmost formality. Men should don a tuxedo, while women can shine in a full-length gown.
Semi-Formal Wedding
Semi-formal weddings have a more relaxed dress code. Men can wear a dark suit, while women can opt for a knee-length dress or a cocktail dress.
Informal Wedding
Informal weddings offer more flexibility in attire choices. Men can go for dress pants with a button-down shirt, while women can wear a knee-length dress or a nice skirt with a blouse.
Summer Wedding
For summer weddings, choose lighter fabrics and brighter colors. Pastel shades and floral prints are ideal for daytime outdoor events.
Dos and Don'ts of Wedding Attire
Do Coordinate with Your Date
If you're attending the wedding with a date, consider coordinating your outfits by matching colors or accessories. It adds a touch of unity and looks great in photos.
Do Stay within the Dress Code
Always check the wedding invitation for the dress code, and don't hesitate to ask for clarifications if needed. Dress codes exist for a reason, and it's crucial to respect the couple's wishes.
Do Consider the Venue
The wedding venue can also influence what colors to wear. For example, a beach wedding might call for lighter shades and breathable fabrics, while a black-tie optional event in a glamorous ballroom would require more elegant, darker-colored attire.
Do Prioritize Comfort
Choose attire that is not only true to the dress code but also comfortable to wear. Weddings are joyful celebrations, and feeling your best in your outfit will allow you to fully enjoy the event.
Don't Wear White
It is a common rule not to wear white to a wedding. A white dress symbolizes the bride, and brides wear white to stand out on their special day. Wearing white also has the potential to appear in wedding photos, which might take away from the wedding party.
Avoid Attention-Grabbing Colors
While wearing bold colors like red can be alluring, it's best to avoid overly attention-grabbing shades at weddings. Opt for more muted versions like darker reds or burgundy, especially if it is a formal wedding.
What Colors to Wear to a Wedding? Matching Colors to Seasons
Each season has its color palette, and selecting colors that align with the season can enhance your overall look:
Spring Colors
In spring, pastel shades like light pink and light blue are perfect choices for wedding attire. These soft hues exude freshness and complement the blooming atmosphere.
Summer Colors
Summer calls for bright and vibrant colors. Light and airy fabrics in shades of white, pink, blue, yellow, and green are wonderful options to keep you comfortable and stylish.
Fall Colors
Autumn embraces warm and earthy tones. Rich shades like burgundy, purple, gold, and deep red can add a touch of sophistication to your wedding outfit.
Winter Colors
Winter weddings often welcome darker and more luxurious colors. Deep blues, grays, and emerald greens can create an elegant and timeless look.
Styling Tips for Men and Women
Men's Wedding Attire
Men have numerous options to look dashing at weddings:
For formal events, a classic black tuxedo is a safe and elegant choice.

For semi-formal weddings, a well-fitted dark suit with a complementary tie is the way to go.

For casual or beach weddings, light-colored suits, dress pants, and short-sleeved button-down shirts can create a relaxed yet polished appearance.
Women's Wedding Attire
Women have a vast array of outfits to choose from:
For formal affairs, an elegant evening gown or a chic cocktail dress is a perfect choice.

For semi-formal events, a knee-length dress, a dressy skirt with a nice top, or a well-tailored pantsuit can create a sophisticated look.

For casual or outdoor weddings, flowy and knee-length dresses in floral prints or pastel shades are delightful options.
Incorporating Light Pink and Light Blue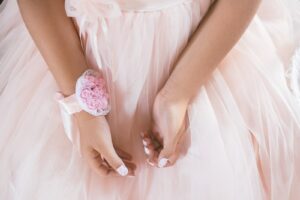 Light pink and light blue are delightful and versatile colors to consider for a wedding. Both shades exude elegance and sophistication, making them excellent choices for various dress codes. Here are some ideas on how to incorporate these charming colors into your wedding attire:
For Women
Light Pink: A soft pink cocktail dress paired with nude heels creates a feminine and romantic look for a semi-formal or informal wedding. Light Blue: A flowy, light blue gown with delicate floral patterns is perfect for a summer wedding, especially in an outdoor garden setting.
For Men
Light Pink: A light pink dress shirt with a dark suit can add a subtle touch of color to your outfit, ideal for a semi-formal or casual wedding. Light Blue: A light blue blazer paired with dress pants and a white shirt offers a classic yet refreshing appearance for a summer wedding.
Avoiding White: A Gentleman's Guide
White is a color that should be reserved for the bride on her special day. As a guest, it's essential to avoid wearing white to prevent any confusion or taking attention away from the bride. However, this doesn't mean you have to stick to dull colors. Here are some alternatives to white for a gentleman's wedding attire:
Classic Black
Black is a timeless and sophisticated choice for wedding attire. A well-tailored black suit with a crisp white shirt and a black tie is an excellent option for black-tie weddings.
Charming Pink
Pink is a versatile color that works well for various wedding dress codes. Opt for darker shades of pink, such as dusty rose or burgundy, for a refined and stylish look.
Elegant Blue
Blue is a popular color for weddings and can range from navy to royal blue. It complements various skin tones and is suitable for both daytime and evening events.
Graceful Gray
Gray is a sophisticated and modern alternative to white. Consider a light gray suit with a patterned tie for a semi-formal wedding or a dark gray suit for a more formal affair.
Incorporating Marriage-Themed Colors and Ensembles
Certain colors are woven into our cultural fabric as representative of marriage and weddings. White, for instance, is universally recognized as the hue of the bride's dress, while gold symbolizes purity and prosperity. Embracing these hues, guests can tastefully integrate elements of these colors into their attire upholding the spirit of the occasion.
Bridal-Themed Colors for Men and Women
Gold: A gold tie for men can serve as an elegant addition to both black and blue suits enhancing the overall look. Women can consider a gold evening dress or cocktail attire for a black tie or black tie optional wedding. Alternatively, gold accessories such as bracelets, necklaces, or clutches can add a rich touch.
Purple & Yellow: Purple and yellow are vibrant colors that are suitable for a more informal or summer wedding, reflecting warmth and energy. Men can opt for a yellow pocket square or a purple tie with their suits. Women, on the other hand, may go for a yellow or purple dress, skirt, or top depending on the dress code.
Accessorizing with Weddings Themes in Mind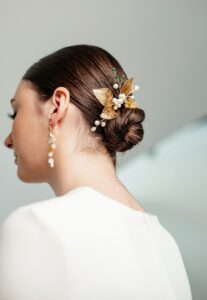 Accessories play a vital role in completing your outfit and can help enhance your chosen color scheme. Women can accessorize with matching or contrasting jewelry, a chic clutch, and stylish shoes. Men can add a dash of color with a classic tie, pocket square, or cufflinks. When chosen wisely, accessories can either subtly blend with your attire or serve as a bold statement piece.
Hair and Dress: Hair accessories in matching hues with the dress can serve as a beautiful addition, particularly for women. From burgundy hair bands for a purple dress to a subtle gold clip for a yellow gown, the options are limitless. Meanwhile, men can coordinate their tie or pocket square color with their partner's dress for a sleek, harmonious look.
Bridesmaids and Groomsmen: In cases where you are part of the bridal party, it's often standard practice for bridesmaids' dresses and groomsmen's accessories to echo the wedding's color scheme. This practice visually ties you to the celebrations, recognizing your pivotal role in the couple's journey to marriage.
The Impact of Lighting on Color Choices
It's not just about your outfit's color but also how that color will appear under different lighting conditions. For example, certain colors may appear different under natural lighting compared to artificial lighting. Outdoor weddings usually provide natural, diffused lighting, making most colors appear true to their nature. However, indoor weddings usually work with artificial lighting that can drastically affect the way a color is perceived. Knowing the lighting situation can help guide your color choices.
Eschewing Bright Colors for Evening Events
When it comes to evening weddings, you might want to avoid bright, bold colors. These can appear overly flashy under artificial lighting. Instead, opt for deeper hues such as navy, burgundy, or emerald, as they can add richness and depth to your look without being too attention-seeking
Preparation for Different Wedding Venues
Wedding venues can vastly vary; from luxury hotels to rustic farms, each delivers a unique ambiance. Consequently, your chosen attire and colors should reflect the venue's atmosphere and the bride and groom's personal styles.
For instance, rustic wedding venues often pair well with earth tones and less formal attire. A yellow summer dress or a pastel purple skirt with a simple blouse would fit perfectly in such a setting. Alternatively, large city venues, like grand ballrooms, usually call for sophisticated colors and dressier clothing. Women should opt for floor-length gowns and men for tuxedos or dark suits. Here, jewel tones like ruby red, emerald green, or sapphire blue can deliver a rich, elegant appearance.
Choice for Children Clothing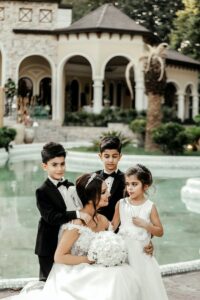 For the youngest of wedding guests, the child's comfort should be a top consideration. Light fabrics and non-restrictive designs are recommended. When selecting colors, pastels are typically suitable for daytime weddings, while darker tones are preferable for evening ceremonies. At more formal weddings, boys can wear a mini tuxedo or a suit, while girls may wear a cute dress resembling a junior version of a bridal dress. However, white should still be avoided for young girls to not overshadow the bride. 
Choosing the right colors to wear to a wedding is essential to create a harmonious and respectful atmosphere. Understanding the dress code and considering the wedding venue can guide you in making the perfect attire choice. Remember to avoid wearing white and opt for colors that complement your skin tone and suit the event's formality. Whether it's a black-tie affair or an informal beach wedding, your outfit should reflect your style and make you feel confident as you join in celebrating the love between two people on their special day.
Attending a wedding is a special moment to witness the love between two people as they begin a new life together. Selecting the appropriate colors to wear to a wedding is a way of showing respect and appreciation for the couple's celebration. Consider the wedding theme, venue, season, and dress code to create a tasteful and stylish outfit that reflects your personality while adhering to the couple's wishes. By avoiding attention-grabbing colors and staying true to the suggested guidelines, you'll be sure to make a lasting impression as a well-dressed and thoughtful wedding guest.