Pants that Perfectly Complement Camo
What to wear camouflage pants with? Camouflage pants have been a fashion staple for years, transitioning from military uniforms to becoming a favorite among the fashion-conscious. They are versatile and fashionable, offering a wide range of styling options to suit various occasions and personal preferences.
Unlocking the Versatility of Camo
Before we delve into specific outfit suggestions for styling camo pants, it's essential to consider the following factors to ensure your pairing strikes the right balance between fashionable and comfortable:
Style of Camo Pants
Options can range from baggy camo pants to slim-fit, cargo pants, camo leggings, or camo joggers. Each style pairs well with different outfit options.
Color Palette
Camouflage pants come in various color palettes, from traditional greens and browns to modern, colored camo prints. The colors you choose will affect your outfit's overall look, so consider how they pair with your existing wardrobe.
Occasion or Setting
Your outfit choice depends on the setting, whether you're dressing for a casual outing or a more formal event.
Personal Style and Preferences
Ultimately, your outfit choice should suit your personal style and make you feel comfortable and confident.
Mastering the Art of Camo Wear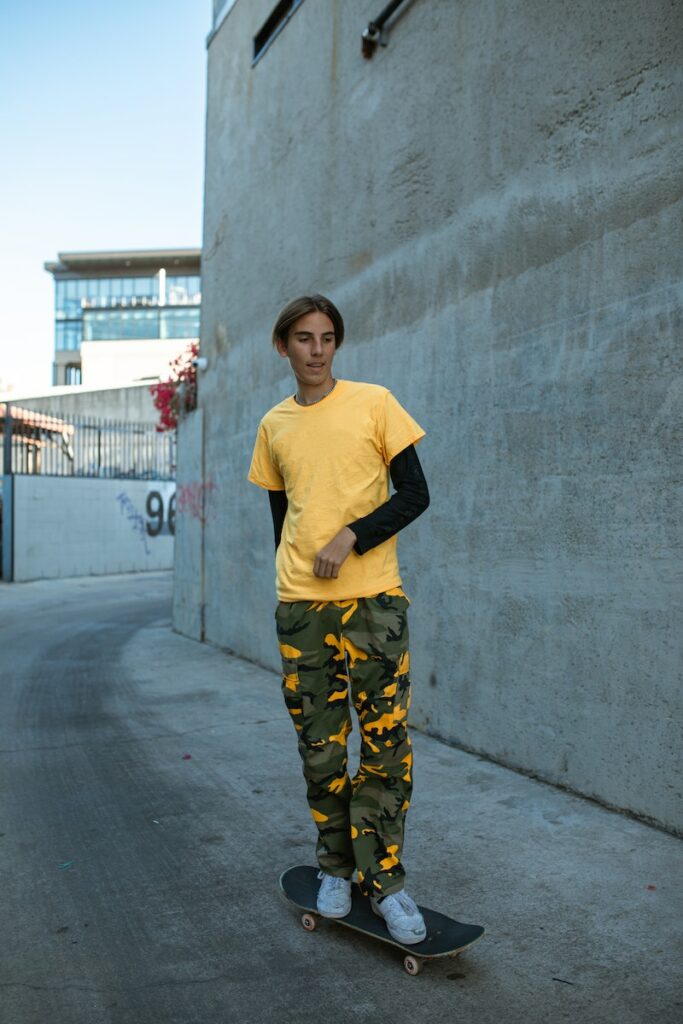 Top Suggestions for What to Wear with Camouflage Pants
Plain and Simple Tops
When wearing bold and masculine print pants like camo, pairing them with a neutral or solid color top is an easy way to create balance in your outfit. Options for plain tops include:
Solid color T-shirts: Either a plain white t-shirt or one in a complementary color works well with camo pants. A black polo shirt, for example, can also make a stylish semi-casual outfit when paired with slim-fit camo pants.
Oversized sweatshirts or hoodies: These provide a more relaxed look when paired with camo joggers, ideal for everyday fashion and comfort.
Denim jackets: Layer a denim jacket over a simple top to add depth to your outfit, creating a contemporary street style look with your camo pants.
Classic Prints
Mixing prints can be a fun way to show off your creative outfit ideas. With camo pants being a bold choice, it's crucial to keep the combinations simple to avoid a cluttered look. Options include:
Stripes: A striped top can create an interesting contrast with camo pants. Match the dominant color of the stripes with the camouflage for a visually cohesive outfit.
Plaid: Plaid shirts in neutral colors make an excellent choice for pairing with camo pants. Consider using a chambray shirt for a more casual look, or a structured plaid shirt for a slightly dressier outfit.
Graphic tees: Choose a favorite graphic tee that highlights a color found in your camo pants. This emphasizes a color harmony that ties the outfit together.
Bold and Eye-catching Colors
Make a statement by pairing your camouflage pants with a bold and vibrant top. Some tips to consider when matching bold colors to your camo include:
Complementary color theory: Choose colors opposite each other on the color wheel to create an outfit that stands out. For instance, pair traditional green camo pants with a burnt orange or bold purple top.
Balancing bold colors with neutral accessories: If you're hesitant to go full-on bold, opt for accessories like belts or bags in neutral colors to balance the more colorful parts of your outfit.
Layering for Different Looks
Adding layers to your outfit can elevate your camo pants ensemble and make it suitable for various occasions. Some options to consider are:
Scarves, vests, or blazers: These items can transform your camo pants outfit from casual to dressy instantly. For example, pair slim-fit camo pants with a crisp white shirt, a tailored blazer, and polished shoes for a stylish business casual look.
Mixing textures and fabrics: Combine different textures, such as a chunky knit sweater over a silky camisole, to create an interesting and stylish outfit that complements your style camo pants.
Creating balance in the outfit: Ensure your look isn't too busy by balancing the statement-making camo with simpler, more understated pieces.
Fashion Forward with Camo Pants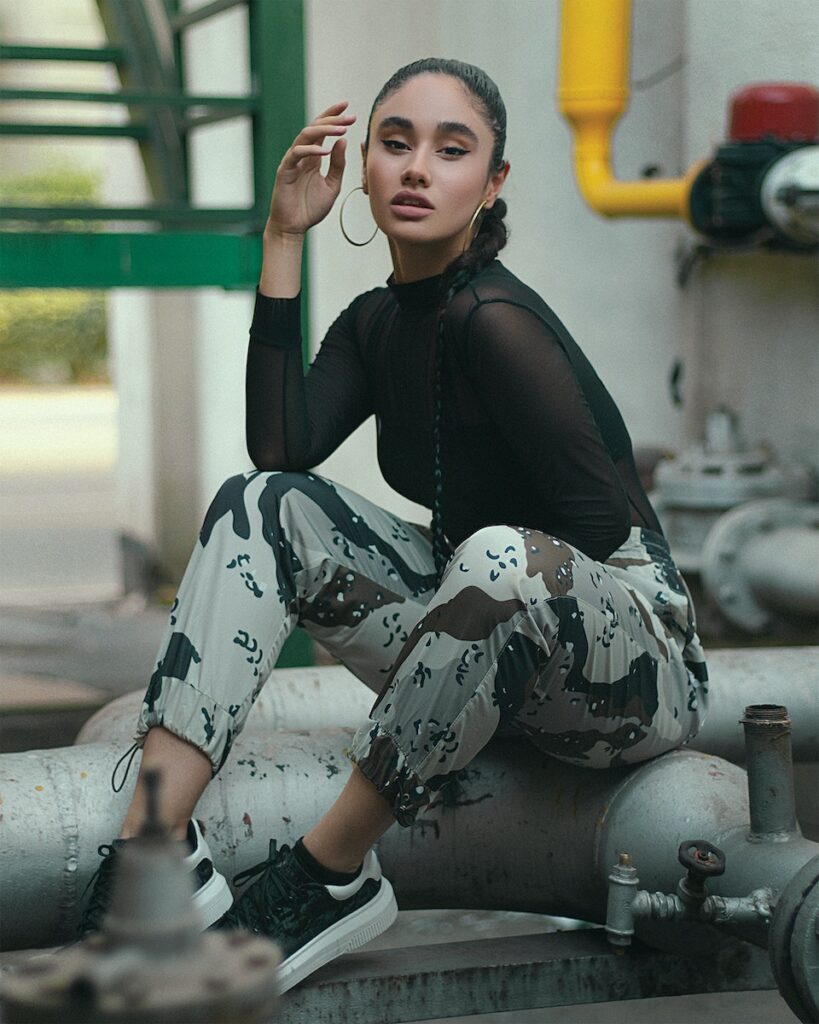 Footwear Options for Completing the Look
Sneakers
These are among the most popular footwear choices for camo pants, as they provide a casual, laid-back vibe that complements the pants' style. Some options include:
Classic white sneakers: A pair of fresh white trainers provides a clean, minimalist touch to your camo pants outfit.
High-top sneakers or platform sneakers: These can create a more edgy, street style look with your camo pants.
Matching color sneakers: If you prefer a more cohesive outfit, opt for sneakers in a color found within the camo print, such as navy blue or black.
Boots
Boots are another great option for pairing with camo pants, as they impart a sense of practicality and rugged style. Options include:
Combat boots: Perfect for a more edgy, military-inspired ensemble, combat boots go hand-in-hand with baggy camo pants.
Chelsea boots: For a cleaner, more streamlined look, pair your slim-fit camo pants with sleek Chelsea boots in black or brown leather.
Ankle booties: For a feminine touch to your camo pants outfit, consider pairing slim-fit camo leggings or skinny jeans with heeled ankle booties to create length and visual balance.
Sandals and Casual Shoes
These options may seem unconventional at first glance, but can make a stylish pairing with camo pants for more relaxed settings:
Flip-flops: For a casual, beach-ready look, try wearing camo shorts with flip-flops.
Espadrilles or boat shoes: These options offer a breezy, summer-ready vibe when paired with camo shorts or cropped pants.
Rocking the Camouflage Trend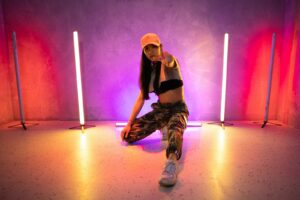 Accessorizing the Camouflage Pants Outfit
Using hats can add a stylish finishing touch to your outfit. Some ideas include:
Beanies or knit caps: Perfect for a cozy, cool-weather casual outfit, beanies can be worn with camo joggers and a sweatshirt or hoodie.
Baseball caps: Choose a cap in either a neutral color or one that matches your camo pants for a sporty, casual look.
Wide-brimmed hats: For a more fashion-forward style, try pairing your camo pants with a wide-brimmed hat that complements your outfit's color scheme.
Bags and Belts
Accessorize your outfit with functional and stylish bags and belts for a fashionable twist:
Crossbody bags: They are versatile and can complement a casual or dressy look, depending on the style and material of the bag. A neutral color works best if you already have a bold and masculine print in your outfit.
Backpacks: Ideal for casual settings, a backpack is a practical and stylish choice when paired with your camo pants outfit.
Statement belts: Use a bold, eye-catching belt to add extra detail and focus to your outfit. Ensure it doesn't clash with the camo print but rather complements its color palette.
Jewelry and Watches
Complete your ensemble with minimalist or bold statement pieces that bring a touch of personality and shine to your outfit.
Minimalist pieces: Opt for subtle jewelry that complements the camo without overpowering it, such as elegant gold or silver necklaces, bracelets, or rings.
Bold statement jewelry: Earrings or necklaces in coordinating colors can really make an impact when paired with camo pants. Avoid going overboard with these pieces, ensuring you still achieve a stylish balance in your outfit.
Coordination with other elements of the outfit: Choose jewelry and watches that harmonize with your outfit's color palette and style, tying the entire look together.
Styling Tips for Camo Pants
Proportion Control
The key to successful outfit pairing is to balance tight and loose-fitting pieces. For example, if you choose to wear baggy camo pants, opt for a more fitted top. Conversely, if you're wearing slim-fit camo pants, try a looser, more relaxed top.
Utilizing the "Rule of Thirds"
To create visually pleasing proportions in your outfit, consider dividing your body into approximate thirds: one-third covered by your top and two-thirds by your camo pants. This rule can help guide your clothing combinations and layering choices for a stylish ensemble.
Confidence is Key
Wearing camo with confidence is essential to ensure you look and feel your best. Practice proper posture and body language that showcases your self-assurance, and own your outfit choice. If you have colored camo pants, add a few colorful statement pieces for added flair. With the right amount of confidence, you can create an unforgettable look that will turn heads!
Best Ways to Wear Camo Pants:
When it comes to donning camo pants, the possibilities are virtually endless. These versatile garments can effortlessly transition from casual to dressy, offering a myriad of outfit choices for various occasions. For a laid-back and relaxed look, opt for camo joggers paired with a plain white t-shirt or a graphic tee. The combination exudes a cool and effortless vibe, perfect for everyday wear or a casual hangout with friends. On the other hand, for a more polished and sophisticated appearance, choose a well-tailored camo pant and pair it with a white button-down shirt. This ensemble strikes the perfect balance between trendy and refined, making it an excellent choice for dressier events or even a night out on the town.
Styling with a Classic White T-Shirt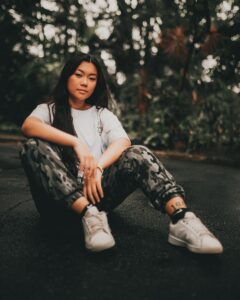 The classic white t-shirt is a wardrobe staple that pairs impeccably with camo pants. This no-fail combination provides an excellent canvas to experiment with different styles and looks. For a chic and modern appearance, tuck a white t-shirt into high-rise camo pants and accessorize with statement jewelry. This elevates the outfit from casual to effortlessly stylish, perfect for a day-to-night transition. For a more casual and carefree vibe, leave the t-shirt untucked and complete the look with a pair of comfortable sneakers or sandals. Whether you're attending a laid-back gathering or running errands around town, the combination of a white t-shirt and camo pants ensures you look effortlessly put together.
Elevating the Look with a Polo Shirt
For a refined and polished outfit, consider pairing camo pants with a classic polo shirt. The contrast between the rugged camo print and the structured polo creates a sophisticated and balanced appearance. Opt for slim-fit camo pants and style them with a well-fitted polo shirt in a complementary color. This combination is an excellent choice for a semi-casual or business-casual event, providing an air of elegance and flair. Complete the ensemble with a leather belt and loafers for a touch of refined charm. Whether you're attending a garden party or a dinner with colleagues, the camo pant and polo shirt pairing will make you stand out with style.
Sophisticated Appeal of a White Button-Down
The timeless appeal of a white button-down shirt is a perfect match for camo pants. This classic combination exudes sophistication and versatility, making it an ideal choice for a variety of occasions. For a chic and sophisticated look, pair your camo pants with a crisp white button-down and roll up the sleeves for a relaxed touch. This ensemble is perfect for women who want to make a fashion-forward statement at a party or a social gathering. To elevate the outfit further, add a pair of stylish heels and accessorize with elegant jewelry. The fusion of the rugged camo pant and the refined white button-down creates a captivating and unforgettable appearance.
Perfect Pairings for Camo Pants
When it comes to styling camo pants, women have a plethora of options to explore. For a casual and laid-back day out, consider dressing down your camo pants with a graphic tee or a plain white t-shirt. This effortlessly cool combination is ideal for running errands or spending a relaxing day at the park. If you're seeking a more dressed-up look, opt for high-rise camo trousers and style them with a chic blouse or a flowy top. The combination is perfect for a stylish night out or a party with friends. Regardless of your style preferences, camo pants offer a versatile and trendy addition to your wardrobe, and we highly recommend experimenting with different outfits to find your perfect match.
Incorporating Colorful Tops with Camo
Standing out in camouflage clothing may sound like an irony, but when it comes to fashion, camo pants can take your look from plain to attention-grabbing. Pairing your camo pants with colorful tops could be the missing piece to your fashionable puzzle. So, if you've been hesitant to explore tops in bold colors, it's time to take that leap and add some vibrancy to your outfit. Colors like burnt orange, fuschia, or cobalt blue can be eye-catching and, when paired with the muted tones of traditional camouflage, create a striking contrast and balance in your outfit.
Going Sporty-Chic with Camo
One trend that seems to be standing the test of time is sporty-chic – the perfect fusion of casual leisurewear and high-fashion elegance. With camouflage pants as your starting point, achieving this look is more accessible than ever. Pair your camo joggers with sports bras, jerseys, or athletic tank tops. You could even add a pair of stylish sneakers to complete the laid-back aesthetic. If you're aiming for the "chic" factor, consider camo pencil skirts or high-rise pants, paired with heels and a fitted top. Either way, camo gives you the versatility to strike the perfect balance between sporty and chic.
Turning Up The Heat With Swim Tops And Camo
Camo pants need not be limited to street style or casual wear. With the rising popularity of swim tops, you can now pair camo pants with swim tops for a seaside twist. This unique concept is in vogue, especially for beach parties or summer events. Plus, the contrast between the rugged camo design and the delicate swim top creates the perfect balance in your outfit. Various swim tops like bandeau tops, tankinis, and triangle bikinis can be worthy matches for your camo pants!
Dressing Down With Camo And Tees
Wanting to keep your outfits simple, does not necessarily mean boring. Camo pants are a versatile piece of clothing that can be casually and stylishly downplayed with the right pair of simple, classic tees. T-shirts with minimalistic designs or solid colors are the ideal partners for your camo pants. They balance out the boldness of the patterns on the pants, giving you a comfortable yet fashionable look. A monochrome tee and camo pants paired with sneakers can be your next go-to outfit for a relaxed day out!
Fashion Forward with Camo (What to Wear Camouflage Pants With)
Camouflage pants offer endless versatility and are a valuable addition to your wardrobe. Wear camo pants with confidence in a variety of settings, from running errands to attending parties. With numerous styles, colors, and prints available, you can create a wide range of outfits suited for casual and more formal settings.
In this extensive guide, we've covered various options for what to wear with camo pants, along with footwear, accessories, and styling tips to ensure you can confidently showcase your personal style.
Whether you decide to pair your camo pants with a plain white t-shirt or an eye-catching, bold color, the key is to find combinations that make you feel confident and comfortable and reflect your unique personality. Experiment with different looks, have fun with your fashion choices, and embrace the many possibilities that camouflage pants present.
Other suggested articles:
Should You Wear a Belt With Jeans?