When it comes to jeans, the question "is Wrangler a designer brand?" often arises. Wrangler has a rich history in the denim fabric industry, with its roots dating back to the early 20th century. From an emerging textile industry in North Carolina to a fashion brand recognized worldwide, Wrangler has established itself as an authentic and affordable jeans line. But with the changing times and evolving denim fashion, is Wrangler a designer brand now?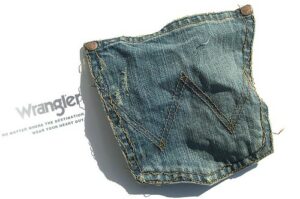 Origins of Wrangler: From Hudson Overall Company to Blue Bell Overall Company
Wrangler's roots can be traced back to 1904 when a man named C.C. Hudson left his job as a salesman at a downtown grocery store on South Elm Street in Greensboro, North Carolina. Hudson, along with a few others, bought several sewing machines and started a business originally called the Hudson Overall Company. The company later changed its name to the Blue Bell Overall Company after merging with the Casey Jones Company.
During the 1930s, the Blue Bell Company acquired the rights to Casey Jones and bought a workwear company, Spring Hill Farm, owned by a man named Rodeo Ben. Rodeo Ben was known for producing high-quality products, such as rodeo pants with scratch rivet pocket reinforcement. The merging of these companies signaled a shift towards a focused jeans line, which laid the foundation for the Wrangler brand.
The Birth of Wrangler: First Wrangler Jeans and Rodeo Involvement
In 1946, Blue Bell launched the first Wrangler jeans, designed specifically for cowboys and rodeo professionals. These jeans were unique because Rodeo Ben, a tailor by trade, worked with professional rodeo cowboys like Jim Shoulders to create a product that met their needs. The first Wrangler jeans featured a revolutionary rear pockets design, which included a seam that prevented chafing, making them perfect for professional rodeo cowboys.
Be endorsed by the Pro Rodeo Cowboy Association – Wrangler's real-life experience is inspiration. The brand's association with professional rodeo cowboys helped cement its image as an authentic jeans brand rooted in the values of the American West.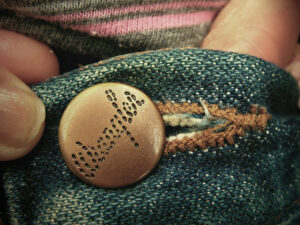 A Designer Named Bernard Lichtenstein was Hired
As Wrangler jeans grew in popularity, the brand further expanded its presence in the rodeo industry. The relationship with professional rodeo cowboys helped to solidify Wrangler's image as an authentic jeans brand rooted in the values of the American West.
Is Wrangler a Designer Brand? Modern Wrangler and the Denim Industry
In recent decades, Wrangler has positioned itself as a fashion brand that offers unmatched quality and timeless design. With innovative technology and sustainable practices, Wrangler has become a major player in the denim industry while staying true to its core brand values.
One of the innovations that Wrangler has implemented in recent years is the new foam dyeing process called Indigood, which uses a foam dyeing technique to color denim fabric without the need for water. This process not only saves water but also reduces the use of harmful chemicals in the production. It demonstrates Wrangler's commitment to sustainable fashion and environmental responsibility.
Design – Wrangler is more than just denim. From jackets to sweatshirts, the brand's apparel line is designed for both style and function. Wrangler's reputation for quality ensures that each piece is rated good, and often rated great, by the American consumer.
Inclusion of Supply Chain and Sustainable Practices
In 2019, Wrangler became part of Kontoor Brands, a leading global lifestyle apparel company. With this new chapter in Wrangler's story, the brand continues to innovate and stay relevant in the ever-changing denim market.
Timeless Design, Quality, and Affordability: The Essence of Wrangler Jeans
Despite evolving with the times, Wrangler remains true to its roots in providing quality denim that is both stylish and functional. With designs ranging from classic fits to trendy styles, Wrangler adapts to changing fashion demands without compromising on quality.
Clothing – Beyond denim, Wrangler offers a wide range of apparel that captures the spirit of the American West. From rugged jeans to versatile shirts, each piece embodies the brand's commitment to authenticity and style.
Wrangler's Rich Legacy and Designer Aspirations
Wrangler's rich legacy in producing quality denim products makes it ripe for establishing itself as a designer brand. However, the question "is Wrangler a designer brand?" becomes subjective, as the definition of a 'designer' brand varies vastly.
For some, a designer brand may be associated with high prices, limited-edition collections, and celebrity endorsements. In this sense, Wrangler may not necessarily fit the mold. For others, a designer brand refers to a brand that excels in quality, innovation, and style. From this perspective, Wrangler exhibits all the hallmarks of a designer brand.
Wrangler's Enduring Appeal and Quality
While Wrangler may not be a designer brand in the traditional sense, its commitment to quality, innovation, and style sets it apart from other denim brands. Its rich history in the denim industry, collaborations with professional rodeo cowboys, and adoption of sustainable practices make it a brand that customers can trust.
So, is Wrangler a designer brand? The answer depends on one's perspective on what makes a brand 'designer.' Regardless of this label, Wrangler continues to be a respected name in the denim industry that provides timeless design, unmatched quality, and functional jeans at affordable prices.
Wrangler's Sustainability Practices
Wrangler is a renowned clothing company known for its high-quality denim and strong association with the cowboy culture. As one of the leading brands in the fashion industry, Wrangler has managed to strike a balance between design and sustainability, positioning itself as an everyday performance denim brand that appeals to a diverse range of consumers, from rodeo cowboys to fashion enthusiasts.
While Wrangler is primarily recognized as a designer brand, it stands out in the market due to its commitment to sustainable practices. The company understands the importance of responsible design and its impact on the environment. Consequently, Wrangler has implemented various initiatives to reduce its carbon footprint and promote ethical practices throughout its supply chain.
One notable aspect of Wrangler's sustainability practices is its endorsement by the Pro Rodeo Cowboy Association (PRCA). This partnership demonstrates Wrangler's deep-rooted connection to real-life experiences within the rodeo community. The brand's close ties with rodeo cowboys have allowed it to gather valuable insights and experiences, which serve as inspiration for their innovative designs and clothing technologies.
In its quest for sustainable innovation, Wrangler hired a designer named Bernard Lichtenstein, whose expertise in eco-friendly design techniques significantly influenced the brand's sustainability journey. Lichtenstein's vision aligns with Wrangler's mission to be an environmentally responsible brand without compromising on style and performance.
Wrangler has positioned itself as more than just a fashion brand; it is an embodiment of the American spirit. With a strong focus on the American consumer, Wrangler has captured the hearts of people who appreciate durable and stylish clothing. The Wrangler brand is synonymous with ruggedness, durability, and authenticity.
As a pioneer in the denim industry, Wrangler has made remarkable progress in enhancing the sustainability of its products. The brand's denim is sourced from trusted partners like Tejidos Royo, a company known for its commitment to sustainable manufacturing practices. This partnership ensures that Wrangler's denim production follows strict environmental guidelines and reduces the overall ecological impact.
One of the standout sustainable practices adopted by Wrangler is the use of foam-dyed denim. This innovative dyeing technique significantly reduces water consumption, resulting in a more environmentally friendly manufacturing process. By reducing its water usage, Wrangler is contributing to conserving precious natural resources.
In a recent press release, Wrangler highlighted its commitment to creating a transparent and ethical supply chain. The brand recognizes the importance of responsible sourcing and ensures that its suppliers adhere to strict ethical standards. By maintaining a transparent supply chain, Wrangler aims to build trust with its customers and industry stakeholders alike.
The sustainability efforts of Wrangler have been widely recognized, with its clothing rated highly by independent sustainability rating agencies. Products like jackets, sweatshirts, and shirts are often rated as "good" or even "great" for their environmental impact, cementing Wrangler's position as a leader in sustainable fashion.
Wrangler has proven that a designer brand can be synonymous with sustainability. By combining its rich history and association with the cowboy culture with a strong commitment to environmentally responsible practices, Wrangler has successfully become an everyday performance denim brand that caters to a wide range of consumers. With continued dedication to sustainability, Wrangler sets an inspiring example for other fashion brands to follow, demonstrating that it is possible to be both fashionable and environmentally conscious.