If you're looking to add a new pair of jeans to your wardrobe, you may have come across the terms "boyfriend jeans" and "mom jeans." While they may sound like they refer to men's or women's jeans that have been borrowed from someone else's wardrobe, they are actually two popular styles of jeans that have become wardrobe staples in recent years. In this blog post, we'll focus on boyfriend jeans, their characteristics, how to wear them, and how they differ from other jean styles.
What Are Boyfriend Jeans?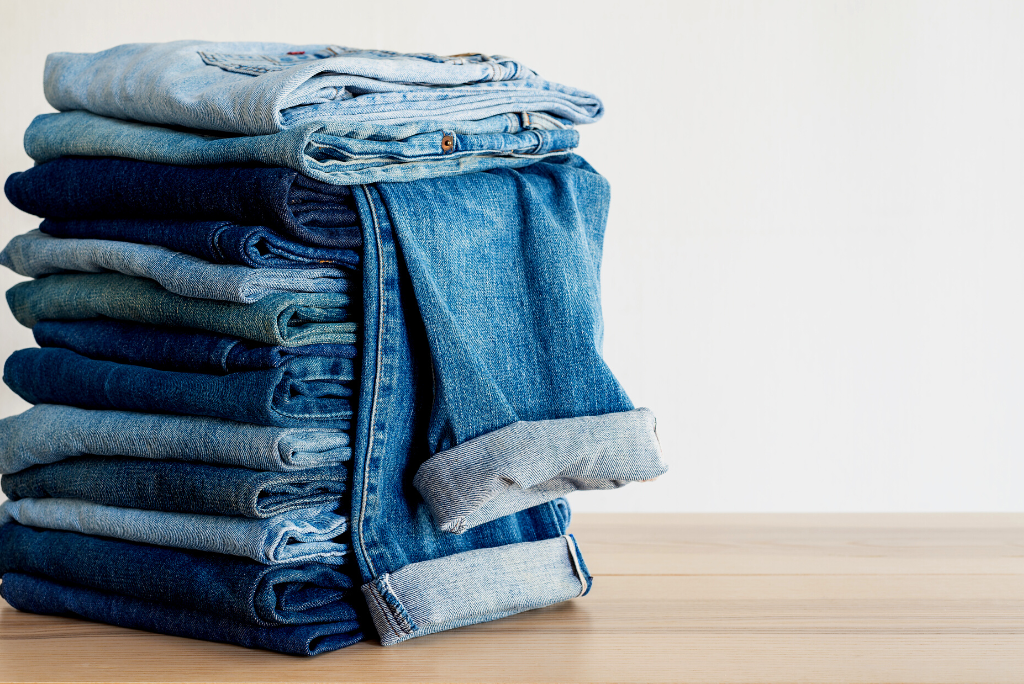 Boyfriend jeans are a type of women's jeans that are designed to have a loose, relaxed fit. They are typically low-rise and feature a straight leg, with a tapered or cropped hem. They are often distressed or faded, with a casual, lived-in look that is meant to mimic the style of a man's jeans.
The term "boyfriend jeans" originated in the early 2000s, when Katie Holmes was spotted wearing a pair of her then-boyfriend Tom Cruise's jeans. Since then, the style has gained popularity among women who are looking for a more comfortable and laid-back alternative to skinny jeans.
Boyfriend Jeans vs. Other Styles
While boyfriend jeans and mom jeans are both relaxed, loose-fitting styles, there are some key differences between the two.
Mom jeans vs boyfriend jeans: Mom jeans tend to be high-waisted, with a straight cut that is not tapered at the ankle. Boyfriend jeans, on the other hand, are typically low-rise, and have a more tapered or cropped leg.
Another popular style that is often compared to boyfriend jeans is the girlfriend jean. While boyfriend jeans have a loose, slouchy fit, girlfriend jeans are more slim-fitting and tend to be cropped at the ankle. They offer a similar casual look to boyfriend jeans, but with a more tailored silhouette.
How to Wear Boyfriend Jeans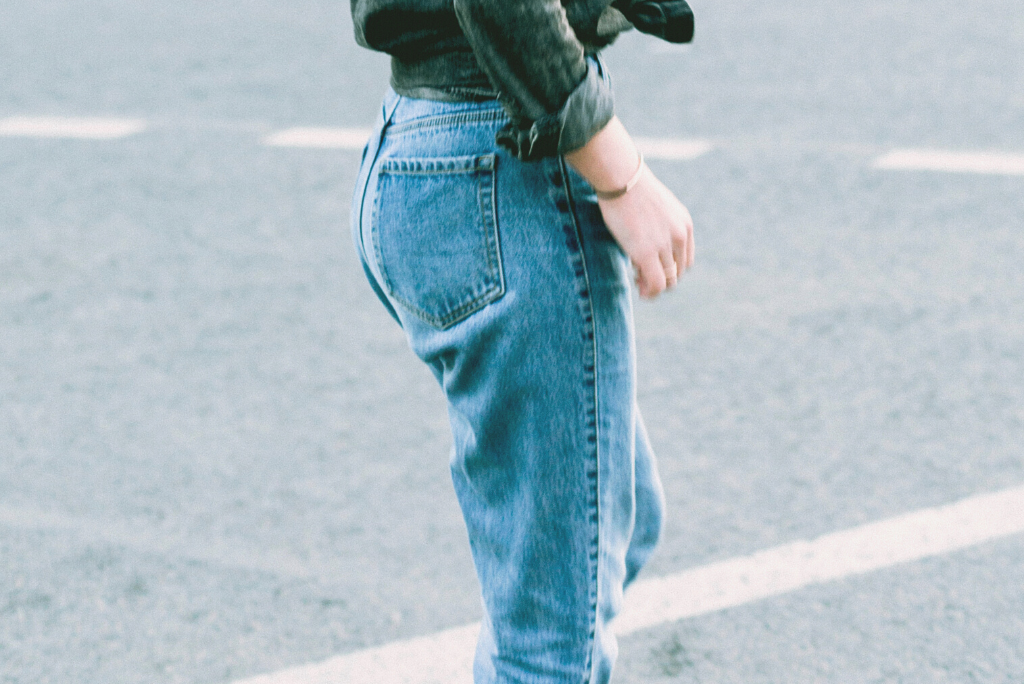 Boyfriend jeans can be dressed up or down, depending on the occasion. For a casual look, pair them with a crop top or graphic t-shirt, and add ankle boots or sneakers. For a dressier outfit, try a blouse or oversized blazer, with heels or loafers.
When it comes to choosing the right pair of boyfriend jeans, it's important to consider your body shape. If you have a pear-shaped figure, look for a pair that has a more relaxed fit around the hip area, to avoid drawing attention to your thighs. If you have longer legs, choose a pair that is a full length, and if you have shorter legs, opt for a tapered leg that is cropped at the ankle. For those with a rectangular shape, a pair with a slimmer cut or high rise can help create the illusion of curves.
Slim fitting boyfriend jeans can also be a stylish alternative to skinny jeans, as they are comfortable and offer more movement. Try pairing them with an oversized shirt or sweater for a cool, effortless look.
It's also important to choose the right style of boyfriend jeans, based on your personal taste. Some women prefer a looser, more relaxed fit, while others may prefer a slim-cut or tapered leg. It's also worth experimenting with different denim washes, from dark washes to lighter shades, to find a style that works for you.
How to Wear Mom Jeans
Mom jeans are a timeless style that has been around since the '90s. They feature a high waist and a tapered leg, making them an ideal choice for those who want to avoid any unwanted attention on their legs or hips. Like boyfriend jeans, they can be dressed up or down depending on te occasion; try styling them with an oversized blazer and heels for a dressier look, or pair them with a t-shirt and sneakers for a casual feel.
When choosing the right pair of mom jeans, it's important to consider your body shape. If you have wider hips, opt for a high-waisted style that will help draw attention upwards; if you have a straight frame, go for a pair with a more tapered leg to add some shape. For those with an hourglass figure, look for a pair that has just enough room around the hip area to create curves without being too baggy.
Boyfriend Jeans Brands
When it comes to choosing a brand for your next pair of boyfriend jeans, there are many options available. Some popular brands that specialize in denim include Levi's, Wrangler, and Calvin Klein. Other popular brands include AG Jeans, Citizens of Humanity, and Frame, which offer a variety of styles and fits to suit different body types.
In addition to denim brands, there are also many fashion brands that offer their own take on the boyfriend jean, including Zara, Topshop, and H&M. These brands often offer more affordable options, with a range of washes and cuts to choose from.
Styling Tips for Boyfriend Jeans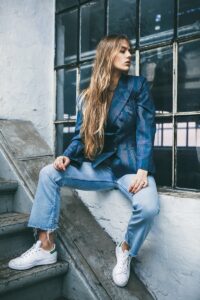 If you're new to the boyfriend jeans trend and aren't sure how to style them, here are some tips to keep in mind:
Pair them with a high waist: Since boyfriend jeans tend to be low-rise, pairing them with a high-waisted top can help create a more flattering silhouette.
Balance the loose fit: Boyfriend jeans can be quite baggy, so it's important to balance out the loose fit with more fitted pieces on top. This can help create a more polished look, and prevent you from looking too frumpy.
Experiment with different shoe styles: Boyfriend jeans can be paired with a variety of shoe styles, from ankle boots to sneakers to heels. Depending on the occasion, you can dress them up or down with different shoes.
Try a crop top: While crop tops may seem intimidating, they can actually be a great way to balance out the baggy fit of boyfriend jeans. Just be sure to choose a crop top that hits at the right spot on your waist, to avoid showing too much skin.
Don't be afraid to accessorize: Boyfriend jeans can be a great canvas for statement accessories, like a leather jacket, statement necklace, or bold scarf. Just be sure to keep the rest of your outfit relatively simple, to avoid looking too over-the-top.
Conclusion: What Are Boyfriend Jeans?
Boyfriend jeans are a versatile and comfortable addition to any wardrobe. They can be dressed up or down, and come in a variety of washes and cuts to suit different body types and personal styles. Whether you prefer a slouchy boyfriend jean or a more slim-fitting style, there's a pair out there for everyone. So next time you're looking for a great pair of jeans, don't be afraid to try the boyfriend jean trend and see how they can work for you!
Other suggested articles:
What to Wear With Mustard Yellow Pants?
What to Wear With Velvet Leggings