The name Gucci is synonymous with luxury, style, and exclusivity. But, is Gucci a designer brand? To answer this question, it is essential to delve into the brand's history, its iconic products, and its impact on the fashion world. In this blog post, we will explore Gucci's journey from its humble beginnings to its current status as one of the most influential fashion houses in the world.
Defining a designer brand
A designer brand is characterized by high-quality materials, unique and innovative designs, a high price point, exclusivity, and a strong brand identity and recognition. Gucci, founded by Guccio Gucci in 1921, has consistently met these criteria throughout its history, making it a worthy contender in the world of designer brands. From its early beginnings as a leather goods store to its current presence in the fashion industry, Gucci remains a force to be reckoned with.
Gucci's journey to becoming a designer brand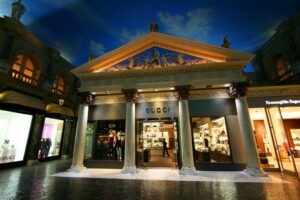 In the early 1920s, founder Guccio Gucci opened his first store in Florence, Italy, specializing in leather goods such as suitcases and saddlery. Gucci's products were known for their quality, craftsmanship, and innovative designs, which incorporated imported leather and specially woven hemp. During World War II, when imported leather was scarce, Gucci introduced its signature bamboo bag, which became an instant classic.
Guccio's sons, Aldo, Rodolfo, and Vasco, joined the family business in the 1930s and expanded its product range to include shoes, handbags, and accessories. The iconic green-red-green web, inspired by the saddle girth, was introduced in the 1950s and became a symbol of the brand. The Gucci loafer, with its distinctive horsebit detail, was also introduced around this time and quickly gained popularity among the Hollywood elite, including Grace Kelly and Elizabeth Taylor.
In the 1960s, the Gucci family opened their first Gucci store in New York, solidifying the brand's presence in the United States. The brand continued to grow, with Rodolfo Gucci opening the first Milan store in 1972, and Gucci America being established in 1974. By the 1980s, Gucci stores could be found in major cities around the world. Aldo Gucci was appointed the company's president in 1981 and created some of the most iconic designs the brand has ever produced.
Despite its growing success, the Gucci family faced internal turmoil, which culminated in the sale of the company to Investcorp, a Bahrain-based investment firm, in 1988. Maurizio Gucci, the last family member to run the company, was eventually forced out in 1993. Following his departure, the Gucci Group was formed, which included other luxury brands such as Bottega Veneta and Alexander McQueen.
Creative directors and their impact on Gucci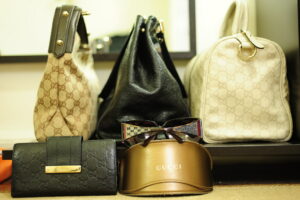 The appointment of Tom Ford as creative director in 1994 marked a turning point for the brand. Ford's bold designs, including the infamous "Gucci G-string," revitalized the fashion house and made it a critical and commercial success. Ford also introduced the Gucci Pour Homme fragrance, which became a bestseller.
Following Ford's departure in 2004, Frida Giannini was appointed creative director. Previously a handbag designer for the brand, Giannini expanded Gucci's product range to include ready-to-wear clothing, accessories, and fragrances. During her tenure, the brand launched the popular Gucci Flora fragrance and the Gucci Crest, a symbol of its heritage.
In 2015, Alessandro Michele was appointed creative director, and his eclectic, whimsical designs have since breathed new life into the brand. Under Michele's direction, Gucci has gained a new generation of fans, with celebrities like Harry Styles and Lady Gaga donning his creations on the red carpet.
Gucci's brand identity and recognition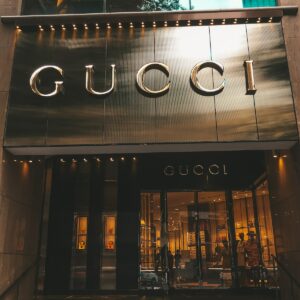 Throughout its history, Gucci's designs have evolved, yet the brand has maintained a strong sense of identity. The GG logo, which was introduced in the 1960s, remains a symbol of luxury and exclusivity. In addition to the logo, other iconic designs, such as the bamboo bag, the horsebit loafer, and the green-red-green web, have become synonymous with the brand.
Gucci's presence in high-profile events and its collaborations with celebrities and other designers have further solidified its status as a designer brand. Most recently, the House of Gucci, a film starring Lady Gaga and Adam Driver, has brought the brand's history and legacy into the spotlight.
Gucci's exclusivity and price point
Gucci's pricing strategy reflects its status as a designer brand. Its products are priced at a premium, which is justified by the quality of the materials used and the craftsmanship involved in their production. Limited-edition collections and collaborations, such as the Gucci x Alexander McQueen collection, further enhance the brand's exclusivity.
So, Is Gucci a Designer Brand?
Gucci's history, its innovative designs, and its impact on the fashion world make it a true designer brand. From Guccio Gucci's humble beginnings in Florence to the brand's current status as a global powerhouse, Gucci remains a symbol of luxury, style, and exclusivity. While personal preferences and individual style will always play a role in the world of fashion, Gucci's undeniable influence and legacy make it worthy of the designer brand title.
Other suggested articles:
Is Giani Bernini a Designer Brand?
Is Ted Baker a Designer Brand?