In this article, we'll explore whether is Ted Baker a designer brand, if it meets the criteria of a designer brand and what sets it apart from other fashion labels.
Ted Baker is a British fashion brand known for its quirky and stylish clothing, accessories, and Ted Baker's products and service.
Founded in 1988, the brand has gained popularity for its unique take on classic designs, blending traditional and contemporary styles to create a distinctive aesthetic. With a reputation for quality and attention to detail, many people wonder whether Ted Baker qualifies as a designer brand. In this context, a designer brand typically refers to a brand that employs high-end fashion designers to create unique and exclusive collections.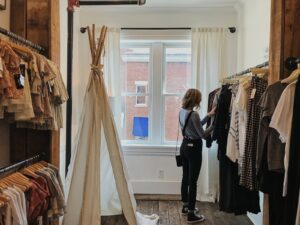 Ted Baker History
Ted Baker store is a British fashion brand that was founded in 1988 by Raymond Kelvin. The company started as a small shirt store in Glasgow, Scotland, and quickly expanded to other cities in the UK. The brand's success was due in part to its unique approach to design, which combined traditional styles with contemporary details and prints.
By the 1990s, Ted Baker stores had become a household name in the UK, with stores opening in London, Manchester, and Leeds. The brand continued to grow throughout the decade, launching its first womenswear collection in 1995 and opening its first international store in Amsterdam in 1998.
In the early 2000s, Ted Baker expanded further, opening stores in the US and Asia. The brand also began to diversify its offerings, introducing a range of accessories, fragrances, and home goods. In 2012, Ted Baker launched its first ever footwear collection, which was well-received by fashion critics and consumers alike.
Today, Ted Baker has over 500 stores worldwide and is considered one of the most successful fashion brands to come out of the UK. While the brand has faced some challenges in recent years, including a scandal involving the behavior of its founder, Ted Baker remains a popular choice for consumers looking for stylish and affordable fashion.
Is Ted Baker a Designer Brand?
Whether or not Ted Baker qualifies as a luxury brand can be a matter of interpretation. Some might consider the brand as a designer brand, while others may see it as ordinary designer label.
Traditionally, luxury brands are known for creating exclusive, high-end fashion collections, often collaborating with renowned designers to create unique pieces. While Ted Baker's designs are known for their distinctive aesthetic and attention to detail, the brand does not typically collaborate with outside designers or create exclusive collections in the same way that many designer brands do.
Instead, Ted Baker operates as a more accessible, contemporary fashion brand, offering a range of Ted Baker products, Ted Baker handbags, Ted Baker woman clothing and fashion accessories
at a mid-range price point. The brand's focus on quality, unique prints, and playful details sets it apart from other high-street fashion brands, but it may not be considered a traditional designer brand in the strictest sense of the term.
In short, while Ted Baker may not be considered a traditional designer brand, it is a well-known and respected fashion brand that has established its own unique style and aesthetic in the fashion industry.
What Sets Ted Baker Apart From The Other Brands?
Ted Baker sets itself apart from other premium brands in several ways, including:
Distinctive Design: Ted Baker's designs are known for their distinctive style, which blends traditional and contemporary elements to create a unique aesthetic. The brand's focus on quality, playful prints, and attention to detail gives its clothing and accessories a distinct character that sets them apart from other fashion brands.
Customer Service: Ted Baker prides itself on offering excellent customer service both in-store and online. The brand's staff is trained to be friendly, helpful, and knowledgeable, making the shopping experience more enjoyable and personal for Ted Baker customers.
Brand Identity: Ted Baker has a strong brand identity that is consistent across all of its products and marketing materials. distinctive Ted Baker logo, colors, and playful tone of voice are instantly recognizable and help to create a sense of familiarity and loyalty among customers.
Innovation: Ted Baker PLC is known for its innovative approach to fashion, often experimenting with new materials, designs, and technology to create unique products. For example, the brand was one of the first to incorporate digital technology into its stores, allowing customers to try on clothes virtually.
Sustainability: In recent years, Ted Baker has made a commitment to sustainability, focusing on reducing waste, using sustainable materials, and supporting ethical practices in its supply chain. This commitment to sustainability sets the brand apart from other fashion brands that have been criticized for their negative impact on the environment and workers' rights.