Italian suit brands have long been synonymous with elegance, sophistication, and the epitome of fine menswear craftsmanship. The world of Italian fashion offers a vast selection of luxury labels, presenting some of the most sought-after high-quality suits that never fail to make a statement. Amidst the myriad of designer brands, the Italian fashion houses have managed to capture the essence of tailored suits in a way that exudes a unique style, drawing from the country's rich sartorial heritage and mastery of craftsmanship.
Top Italian Suit Brands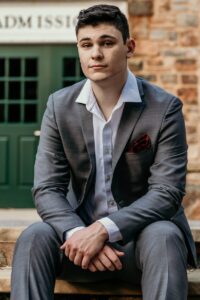 When it comes to the best Italian suit brands, there is no shortage of exceptional choices that cater to men of varying tastes and preferences. With a focus on intricate craftsmanship, high-quality materials, and sleek designs, these noteworthy labels have made a name for themselves in the world of men's fashion. Below, we present some of the top Italian suit brands that stand above the rest:
Ermenegildo Zegna
Ermenegildo Zegna, founded in 1910, is one of Italy's largest and most renowned fashion houses, specializing in luxury menswear. With meticulous attention to detail and a commitment to using only the finest fabrics, an Ermenegildo Zegna suit is a testament of style and sophistication. Celebrities such as Bradley Cooper and Hugh Jackman have donned the brand's tailored suits, further solidifying its reach in high-fashion circles.
Canali
Established in 1934, Canali is another Italian brand that boasts a rich history and a strong presence in the menswear industry. Known for their impeccable craftsmanship and keen eye for detail, Canali suits have remained a wardrobe staple for refined gentlemen worldwide. Celebrities like Ryan Gosling and Chris Hemsworth are often seen sporting the elegant creations of this brand.
Brioni
Brioni has long been an epitome of Italian luxury since its inception in 1945. The brand has garnered a loyal following of affluent clientele, including James Bond himself, who, from Pierce Brosnan to Daniel Craig, has often donned Brioni suits in various films. The brand is renowned for its unparalleled tailoring, expert use of the finest materials, and the perfect fit offered through its made-to-measure service.
Corneliani
As a third-generation Italian family brand, Corneliani has a strong commitment to maintaining sartorial excellence, offering classic menswear staples alongside modern, avant-garde designs. Corneliani suits are known for their versatility, able to cater to different body shapes and occasions, ensuring that every gentleman can find his perfect fit within their collections.
Kiton
Kiton is a symbol of pure luxury, known for its meticulous craftsmanship and use of the finest fabrics, like pure wool, cashmere, and silk. Since its inception in 1956, Kiton has remained dedicated to the artistry of tailoring, with each suit individually handmade by skilled Neapolitan tailors, making it the go-to brand for those seeking elegance and sophistication in perfect harmony.
Isaia
Isaia, a Naples-based fashion house known for its modern designs mixed with traditional techniques, has been a favorite among fashion-forward men since 1957. Its unique blend of classic and contemporary styles results in expertly crafted suits that are known for their vibrant colors, innovative patterns, and luxurious fabrics.
Understanding the Craftsmanship of Italian Suits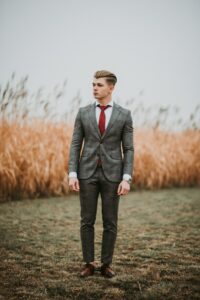 Italian suits are renowned for their impeccable craftsmanship, which blends traditional techniques with modern innovations. The attention to detail is reflected in the choice of fabrics and materials, construction and tailoring, as well as the customization options they offer.
Fabrics and Materials
Italian suit fabric brands are known for the finest materials they select. They prioritize quality and craftsmanship over mass production, leading to the development of high-quality fabrics that are both comfortable and durable. Some commonly used materials include pure wool, silk, cashmere, and linen, all of which contribute to the overall elegance and refinement of Italian suit designs.
Construction and Tailoring
The artistry of Italian tailors is unmatched in the world of menswear. The use of high-quality fabrics and materials, as well as intricate construction techniques, contribute to the perfect fit and comfort experienced in Italian suits. Their hand-sewn approach to tailoring, as opposed to machine-sewn suits, results in a more refined finish and a longer-lasting garment.
Customization Options
Many Italian suit brands offer made-to-measure and bespoke services to cater to the individual tastes and preferences of clients. Customization includes modifying the cut and silhouette, choice of fabric and color, and additional features like monograms and personalized lining, ensuring that your suit is truly tailored to your own unique style.
Styling and Accessorizing Italian Suits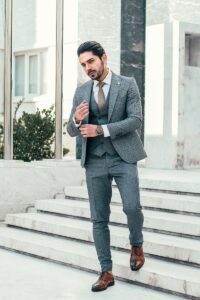 Italian suits can be styled in a variety of ways, from traditional menswear approaches to more modern, contemporary looks. Accessorizing with ties, pocket squares, cufflinks, and choosing the right shoes and socks can significantly elevate the overall look and feel of your suit.
Investing in the Right Italian Suit Brand for You
When it comes to finding the perfect Italian suit brand for you, consider your personal style, preferences, and budget. Visit flagship stores or authorized retailers and schedule appointments with stylists and tailors to ensure that you make the best decision in selecting a suit that caters to both your tastes and needs.
Italian suit brands are revered in the world of men's fashion due to their timeless elegance, impeccable craftsmanship, and use of the finest materials and fabrics. Investing in a high-quality Italian suit not only elevates your wardrobe but also ensures that you are making a statement of sophistication and refinement. With a wide array of Italian fashion houses to choose from, there is an Italian suit brand out there that perfectly captures your unique style and preferences. From classic to contemporary, Italian suits continue to set the standard for men's fashion worldwide.
Explore Italian Elegance
Italian Suit Brands: A Legacy of Style
In the realm of men's fashion, Italian suit brands have established a legacy of style and sophistication. From the iconic Ermenegildo Zegna to the luxury of Brioni, these brands have carved a niche in the market with their impeccable tailoring and use of the finest materials. Explore the world of Italian suits and discover the perfect brand for you.
Unveiling the Craftsmanship: The Art of Italian Tailoring
Step into the world of Italian tailoring, where craftsmanship is an art form. Discover the secrets of hand-sewn suits and the attention to detail that sets Italian suits apart. From the choice of fabrics to the intricacies of construction, you'll gain an appreciation for the meticulous process behind every Italian suit.
Showcasing Italian Suit Brands: From Nino Danieli to Armani
Italy is globally recognized as being at the forefront of men's fashion. Italian suit brands have indeed made their mark on the industry with their impeccable craftsmanship, quality materials, and timeless designs. Offering a broad spectrum of style from classic, sophisticated tailoring to more modern, chic interpretations of the gentleman's wardrobe, brands such as Nino Danieli and Armani continuously dominate the global fashion scene.
Nino Danieli is a premium Italian brand renowned for its classic interpretation of men's suits. Knowing the art of balancing traditional tailoring techniques with present-day fashion, every piece from Nino Danieli encapsulates the quintessential Italian elegance and grace. Its collection reflects a considerable depth of variety, from twill suits that exude a refined allure to the warm and luxurious feel of their wool designs.
On the other end, there's Armani, a stalwart in men's fashion, celebrated for its innovative design and contemporary twist on classic men's suits. Armani stands out with its attention to details and commitment to quality as impressively demonstrated in its array of stylish jackets and suits, blurring the line between traditional tailoring and modern, progressive design. Whether it's a classic wool suit or a daring linen suit for summer, Armani undoubtedly provides an interesting variety for the modern man.
The Cornerstone of Elegance: Wool Suits and Beyond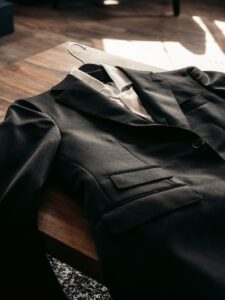 One of the hallmarks of Italian suit brands is their devotion to using top-notch materials, enhancing the look, feel, and longevity of their products. One such material is wool, a common fabric for suits given its durability, flexibility, and ability to drape beautifully. Wool suits are masterfully crafted, marking their influence from the boardroom to the opera. They provide warmth in cold weather, yet their breathability makes them suitable for all seasons. Different types of wool, like cashmere and tweed, offer variations in texture and weight, providing numerous choices for the discerning suit wearer.
Linen, Cotton and the Summer Suit Revolution
But the allure of Italian suits isn't limited to colder months or more formal events. They have equally made their mark with summer-friendly materials like linen and cotton. The linen suit is a staple for warmer climates, offering both comfort and elegance with its lightweight and breathable nature. The fabric's characteristic easy, relaxed drape offers a more casual and laid-back style, reflecting the heart of Italian 'sprezzatura', where style and nonchalance meet pitch-perfect.
On the other hand, cotton suits have also gained popularity, offering a middle ground between the formal wool suit and the more casual linen suit. Cotton is durable, breathable, yet retains a crisp formal look. The versatility of cotton allows it to be woven into different kinds of fabric like seersucker, perfect for summer, or twill and corduroy, which can be worn in colder seasons. The use of such diverse materials lends Italian suits their ability to cater to an array of occasions and seasons, reinforcing their position in the upper echelons of menswear.
The Price of Elegance: Deciphering the Cost of Italian Suits
Italian suits are indeed recognized for their hefty price tags, which often leads people to ponder about their high cost. To truly appreciate the value of Italian suits and the corresponding price points, it's essential to decode the components that contribute to the final cost.
The primary factor in the cost of an Italian suit is the brand reputation. Renowned Italian brands have been established for decades and have consistently delivered high-quality products, maintaining a steadfast commitment to their unmistakable craftsmanship standards. These brands have an established clientele and a proven track record, thus their reputation justifies a substantial part of the price.