When it comes to formal events, there's one garment that truly defines the dress code: the classic tuxedo shirt. A staple in men's formal wear, the tuxedo shirt serves as the foundation for any black tie ensemble, completing the look when paired with its signature bow tie and elegant accessories. Ranging from silk tuxedo shirts to clean-cut slim fit shirts, the tuxedo shirt spectrum caters to various preferences in terms of style, fit, and comfort.
As I navigate the world of tuxedo shirts, I can't help but notice the array of styles they come in. From French cuffs to spread collars, pleated bibs to plain fronts, there are seemingly endless options to choose from. Some men prefer the timeless appearance of a white shirt with a pleated front, while others might opt for a more modern look with a black tuxedo shirt and a fitted cut. Regardless of personal taste, it's undeniable that the right tuxedo shirt can make or break a formal ensemble.
Finding the perfect tuxedo shirt boils down to understanding one's own body shape, comfort needs, and dress code requirements. Slim fit shirts, for instance, might not offer the same wiggle room as a slightly looser cut, but they truly excel in showcasing a tailored, sharp appearance. Meanwhile, collar styles and cuff options can be selected based on personal preference or event guidelines. In the end, the best tuxedo shirts combine luxurious fabrics, impeccable tailoring, and adaptability to suit all formal occasions, making them an essential addition to any wardrobe.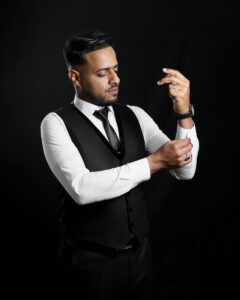 The Timeless Appeal of Classic Tuxedo Shirts
When it comes to formal wear, a classic tuxedo shirt is an essential item that provides an air of sophistication and elegance. With a variety of styles and features available, tuxedo shirts have remained a staple in the world of dress attire. In this section, I'll take a closer look at some of the most important elements that make a tuxedo shirt a truly timeless piece of clothing.
Across the tuxedo shirt spectrum, there are numerous collar styles that can be worn to suit the dress code and occasion. The two main styles include the wing collar, often paired with a bow tie for a more traditional look, and the spread collar, which is a versatile option that complements various types of bow ties and neckties.
When selecting the perfect men's tuxedo shirt, it's crucial to consider factors such as fabric and fit. Luxe fabrics, like silk, create a polished and luxurious appearance, while a slim fit shirt provides a sleek silhouette. Several options exist for cuffs, including French cuffs, which typically require cufflinks, and barrel cuffs for a more casual approach. For added comfort during a black tie event, a collar extender might be utilized, allowing for extra wiggle room.
In terms of aesthetics, the front of the tuxedo shirt can be either pleated or plain. Pleated bibs offer a traditional look, often seen at formal events, while a plain front delivers a clean and contemporary vibe. Tux shirts are versatile enough to be dressed up or down, depending on the occasion. A white shirt with a pleated front, for example, would be suitable for the most formal events, whereas a black tuxedo shirt can be adapted for more casual looks.
Tuxedo shirts are designed to accommodate an array of accessories, which can be helpful in adhering to specific dress codes at formal events. For instance, the classic bow tie is often the centerpiece of the ensemble, and adding French cuffs or a breast pocket can add an extra touch of refinement.
Tuxedo shirts can span a wide range of prices, making them accessible to various budgets. From affordable options to the best tuxedo shirts featuring luxe fabrics and premium construction, there's a suitable choice for everyone.
Ultimately, the enduring appeal of classic tuxedo shirts lies in their ability to adapt to changing trends and styles while remaining a key component of formal wear. With a multitude of collar styles, cuff options, and quality materials, a tuxedo shirt is a wardrobe essential that continues to stand the test of time. Whether you're attending a black tie event or simply looking to elevate your formal attire, a classic tuxedo shirt should be at the top of your list.
Key Features of a Classic Tuxedo Shirt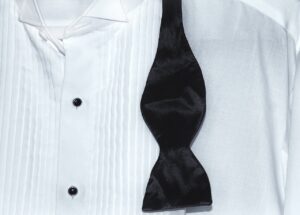 When it comes to selecting the perfect classic tuxedo shirt, there are several key features to consider. In this section, I'll dive into the essential aspects of tuxedo shirts that can help you make an informed choice.
One of the main characteristics of a classic tuxedo shirt is the pleated bib, which adds a touch of elegance to your formal wear. Pleated bibs are typically found on traditional dress shirts, making them a versatile option for various dress codes and formal events.
Collar styles play a significant role in determining the overall look of a tuxedo shirt. There are several collar styles to choose from, such as the spread collar, which is a popular choice for those wearing bow ties. Other options include wingtip collars, which pair well with bow ties and offer a timeless look.
French cuffs are another standout feature of a classic tuxedo shirt. These cuffs require cufflinks, adding an extra touch of sophistication to your ensemble. In contrast, barrel cuffs are more commonly found on casual looks and provide a simpler, more modern appearance.
One of the most critical factors to consider is the fit of your tuxedo shirt. There's a wide range of options on the tuxedo shirt spectrum, from slim fit shirts to looser styles. A well-fitted shirt will ensure you look your best at any black tie event, so it's essential to find the right balance between wiggle room and a tailored silhouette.
In terms of fabrics, luxe materials like a silk tuxedo shirt can elevate your formal wear. Many men's tuxedo shirts are crafted from high-quality materials that offer a comfortable yet sophisticated appearance. Keep in mind, though, that classic tuxedo shirts are typically white, while a black tuxedo shirt may be more appropriate for specific dress codes.
Don't forget the importance of bow ties when it comes to completing your formal attire. A self-tie bow tie is the classic choice, but there are also pre-tied options available for those who may not have time to master the art of tying a bow tie.
Lastly, consider the shirt's additional features, such as a shirttail hem to keep the shirt tucked into your trousers effortlessly, or a collar extender to provide additional comfort around the neck.
To sum up, these are the key features of a classic tuxedo shirt to keep in mind:
– Pleated bibs
– Collar styles (spread collar, wingtip collar)
– French cuffs or barrel cuffs
– Slim fit or looser styles
– Luxe fabrics, e.g. silk tuxedo shirts
– White or black tuxedo shirts
– Bow tie options (self-tie, pre-tied)
– Additional features (shirttail hem, collar extender)
By understanding the different components of a tuxedo shirt and exploring your options, you'll be well on your way to selecting the best tuxedo shirts for your formal events and adhering to any dress code with confidence.
Final Thoughts: Why You Need a Classic Tuxedo Shirt
A classic tuxedo shirt is an essential piece of the tuxedo ensemble to look sophisticated and polished for any formal event. Here's why it's essential to invest in one for your wardrobe:
Elegant and versatile, tuxedo shirts come in various styles, from black tuxedo shirts to sleek silk tuxedo shirts. This wide selection ensures you'll effortlessly find the perfect option that complements your tux and fits the occasion, be it a black tie event, a wedding, or a luxurious evening gathering.
The different collar styles of men's tuxedo shirts, such as spread collars and wingtip collars, allow you to customize your look and effortlessly pair it with a range of bow ties. Additionally, having a slim fit shirt with a shirttail hem gives you the option to achieve a sleek, fitted silhouette, while also leaving you some wiggle room for comfort during those long, formal events.
French cuffs and barrel cuffs on tuxedo shirts help to elevate the overall aesthetic, while pleated bibs or a plain front can add visual interest and variety to your attire. A versatile white shirt with a spread collar is a go-to choice for many formal occasions, but don't shy away from trying different styles and luxe fabrics to add a touch of personal flair.
A tux shirt is also adaptable for both formal and casual looks. Pairing it with or without a tux jacket, opting for eclectic bow ties, or even sporting sleek spread collars are great ways to experiment with your outfit. For those needing a little more comfort, a collar extender or a breast pocket can also be a welcome addition to your classic tuxedo shirt, without sacrificing style.
In summary, it's evident that the classic tuxedo shirt is far from a one-trick pony in the world of formal wear. Its wide spectrum of styles and versatility make it an essential investment for any wardrobe. Whether you prefer a slim fit tuxedo with a pleated front, a black tuxedo shirt paired with a satin bow tie, or any other combination, you'll always be prepared and looking your best for any dress code or special occasion. So go ahead, explore the world of tuxedo shirts and find your perfect match to elevate your formal wear game.