When it comes to fashion, a yellow shirt is a bold and vibrant choice that can effortlessly elevate your look. The sheer versatility of a yellow shirt allows you to experiment with various colors, styles, and accessories to create stunning outfits that match your personal vibe. What goes with a yellow shirt? Let's explore how to harness the power of yellow shirts and craft impeccable ensembles that make a lasting impression.
What Goes Best with a Yellow Shirt: Stylish Pairings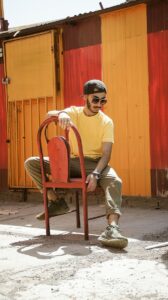 Choosing the right colors to complement your yellow shirt is essential for achieving a cohesive and eye-catching outfit. The beauty of a yellow shirt lies in its ability to pair harmoniously with a wide range of shades, creating captivating contrasts and striking combinations.
Yellow Elegance: Harnessing the Power of Bright Hues
Yellow is a color that radiates energy and positivity. When you wear a yellow shirt, you're making a statement that exudes confidence and vibrancy. To enhance this energy, consider pairing your yellow shirt with hues that bring out its full potential.
Choosing the Right Shirt: Unlocking the Versatility of Yellow
Yellow shirts come in various shades, from the soft and muted mustard yellow to the refreshing light yellow. Each shade offers a unique vibe, allowing you to tailor your outfit to the occasion. Whether it's a casual t-shirt outfit or a more formal ensemble, there's a yellow shirt that fits the bill.
Crafting a Chic Look: The Art of the Yellow Shirt Ensemble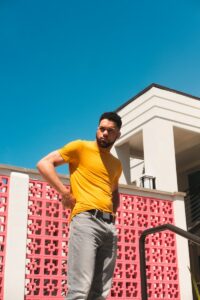 Once you've chosen the perfect yellow shirt, it's time to build an outfit that truly captivates. Let's explore different outfit ideas that incorporate yellow shirts to help you put together a stylish ensemble for various occasions.
Effortlessly Casual: The Light Yellow T-Shirt Outfit
A light yellow t-shirt is a fantastic starting point for a casual and relaxed outfit. Pair it with well-fitted skinny jeans for a modern and comfortable look. Complete the ensemble with white sneakers for a touch of sporty elegance. This outfit is perfect for a laid-back weekend outing or a coffee date with friends.
Elevating Office Attire: The Mustard Yellow Button-Up
For a professional yet stylish office look, opt for a mustard yellow button-up shirt. Pair it with classic black pants for a sleek and refined ensemble. Add a touch of sophistication with brown leather shoes and a matching brown leather belt. This outfit showcases your fashion-forward sensibilities while maintaining a polished appearance.
Wearing Yellow with Confidence: Mastering the Art of Coordination
Coordinating your outfit accessories with your yellow shirt is the key to achieving a cohesive and put-together look. From shoes to jewelry, every detail matters in creating an ensemble that truly stands out.
The Versatile White Sneakers
When it comes to footwear, white sneakers are a versatile option that complements a yellow shirt beautifully. Whether you're going for a casual or slightly dressy look, white sneakers add a touch of modern flair. They pair well with both light and dark-colored bottoms, making them a must-have in your wardrobe.
Completing the Look with Brown Leather Accessories
Brown leather accessories, such as belts and shoes, add a touch of warmth and sophistication to your yellow shirt ensemble. These accessories create a harmonious contrast against the bright yellow, enhancing the overall visual appeal of your outfit. They work seamlessly with various shades of yellow, allowing you to experiment and find the perfect balance.
Unlocking the Full Potential: Exploring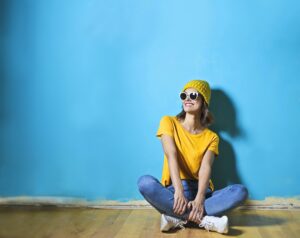 From casual to formal, the possibilities of yellow shirt outfits are virtually endless. Here are a few more outfit ideas to inspire your style journey:
The Black and Yellow Duo
For a bold and captivating look, pair your yellow shirt with black pants. This combination creates a striking contrast that's perfect for a night out or a special event. Elevate the ensemble with black heels and silver jewelry for an extra touch of elegance.
Summer Vibes: Yellow and Light Blue
Embrace the vibrant energy of summer by pairing your yellow shirt with light blue jeans. This combination radiates a laid-back and airy feel that's ideal for warm days. Complete the look with white sneakers or sandals to capture the essence of the season.
Complementary Colors: Green and Yellow
For a pop of color that's both stylish and unique, opt for green trousers or a skirt with your yellow shirt. Green and yellow are complementary colors that create a visually appealing pairing. Finish the look with neutral-colored shoes, such as khaki or white, to balance the vibrant combination.
Navy Blue Classic
Navy blue and yellow create a timeless and classic combination. Pair your yellow shirt with dark navy trousers for a look that's suitable for a night out or a special occasion. Add brown leather accessories, such as a watch and a leather belt, to enhance the sophistication of the ensemble.
Accessorizing with Flair: Elevating Your Yellow Shirt Outfit
Accessories are the final touches that add depth and personality to your yellow shirt outfit. Whether you're aiming for a minimalistic appeal or a more elaborate look, the right accessories can make all the difference.
The Allure of Silver Jewelry
Silver jewelry complements the vibrant charm of a yellow shirt without overpowering it. Opt for delicate silver pieces, such as earrings or a pendant necklace, to add a touch of elegance to your ensemble. These accessories enhance the overall aesthetic without competing with the boldness of the yellow hue.
A Timeless Addition: The Watch
A watch is more than a functional accessory—it's a statement piece that reflects your style. A brown leather watch pairs exceptionally well with a yellow shirt outfit, adding a touch of sophistication and refinement. The combination of the warm brown tones and the bright yellow creates a harmonious balance that's visually pleasing.
Creating Your Signature Look: Embracing the Yellow Shirt
From casual to formal occasions, yellow shirts offer a plethora of outfit possibilities. With the right pairings, accessories, and color combinations, you can confidently embrace the charm of yellow and create ensembles that truly reflect your personal style.
The Journey of Self-Expression
Choosing and styling your yellow shirt outfits is a journey of self-expression. It's an opportunity to showcase your creativity and showcase your personality through fashion. Experiment with different combinations, explore new trends, and most importantly, have fun as you curate your signature looks.
Unlocking Your Wardrobe's Potential
Yellow shirts are more than just pieces of clothing—they're statements of confidence, positivity, and style. By embracing the versatility of yellow and discovering the endless outfit possibilities, you're unlocking your wardrobe's full potential. Whether you're wearing a light yellow t-shirt for a casual day or a mustard yellow button-up for a formal event, each outfit choice is a reflection of your individuality and fashion-forward sensibilities.
Exploring Diverse Yellow Shirt Ideas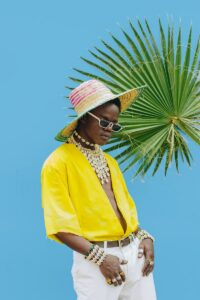 Yellow shirts come in various shades, each carrying its own unique charm. The lemon yellow shirt, for instance, radiates a sunny disposition that's perfect for lifting spirits on a cloudy day. Imagine pairing it with white shorts and comfortable sneakers for a casual yet cheerful look that's perfect for a day of strolling around the city.
For those who appreciate a more subdued palette, mustard yellow shirts offer an elegant twist on this lively color. A mustard yellow button-up shirt exudes sophistication and is an ideal choice for a stylish evening event. Pair it with dark trousers and leather loafers for an effortlessly polished appearance that commands attention.
Men's Yellow Shirt Outfit Inspiration
Gentlemen, don't shy away from the charm of yellow shirts. In fact, they can effortlessly elevate your style game. Try pairing a light yellow crew neck t-shirt with classic denim jeans for a look that's both comfortable and chic. To add a touch of refinement, layer on a well-fitted blazer in a complementary color. This ensemble strikes the perfect balance between casual and put-together.
If you're seeking shirt ideas for the workplace, consider a lemon yellow dress shirt. This vibrant choice underlines your confidence and injects a sense of dynamism into your professional attire. Pair it with charcoal gray slacks and polished black dress shoes for a powerful ensemble that's sure to make a lasting impression.
Shorts and Yellow: A Match Made in Fashion
When the temperatures rise, don't hesitate to incorporate yellow shirts into your shorts outfits. A mustard yellow polo shirt paired with tailored khaki shorts creates a preppy and summer-ready look. Complete the ensemble with boat shoes or loafers, and you're ready for a leisurely day by the waterfront.
For a bolder take, experiment with patterned yellow shirts. Imagine a lemon yellow Hawaiian shirt with palm prints—this choice captures the essence of a tropical getaway. Throw on a pair of white shorts and sandals, and you'll be embracing vacation vibes wherever you go.
Finding the Right Clothes for Your Yellow Shirt
When it comes to matching clothes with your yellow shirt, don't be afraid to mix and match. Bold and creative, a black and yellow combo creates a high-contrast look that's both eye-catching and chic. Picture a black leather jacket over a yellow graphic t-shirt, paired with distressed skinny jeans and black boots. This edgy ensemble showcases your individuality and fashion-forward mindset.
For a casual yet refined outfit, consider a lemon yellow shirt with tailored navy shorts. The combination of bright and deep colors brings depth to your look. Complete it with white sneakers for a touch of freshness. This ensemble is perfect for a weekend brunch or a day spent exploring art galleries.
Unlocking Your Inner Fashion Icon with Yellow Shirts
Yellow shirts offer an array of styling possibilities that cater to all preferences and occasions. Whether you're drawn to the cheerful appeal of lemon yellow or the timeless elegance of mustard, these shirts allow you to create outfits that resonate with your personal style.
Embracing the Vibrancy of Yellow
Yellow shirts transcend mere clothing—they're a statement of your willingness to stand out and shine. As you explore the myriad shirt ideas, colors, and combinations, you're embracing the vibrancy that sets you apart. Whether you're heading to a casual gathering, a professional setting, or a weekend adventure, let your yellow shirt be a canvas for your unique style journey.
Incorporating yellow shirts into your wardrobe not only expands your fashion repertoire but also symbolizes your openness to new experiences and the joy that comes with them. So, go ahead and let your yellow shirt be a testament to your boldness, creativity, and unparalleled style.