"Vera Wang," a name synonymous with elegance, sophistication, and luxury, has become a household name over the years. From wedding dresses to perfume, Vera Wang has built an empire that not only caters to a niche market but has also transcended the barriers of high fashion to become accessible to the masses. The question remains, however, is Vera Wang a designer brand?
This article delves into the history, evolution, and the present-day status of Vera Wang to better understand the brand's positioning in the fashion world.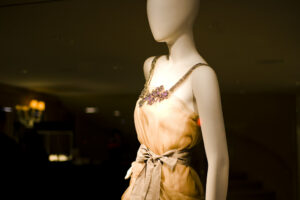 The Birth of Vera Wang
Vera Ellen Wang's journey into the fashion world began in 1989 when she was unable to find her dream wedding gown. A former figure skater and fashion editor for Vogue and Ralph Lauren, Wang, who is from Sarah Lawrence College knew she wanted something unique, and her search for the perfect wedding dress led her to create her own. This marked the beginning of a career that has spanned over three decades and has made her one of the most sought-after designers in the world.
From the onset, Wang's designs were characterized by their classic lines, intricate detailing, and exquisite fabrics. In 1990, she opened her flagship store on Madison Avenue in New York City, where her couture bridal gowns quickly caught the attention of fashion-forward brides and celebrities. Over the years, Wang's clientele has included iconic names such as Chelsea Clinton, Ivanka Trump, Kim Kardashian, and Victoria Beckham.
The Evolution of Vera Wang as a Designer Brand
Vera Wang's initial success with her couture bridal gowns soon paved the way for her to expand into other areas of fashion. In 2000, the fashion designer launched her ready-to-wear line, which featured a mix of elegant evening wear and sophisticated separates. This line allowed her to reach an even broader audience, as she was no longer catering solely to brides.
With the growth of her brand, Wang decided to venture into other areas of the fashion and lifestyle industry. In 2002, she partnered with Wedgwood to create a line of fine china and crystal products, further solidifying her status as a go-to designer for all things wedding-related. Other collaborations followed, including partnerships with Kohl's, Zales, and David's Bridal, which allowed her to offer more affordable and accessible products to her growing fan base.
One of the most significant milestones in Vera Wang's career as a designer was her entry into the fragrance market. In 2002, she launched her first perfume, Vera Wang for Women, which quickly became a best-seller. The success of her first fragrance led to the creation of several more scents, including Princess, a perfume targeted at a younger demographic, which became one of the most popular fragrances in the United States.
Vera Wang Today
Today, Vera Wang's brand has evolved into a fully-fledged lifestyle empire, encompassing everything from bridal gowns and ready-to-wear clothing to eyewear, fragrances, and home goods. Her designs continue to be sought after by celebrities and fashion-conscious individuals alike.
In recent years, Wang has been lauded for her ability to adapt to the ever-changing fashion landscape. Her collections have continued to evolve, with Wang experimenting with new fabrics, silhouettes, and design techniques. Her Spring 2020 bridal collection, for example, featured bold colors such as yellow and lavender, a stark departure from her traditional all-white bridal gowns.
Furthermore, Wang has embraced the digital age, with her social media presence playing a significant role in the promotion of her brand. She actively engages with her followers on platforms such as Instagram and Twitter, providing a glimpse into her world as a designer and giving fans an intimate look at her design process.
Is Vera Wang a Designer Brand?
There is no doubt that Vera Wang is a designer brand. Her creations have consistently pushed the boundaries of traditional bridal wear and ready-to-wear fashion, earning her a place among the most esteemed designers in the world. Her ability to maintain the highest quality in her designs, while still catering to a wide range of customers through collaborations and diffusion lines, is a testament to her skills as a designer and entrepreneur.
Vera Wang's designer status is further solidified by her numerous awards and accolades, including the Council of Fashion Designers of America (CFDA) Womenswear Designer of the Year in 2005 and the André Leon Talley Lifetime Achievement Award from the Savannah College of Art and Design in 2011. In 2021, she was awarded the Medal of Chevalier of the Order of Arts and Letters in France, highlighting her influence and contribution to the world of fashion.
Moreover, Vera Wang's designs have become a staple on red carpets and high-profile events, with countless A-list celebrities choosing to wear her creations for their most important moments. This level of popularity and recognition among the Hollywood elite has further cemented Vera Wang's position as a designer brand.
The impact of Vera Wang's brand on the fashion industry is undeniable. Her designs have set trends and influenced countless other designers, and her name has become synonymous with luxury, elegance, and sophistication. Today, Vera Wang's designer status is not only reserved for her bridal and ready-to-wear collections but also extends to her fragrances, accessories, and home goods, allowing her to reach an even broader audience.
The Rise of Vera Wang as a Prominent Fashion Designer
Vera Wang's journey from a competitive figure skater to one of the most prominent fashion designers in the world is nothing short of inspirational. Born and raised in New York City, Vera's passion for fashion was evident from a young age. She pursued her interest by studying at the prestigious Sorbonne in Paris, where she gained a deep understanding of couture techniques and design principles.
After returning to New York, Wang's talent was recognized when she became the youngest-ever fashion editor at Vogue magazine. Her eye for style and her ability to spot emerging trends quickly set her apart in the competitive world of fashion journalism. However, it was her role as a design director at Ralph Lauren that truly propelled her career to new heights.
In 1990, Vera Wang took a bold step and opened her own boutique, focusing on bridal wear. At that time, traditional bridal gowns dominated the market, but Wang's unique vision and contemporary designs revolutionized the industry. Her exquisite attention to detail, impeccable craftsmanship, and innovative use of luxurious fabrics attracted brides-to-be who sought something different, something that reflected their individuality.
Vera Wang's Contribution to Bridal Fashion and Beyond
Vera Wang's impact on bridal fashion is immeasurable. Her designs broke away from the cookie-cutter wedding gowns, introducing modern and sophisticated silhouettes that embraced femininity in a new way. Wang's designs beautifully blended traditional elements with contemporary flair, creating dresses that became symbols of elegance and timelessness.
The Vera Wang bridal collections exude romance, capturing the essence of every bride's dreams. From cascading tulle skirts to intricate lace detailing, each gown showcases the designer's commitment to making every woman feel like a princess on her special day. Not only did she redefine the wedding dress industry, but she also became a trendsetter for bridal fashion worldwide.
Beyond bridal wear, Vera Wang expanded her empire into ready-to-wear, eveningwear, accessories, and even fragrance lines. Her brand's growth demonstrated her versatility as a designer and her ability to cater to the diverse needs of women seeking sophistication and style in all aspects of their lives.
Celebrating Style and Elegance: The Vera Wang Brand
The Vera Wang brand stands as a symbol of style, elegance, and empowerment. Throughout the years, it has become synonymous with luxury and grace, attracting celebrities, fashion icons, and brides alike. Vera's approach to design revolves around understanding the desires and aspirations of women, and this empathetic connection is what has solidified her brand's place in the hearts of millions.
From the red carpet to royal weddings, Vera Wang's creations have graced some of the most significant events worldwide. Celebrities like Michelle Obama, Alicia Keys, and Victoria Beckham have donned her designs, reaffirming her status as a designer favored by the elite.
So, Is Vera Wang a Designer Brand?
Vera Wang is undoubtedly a designer brand, with a rich history and a bright future ahead. From her humble beginnings as a frustrated bride-to-be to her current position as a world-renowned designer, Vera Wang has built an empire that continues to inspire and captivate the fashion world. Her brand's evolution and expansion into various areas of the fashion and lifestyle industry, along with her unwavering commitment to quality and innovation, ensures that Vera Wang's designer status remains unchallenged.
You May Also Like…
Is Ted Baker a Designer Brand?