Can you wear a white shirt to a wedding? This is a question that many people ask, and the answer can vary depending on the venue and the bride's wishes. In general, however, it is usually recommended that you avoid wearing white if possible. Here we will give some more information about why this might be the case, as well as some tips for what to wear instead!
The History and Symbolism of White Attire
Wearing white to a wedding can inadvertently draw attention away from the bride, who traditionally dons this pristine hue as a symbol of purity and new beginnings. This unwritten rule has become a hallmark of weddings, discouraging guests from wearing outfits that might compete with or overshadow the bride's wedding gown. Opting for a more subdued color palette allows the bride to stand out in all her glory.
Can You Wear a White Shirt to a Wedding: Deciphering Dress Guidelines
When interpreting wedding invitations, pay attention to dress codes that offer valuable insights into the event's formality. While certain themes may encourage creative attire, it's wise to adhere to the stated dress code to respect the couple's vision. For instance, a "black tie" event calls for sophisticated attire, while a "casual" dress code permits a more relaxed yet tasteful ensemble. Navigating these guidelines can lead you to a wardrobe choice that aligns with the couple's expectations.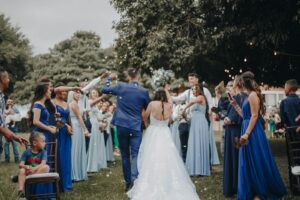 When Can You Wear White?
Certain scenarios permit guests to wear white without causing a stir. If the bride opts for a non-white wedding gown, this opens the door for guests to incorporate lighter shades into their outfits. Additionally, if the bride incorporates white elements into her ensemble – such as lace embellishments or accessories – wearing a white shirt can complement her choices harmoniously.
Elevating Your White Outfit: Accessories and Pairings
Amid debates about wearing a white shirt, it's important to remember that fashion is an art of expression. You can enhance your white attire through strategic accessorizing and thoughtful pairings. For men, a white dress shirt paired with a well-coordinated blazer or suit jacket can strike the right balance between classic and contemporary. Women can experiment with statement jewelry, colorful scarves, or vibrant shoes to infuse personality into their outfit.
Navigating Specific Wedding Settings
Summer Splendor: Dressing for Warm-Weather Weddings
Summer weddings evoke images of sun-soaked ceremonies and outdoor festivities. Men can embrace lightweight suits in soft hues, capturing the season's essence. For women, flowing dresses adorned with floral prints or pastel tones epitomize the carefree spirit of summer celebrations. These choices ensure comfort while adhering to the wedding's aesthetic.
Beachy Vibes: Attire for a Seaside Soiree
Beach weddings offer a unique opportunity to embrace relaxed elegance. Men can opt for breathable linen attire, such as suits or shorts paired with crisp, light-colored shirts. Women can channel beachy chic with maxi dresses in ocean-inspired shades or breezy jumpsuits that mirror the casual ambiance. Sandals or espadrilles complete the look, allowing guests to stroll comfortably along the shoreline.
What to wear instead of a white shirt?
Fortunately, there are plenty of alternatives for those who don't want to risk wearing a white dress to a wedding. Depending on the season and the color palette of the wedding, there are many options to choose from.
You can the wedding invitation can often be a good guide as to what color is most appropriate for the event. During summer weddings, lighter and more subtle colors can add an air of sophistication without detracting from the bride's attire. For example, pastel shades such as pale blue or blush can make for beautiful ensembles that won't clash with the bride's dress.
For winter weddings, jewel tones can look especially elegant and can also help guests to stand out from the crowd. Rich colors such as emerald green or sapphire blue can work well for both men and women alike. You can also opt for darker shades of neutrals, such as charcoal gray or navy blue, which can look elegant and can also be easily accessorized.
A wedding dress code can be very helpful when deciding what to wear. If the dress code is black tie, for example, guests can choose from a range of formal attire such as suits and tuxedos. For more casual weddings, options can include everything from pastel-colored dresses to patterned blouses and skirts.
Who Can Wear White to a Wedding?
In some cases, it can be okay to wear white to a wedding. For example, if the bride is wearing something other than white as her dress color, then it can be fine for guests to don lighter shades of clothing if they prefer. Additionally, if the bride is including a "white" element in her ensemble (such as a sash, lace overlay, or veil) then it can be acceptable for guests to wear white shirts.
A white dress shirt can also be worn if it is accompanied by other colors or patterns. For example, a white shirt can be worn underneath a blazer or suit jacket in another hue. Similarly, you can opt for a white shirt and pair it with a statement-patterned tie – this can look very stylish while still adhering to the event's dress code.
At the Wedding Party
When it comes to the wedding party, it can be up to the bride and groom if they want their attendants to avoid white or not. Generally speaking, bridesmaids can be asked to wear a color other than white in order to visually distinguish them from the bride. Groomsmen can usually get away with wearing more neutral colors like navy or grey so that they can harmonize with the bride's look.
Accessorizing Your Wedding Outfit
If you want to wear white to a wedding but don't want to be too confusing or distracting, accessorizing can help. Adding touches of color with ties and pocket squares can be a great way to brighten up a white shirt without making it seem too out of place at the event.
Your Wedding Attire Should Be Thoughtful
No matter what you decide to wear, it is important to remember to keep your outfit respectful and appropriate for the wedding. The bride has put a lot of thought into her big day and her guests should honor that by being mindful of their clothing choices. Wearing white can be seen as disregarding this effort, so if there is any doubt about whether it is appropriate for the occasion, it can be best to err on the side of caution and choose a different color.
What to Wear to a Summer Wedding?
Summer can be a great time for outdoor ceremonies and receptions, with plenty of options for wedding attire. For men, lightweight suits can be perfect for the season as a colorful shirt in shades like tropical blues or grass greens. Women can choose from lighter dresses in colors such as blush pink or pastels, or opt for breezy jumpsuits or rompers.
What to Wear to a Beach Wedding?
Beach weddings can be quite casual affairs, and as such can give guests a bit more freedom with their outfits. Men can wear light linen suits or shorts for a more relaxed look, while women can choose from flowing maxi dresses or sarongs for a beach-ready style. Sandals can be appropriate footwear for both men and women in this type of setting.
Tips for Keeping Your Outfit Looking Fresh All Day Long
Finally, if you do decide to wear white to a wedding, there are some tips that can help you keep your outfit looking fresh all day long. Avoiding makeup and sweating can reduce the risk of staining, and opting for fabrics that don't crease easily can also help to make sure your look stays neat throughout the day.
In conclusion, can you wear a white shirt to a wedding? While it can be done in certain circumstances, it is generally advised against. There are many other options available that can make you look great while still respecting the bride's wishes and the formality of the day. And if all else fails, just stick with neutral colors like black and navy – they can never go wrong!
You May Also Like:
What to Wear to a Wedding: Men's Fashion