When it comes to attending a funeral, choosing the appropriate attire is a sign of respect and consideration for the grieving family and the memory of the deceased. While traditional funeral attire often involves somber colors and formal wear, the question arises: Can you wear navy to a funeral?
Understanding Funeral Attire Etiquette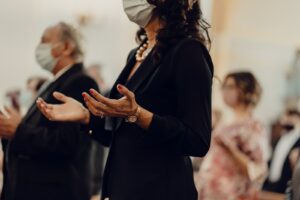 Funerals are solemn occasions where individuals gather to honor and remember a life that has come to an end. The attire you choose reflects your understanding of the significance of the event. While black and other dark colors have long been associated with mourning and respect, modern funeral etiquette has evolved to allow for some variations.
What is the Funeral Dress Code?
The traditional funeral dress code for women is a dark skirt or pants suit, closed-toe shoes, and a blouse or sweater. Men typically wear a navy or black suit with a tie and polished black shoes. If the occasion calls for it, you may also opt for either gender to wear all-black attire.
The Significance of Navy in Funeral Attire
The color navy holds a place of distinction in funeral attire. Its deep and dignified tone conveys a sense of reverence, making it a suitable choice for paying your respects. Navy blue exudes a balance between formality and sincerity, making it an excellent option if you're considering wearing it to a funeral service.
Exploring the Elegance of Navy Blue in Mourning Attire
While black remains a traditional choice for funerals, navy blue has gained popularity as an alternative. Dark navy and charcoal are good options for those who wish to adhere to a more traditional color palette while introducing subtle variations. The color navy complements the solemnity of the occasion, allowing you to express your sympathy without overshadowing the memory of the departed.
If you can, opt for a navy blue suit paired with dress shoes for a refined and respectful appearance. A well-fitted suit in this color can evoke a sense of professionalism and empathy, reflecting your understanding of the gravity of the situation.
Guidelines for Proper Wearing of Attire at Funerals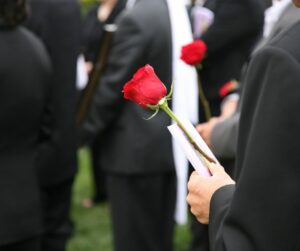 When planning your funeral attire, keep in mind the specific memorial service details and the cultural norms of the family. While a blue suit is a suitable choice, there are several considerations to keep in mind:
Ensure the dress shirt you choose is subtle and respectful, avoiding flashy patterns or loud colors.
Wear appropriate dress shoes that complement your outfit and contribute to a polished look.
Remember that tuxedos and tuxedo accessories might be more appropriate for formal funerals or memorial services.
Accessories such as flowers or memorial pins can be worn as a heartfelt gesture of sympathy.
Selecting the Perfect Suit for Paying Respects
Choosing the right suit for a funeral is essential in conveying your condolences appropriately. A blue suit can be a fitting choice, offering a blend of tradition and modernity. The color navy carries a sense of respect and can be a thoughtful way to show your sympathy to the family and celebrate the life of the deceased.
Choosing the Right Dress Shoes for a Funeral Outfit
When it comes to funeral attire, attention to detail is crucial. Your choice of dress shoes can complete your outfit and add to the overall sense of dignity. Opt for dress shoes that are understated and polished. Classic styles such as Oxfords or dress shoes with minimal embellishments are appropriate and convey a sense of respect for the occasion.
Types of dress for funerals
When attending a funeral, it is important to wear clothing that is appropriate for the occasion. Dark colors such as navy, black, or gray are always considered respectful choices. Additionally, you should avoid wearing anything too casual such as jeans or t-shirts. Instead, opt for dressier items such as a suit or dress with an appropriate length skirt or trousers.
White dress shirt with black or navy tie (optional)
A dark suit such as navy, gray, or black
Closed-toe dress shoes
Long pants or skirt
Simple blouse, sweater, or jacket
No bright colors or floral prints
Respectful accessories such as a bracelet or necklace.
Choosing an Appropriate Hairstyle
When attending a funeral, it is important to dress respectfully. This means choosing clothes that is dark and subdued, and avoiding bright colors or patterns. It is also important to choose a hairstyle that is appropriate for the occasion. Here are a few tips on how to choose the right hairstyle for a funeral:
Choose a hairstyle that is simple and conservative. Avoid anything too flashy or dramatic.
If you have long hair, consider pulling it back into a low ponytail or bun. This will keep your hair off your face and out of the way.
If you have short hair, you may want to wear a headband or clip to keep it out of your face.
Avoid wearing hats or headscarves, as these can be distracting during the service.
If you wear any hair accessories, make sure they match the tone of the event and opt for small details that don't draw too much attention.
Overall, your hairstyle should be simple and respectful to honor the deceased. Keep it neat and tidy so that you can show respect to those in attendance at the funeral service.
The Evolution of Funeral Attire: Navy Blue as an Acceptable and Sophisticated Choice
The world of fashion is not still. It constantly evolves as it absorbs the vibes of changing times, and funeral attire is no exception. Disruptions in fashion trends have witnessed a shift in conventional funeral attire shades from strictly black to more sober and dark colors. Speaking of which, navy blue has emerged as one of the highly adopted color choices. Its ability to mimic the somber tone of black, while providing a slightly more vibrant touch, adds to its suitability for important memorial services.
Wearing navy blue to funerals signifies a blend of elegance and appropriately observed mourning etiquette. Its vibrant yet solemn color adds a comforting visual appeal to the otherwise melancholic atmosphere. A navy blue suit, in particular, projects sophistication, and when paired right with a crisp white shirt and subtle, well-polished shoes, it becomes a perfect ensemble to pay your respects in a refined manner. With this evolution in funeral fashion, navy blue has indeed carved a niche for itself as an acceptable color choice for memorials.
Exploring the Role of a Navy Suit in Funeral Attire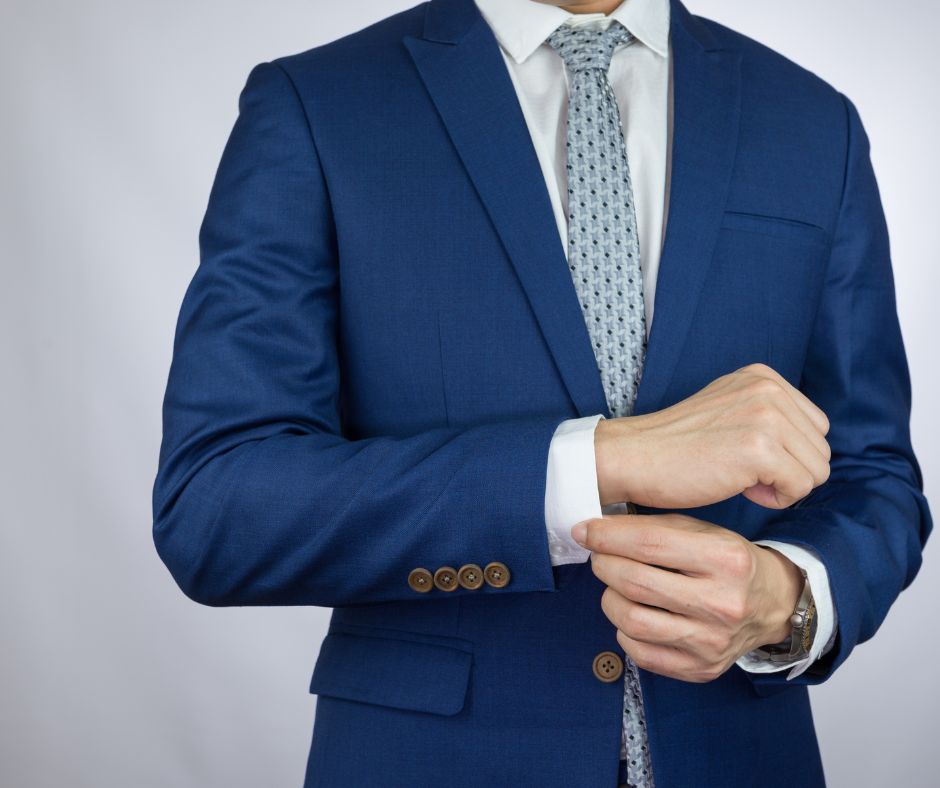 Blue suits, particularly navy, come with a level of sophistication that command respect, and thus, they fit the scenario of a funeral perfectly. Suits, in general, stand as perennial favorites in men's funeral attire. But the elegance of a carefully tailored navy blue suit, excellently paired with a crisp white shirt and a subdued tie, cannot be denied. This combination allows the wearer to show his condolences in a dignified manner, without creating an air of overbearing presence.
Understanding a Navy Coat's Place in Funeral Attire
When it comes to funeral wear, coats like blazers or overcoats are generally chosen in tones of black. But a navy coat can comfortably find a place in this set attire. Its neutral tone enables the wearer to maintain the required solemnity while the touch of color on the dark palette is a subtle deviation from the norm. Remember to button up your coat as a sign of respect.
A Guide to Appropriately Wearing Navy Blue to Funerals
When considering a navy blue outfit, it's important to pair it with complementary shades to maintain an overall sense of decorum and respect. Generally, a crisp white shirt paired with a navy blue suit creates a refined and respectful ensemble. Avoid wearing a shirt with bold patterns or bright colors, as it might draw undue attention. As for shoes, opt for darker tones like black or dark brown. Clean, well-polished dress shoes complement the navy suit and maintain the overall respectful demeanor.
Accessories should also be chosen with care. Men might choose a simple, understated tie, while women might opt for minimalist jewelry. Avoid flashy or colorful accessories, as they can detract from the solemnity of the occasion.
Wearing Dress Shoes with Navy Blue Suits at Funerals
When it comes to funeral attire, it's not only the suit or dress that matters, but also the shoes you choose to wear. This often-overlooked aspect forms an integral part of your outfit, contributing significantly to the overall impression you create. As such, if you've chosen a navy blue suit, selecting the right pair of dress shoes is crucial. While black is a traditionally safe choice, brown or oxblood shoes can also complement a navy suit well.
However, irrespective of the color you choose, the primary focus should be on the neatness and cleanliness of your shoes. Well-polished, dust-free dress shoes reflect your sincerity and respect towards the grieving family and the deceased. It's also suggested to lean towards conservative designs. Therefore, when you're trying to make a respectful gesture, remember that your dress shoes play an important role, working in harmony with your navy blue suit to create an aura of respect and sympathy. Maintaining a clean, well-groomed appearance shows your attention to detail and your consideration for the solemnity of the occasion.
Opting for Online Memorials
With the advent of technology, many families are creating online memorials to remember and honor their loved ones. This allows individuals unable to attend the funeral due to distance or circumstances, to join in mourning. If you're attending a virtual funeral, ensure you're appropriately dressed, as you would at a physical service. Wearing a navy suit, even if only the upper half is visible, is both respectful and appropriate.
Lending Support While Facing the Feeling of Loss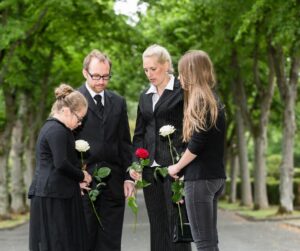 Experiencing the loss of a loved one is difficult, and being present for others during this time can be challenging. It's essential to offer your presence and express your condolences in a considerate and respectful manner. Wearing a navy suit to a funeral provides you an opportunity to show your sympathy without overpowering others' emotions.
Utilizing the Medium of Advertisements
Understanding the online and offline modes of communication, funeral homes have begun using funeral advertisements. These ads are helpful to let the community know about the loss of a beloved person. Be it print or digital, your appearance in uniform attire like a navy suit adds to the gravity of the occasion. 
Can You Wear Navy to a Funeral?
This question is met with a reassuring answer. Yes, you can wear navy to a funeral if you approach it with sensitivity and consideration. The color navy, particularly navy blue, is a dignified choice that can help you wear a suit that reflects the solemnity of the occasion while expressing your sympathy and support for the grieving family. By following funeral attire guidelines and selecting appropriate dress shoes, you can navigate the delicate balance between tradition and personal style, ensuring you make a respectful and heartfelt statement at the memorial service.
When in doubt, remember that your presence and your thoughtful attire contribute to the atmosphere of the funeral and the memorial service, allowing you to honor the life of the deceased and offer solace to those who are grieving.