Without a doubt, Balenciaga is indeed, a globally recognized fashion house, but is Balenciaga a designer brand?
Its origin traces back to the early 1900s when acclaimed Spanish couturier, Cristóbal Balenciaga, founded this luxury fashion house in Spain. Known for his impeccable craftsmanship and innovative designs, Balenciaga's influence on the world of haute couture has been profound and enduring.
The tumultuous period of the Spanish Civil War led Cristóbal to relocate his establishment from Spain to Paris – turning it into a successful Paris couture house. The Balenciaga Couture label became synonymous with avant-garde designs that frequently sent ripples through the fashion world. His creations were so bold and unique that Christian Dior once referred to him as "the master of us all".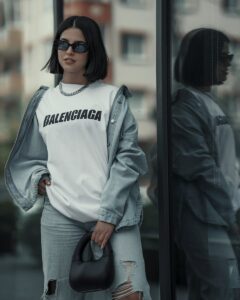 While Cristobal decided to close down his fashion house in 1968 due largely to changes in women's fashion, Balenciaga made its triumphant return decades later. Today, it continues to dominate global runways with its eclectic mix of ready-to-wear clothing and accessories – from the iconic 'Balenciaga Triple S' sneakers to beaded embellished scarves. The legacy of Cristobal lives on under the guidance of new head designers who diligently work towards pushing boundaries while staying true to the original ethos of this revered brand.
Understanding the Origin of Balenciaga
Let's start this journey with a question: Is Balenciaga a designer brand? The answer is a resounding yes! As an iconic luxury fashion house, Balenciaga holds a prominent place in the global fashion world.
Founded by Cristóbal Balenciaga in 1917, it quickly established itself as one of the most successful couture houses in Spain. However, during the Spanish Civil War, Cristobal moved his operations to Paris – making it into an eminent Paris Couture House. Here, he continued to revolutionize women's fashion with timeless designs like the sack dress and baby doll dress.
Balenciaga was hailed by Christian Dior as "the master of us all" and indeed he was. His creations were coveted by many who didn't mind buying Balenciaga's expensive creations because they knew they were investing in quality and style. Even famous figures such as Hubert de Givenchy served under him before establishing their own successful couture houses.
In 1968 though, Cristóbal Balenciaga famously decided to close his renowned fashion house rather than compromise on haute couture bills or adjust clothing retail delivery dates. The world mourned for what seemed like an end to an era of exquisite design – from beaded embellished scarves to ivory duchess satin trimmed wedding gowns (like the one Nicole Kidman wore).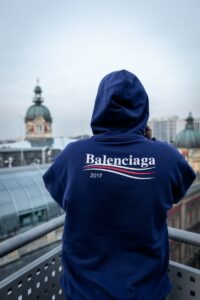 Fast forward some years later, and we see how resilient this brand truly is. In 1986 Jacques Bogart S.A acquired Balenciaga, reopening it under new management but still respecting its rich history by maintaining access to Balenciaga house archives.
The first ready-to-wear line launched under this new phase did not disappoint; with every piece bearing that distinct signature style that screams 'Balenciaga'. Over time, head designers like Alexander McQueen have kept up the tradition of innovation while adding their unique flairs too!
Today, you'll find everything from haute couture dresses to trendy Balenciaga sneakers under this label—each product echoing its founder's commitment to craftsmanship and quality.
So there you have it: From its inception on Avenue George V in Paris till today; whether it's about stiff duchess satin worn elegantly or casual yet stylish triple S sneakers – one thing remains constant – Balenciaga is indeed a designer brand, standing high alongside names like Louis Vuitton within luxury fashion circles.
Is Balenciaga a Designer Brand: The Facts
The fashion world recognizes Balenciaga as one of the most prestigious and influential houses in the haute couture scene. It's an unmistakable part of the luxury fashion house landscape. Cristóbal Balenciaga, a Spanish designer, established this Paris couture house back in 1917.
Let's dig into some facts about this esteemed brand:
Balenciaga is renowned for its avant-garde and innovative designs. Christian Dior even once referred to Cristóbal Balenciaga as "the master of us all."
The brand has given birth to iconic creations like the sack dress and baby doll dress. These pieces have left a significant imprint on women's fashion.
Some items from Balenciaga, such as their sneakers, have become cult favorites in recent years.
Noteworthy designers including Hubert de Givenchy and Alexander McQueen have worked under the Balenciaga label at different points in their careers.
Despite being recognized globally today, it wasn't always smooth sailing for this brand. In fact, during the Spanish Civil War, Cristóbal Balenciaga famously decided to move his operations to Paris due to political unrest.
Over time, however, it has grown into one of the most successful couture houses. Its influence can be seen not just through direct imitations but also through how it shapes broader trends within high-end fashion circles.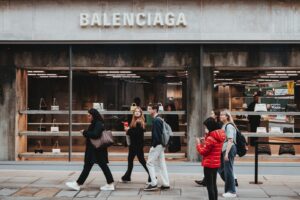 Even after Cristóbal Balenciaga closed his doors in 1968 due partly to rising haute couture bills (yes! running such a luxury fashion house is expensive), his legacy lived on through those he mentored – designers who went on to establish their own successful couture houses.
Today's head designer continues to draw inspiration from both current trends and priceless gems found within the Balenciaga house archives, creating collections that blend tradition with modernity while still adhering closely to ready-to-wear timelines (clothing retail delivery dates).
From wedding gowns donned by celebrities like Nicole Kidman (remember that ivory Duchess satin trimmed gown she wore?) or even beaded embellished scarves seen on runways; every piece under this brand reflects its dedication towards maintaining its status as a revered player in global haute couture.
So when you ask me "is Balenciaga a designer brand," I'd confidently say yes! It boasts an impressive history filled with innovation and influence; plus it remains at the forefront of luxury fashion today – making it more than worthy of its esteemed placement alongside giants like Louis Vuitton on Avenue George V in Paris!
Just remember though: buying Balenciaga's expensive creations doesn't come cheap – but then again, when did true style ever do?
Summing Up Balenciaga's Status in Fashion
Let's cut to the chase: is Balenciaga a designer brand? Absolutely. Born out of Paris, it's more than just a luxury fashion house; it's an icon of style and innovation.
In conclusion then yes; whether we're talking about haute couture bills or simply admiring another pair of those coveted Triple S sneakers – there's no doubt about it – when you see that familiar 'Balenciaga' label stitched onto an item… You know you're dealing with luxury fashion at its best.