Socks are an essential part of any outfit, especially when it comes to crew socks. They can make or break an outfit, and if you're unsure how to wear them, you're in trouble. In this blog post, we will discuss nine different ways how to wear crew socks and show you how to look your best no matter the occasion!
What are Socks and Their Purpose?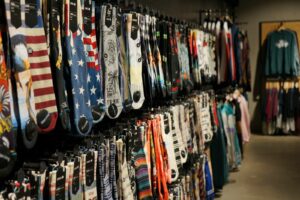 Socks are an accessory that serves both functional and fashion purposes. In terms of function, socks help to protect the feet from dirt and debris while providing extra cushioning and support throughout the day. Additionally, they also keep your feet warm in cold weather. On the fashion side, socks can add a stylish touch to any outfit and make it stand out from the rest.
You can wear socks with almost any type of shoes, from sneakers to dress shoes. However, how you wear them may vary depending on the occasion and your personal style.
What are Crew Socks and How Do They Differ From Other Types of Socks?
Crew socks are a type of sock that typically extends just above the ankle, making them a popular choice for many people who want a bit more coverage than most other socks offer. Unlike dress socks and other types of socks, crew socks usually have thicker fabric construction and are designed to be especially durable. This makes them ideal for those who need a sock that can stand up to wear and tear or those who prefer extra cushioning around the foot.
Crew socks are often more comfortable than thinner ones in warmer weather, as they help prevent blisters and chafing.
How Should You Select The Right Crew Sock for Your Needs?
When it comes to selecting the right crew sock for your needs, there are a few things you should consider. First, you should take into account how much coverage you're looking for. If you want more coverage around your ankle, opt for a higher-cut style of sock that covers more area.
Also, keep in mind how thick or thin you want your sock to be. Depending on how much cushioning you need, choose a fabric that's thicker and more durable or thinner and more breathable. Lastly, consider what color or pattern you prefer and how it will look with the rest of your outfit.
How to Wear Crew Socks?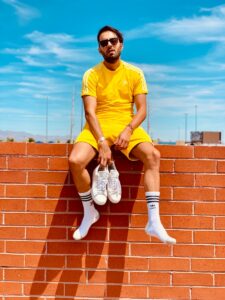 Wearing crew socks is all about how you style them and how they look with the rest of your ensemble. Here are six creative ways to style crew socks:
1. With Sneakers:
Crew socks can be a great way to add some color or pattern to a sporty sneaker look. Choose solid or striped crew socks in bright colors and pair them with white sneakers for a classic, yet stylish look. Classic sneakers like Adidas Stan Smiths or Nike Air Force Ones look great with crew socks.
2. With Lace-ups:
Crew socks can also work well with lace-up dress shoes. Opt for a solid color to add some subtle style, or go daring with a patterned pair that will draw attention. A cap-toe dress shoe looks great with a pair of classic striped crew socks.
3. With Oxfords:
Oxfords are dressy shoes that look great with no-show socks or ankle socks–but you can also style them with crew socks for an unexpected twist. Choose solid or patterned crew socks in dark colors and pair them with your favorite oxfords for a dressier look.
4. With Desert Boots:
Desert boots are an iconic style of boot that looks great when paired with crew socks. For a classic desert boot outfit, go for a pair of beige or brown desert boots and a pair of striped or solid-color crew socks in matching colors.
5. With Dress Shoes:
Crew socks don't have to be reserved for casual looks. Dress up your look with a pair of crew socks in a subtle color or pattern and pair them with dress shoes for an unexpected touch.
6. With Ankle Boots:
Crew socks can also be worn with ankle boots to create a unique, yet fashionable look. Choose a pair of boot socks in wool or cashmere for added warmth and comfort.
7. With Sandals:
If you're looking for a way to add some texture to your look, try wearing crew socks with sandals. Whether you choose solid or patterned socks, this look is sure to be stylish and eye-catching.
8. With High-Top Sneakers:
For a stylish streetwear look, pair crew socks with high-top sneakers. Choose bold or patterned socks to add some fun flair to your outfit.
9. With Loafers:
Crew socks are also an unexpected addition to any loafer look. Opt for subtle solids in neutral tones or patterns such as argyle for a preppy, yet stylish look.
What are Some Tips for Taking Care of Your Crew Socks?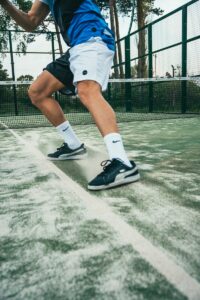 Taking care of your crew socks is essential if you want them to last. Here are some tips for how to keep your crew socks in the best shape:
Wash them after every use, as this will help prevent odors and extend their life.
Don't put them in the dryer, as this can shrink them.
Air dry your socks away from direct sunlight, as this will ensure they maintain their shape and color.
Use a gentle detergent when washing to prevent any fading or discoloration.
Make sure your sock drawer is organized, so it's easy to find the right pair of socks when you need them.
What are the Other Different Types of Socks?
In addition to crew socks, the sock world offers a plethora of other types. Understanding these different styles will ensure you pick the right sock for the right occasion.
Dress Socks: These are usually made with fine fabrics and come in a variety of colors, patterns, and styles. They're perfect for pairing with dress shoes for formal events.
No Show Socks: These are designed to be worn with low-cut shoes and provide extra cushioning and arch support.
Athletic Socks: Athletic socks come in a variety of lengths, thicknesses, and fabrics, depending on the activity they're intended for.
Knee High Socks: These socks extend up to the knee and are often worn with formal wear and can keep your legs warm in colder weather.
Boot Socks: These are designed to be worn with boots and provide extra warmth and cushioning.
Ankle Socks: These socks extend up to the ankle, and are perfect for pairing with low-cut shoes.
Compression Socks: Professionals and athletes alike widely use these. They are designed to increase circulation and reduce swelling and discomfort, making them ideal for those who stand on their feet for extended periods, travel frequently, or regularly engage in sports.
Different brands of socks offer different benefits, like Nike socks that provide arch support, or Adidas socks that are made with sweat-wicking fabrics. White socks are a timeless option, while patterned socks offer more fun and color. No matter what type of sock you choose, make sure they fit comfortably and stay put throughout the day.
Unveiling the Socks Trend
Cotton crew socks are the most popular type of socks due to their breathability and comfort. They come in a multitude of colors, giving you the freedom to experiment with black, white, or a vibrant splash of various hues. The sock's length creates a striking balance when paired with shorts, adding a unique style quotient that was earlier seen as unconventional. The difference in length between the knee-high socks and the shorts makes for viewer interest, creating a 'gap' that shows off your fashion sense.
More than Just Footwear – Socks as Fashion Statements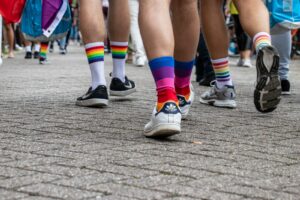 To wear crew socks successfully, select the pair that harmonizes with your outfit color-wise and material-wise. For example, pairing no-show socks with casual shoes gives you the true laid-back, summer-ready look. On the other hand, long socks fashioned with boots set a statement that screams all things cool and comfortable.
Crew Socks and Swimsuits
For a real twist on how to wear crew socks, pair them with clothing swimsuits. Swimsuit tops could always use a bit of accessorizing, and the addition of socks crew boost the overall look. Go for lively colored or patterned socks to contrast with solid-colored swimsuit tops. This trend seen in different swimsuits, swimsuit fashion shows have grabbed attention for their unique blend of casual meets beachwear.
Sock It Up with Compression Socks
To style long athletic wear, compression socks are hugely beneficial. Usually made with a combination of nylon, spandex, or rubber to improve blood circulation, they are true essentials. They're perfect to wear while training, running or performing high-intensity activities.
Getting Fun with Wearing Shorts
Choosing crew socks with shorts isn't as daunting as it may seem. Find a color or pattern that fits your outfit and gives the entire ensemble an upgrade. Being conscious about the length, make sure the socks fall just the right distance below the knee. For that extra oomph, try printed socks with solid-colored shorts or vice versa.
Wear crew socks, and you're ready to step out in style! Whether it's a fun day at the beach or a high-intensity activity, crew socks provide comfort, support, and a distinct edge to your look.
Crew socks come in a variety of colors, patterns, and styles, making them the perfect accessory for any outfit. Whether you're looking to dress up your look with dress shoes or keep it casual with sneakers, crew socks can provide that extra touch of style. Just make sure to take care of them properly by washing them regularly and air drying them away from direct sunlight. With so many options available, you can get creative and find the perfect pair of crew socks for any look!